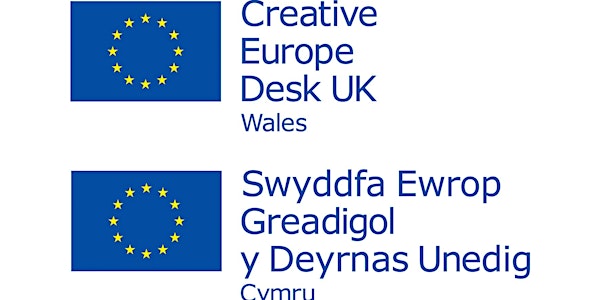 Creative Europe Culture Seminar in Swansea / Seminar Wybodaeth - Abertawe
Event Information
Location
Volcano Theatre
Iceland Building
27-29 High Street
Swansea
SA1 1LG
United Kingdom
Description
Please scroll down for the Welsh translation below
Join us to find out more about Creative Europe's Culture funding opportunities at this free seminar
Creative Europe's Culture sub-programme supports cooperation and exchange between arts, culture and heritage organisations across different European countries. This funding programme supports a diverse range creative and cultural projects across arts forms such visual arts, dance, theatre, literature, performance, music, heritage, architecture, design, circus, festivals, craft, fashion, arts networks, social enterprises, and those who work in the wider creative and cultural industries.
Catrin Cooke, Culture Manager at Creative Europe Desk UK - Wales, and Katie Haines, Creative Europe Desk UK, will present the four funding opportunities and the eligibility conditions, talk through case studies, discuss how to develop applications and how to build a good project.
Paul Davies, Artistic Director of Volcano Theatre, will talk through their EU-funded Cooperation Project, One Land Many Faces, which was a collaborative artistic and social project involving 7 partner organisations from across Europe.
If you would like a free one-to-one session after the seminar, please email Catrin Cooke in advance.
__________________________________
Mae Ewrop Greadigol yn cefnogi cydweithrediad a chyfnewid rhwng sefydliadau celfyddydol a threftadaeth drwy wahanol wledydd yn Ewrop. Mae'r rhaglen hon yn cefnogi ystod amrywiol o brosiectau ar draws ffurfiau gwahanol o gelf, megis y celfyddydau gweledol, dawns, theatr, llenyddiaeth, perfformio, cerddoriaeth, treftadaeth, penseerniaeth, dylunio, syrcas, crefft, ffasiwn, rhwydweithiau celf, mentrau cymdeithasol a'r rhai sydd yn gweithio o fewn y diwydiant ehangach.
Bydd Catrin Cooke, Rheolwr Diwylliant, Swyddfa Ewrop Greadigol y DU Cymru yn cyflwyno sesiwn ar bedwar math gwahnol o brosiect sydd ar gael, gan gynnwys cymhwysedd,sut i ddatblygu cais a beth ystyrir yn brosiect da.
Mae prosiectau Cydweithredol yn graidd i'r gronfa, ac yn cyfri fel 70% o'r arian sydd yn cael ei wario ar weithgaredd Ewrop greadigol, gyda dyddiadau cau blynyddol I grantiau 'bach' a 'mawr'.

Mae arian 'Cyfieithu Llenyddol' ar gael i weisg sefydledig.

Mae Rhwydweithiau Ewropeaidd yn cefnog cyfleoedd parhaus i sefydliadau UE sydd ac arbenigaethau amrywiol i ddysgu a chyfnewid sgiliau.

Mae Platfformau Ewropeaidd yn cefnogi dulliau arloesol i ddatblygu cynilleidfaoedd.
Bydd Paul Davies, Cyfarwyddwr Artistig Volcano Theatre yn trafod 'One Land Many Faces' oedd yn brosiect celfyddydol, cydweithredol a chymmunedol gafodd ei ariannu gan gronfa Diwylliant yr UE, mewn partenriaeth â 7 partner celfyddydol ar draws Ewrop.
Bydd cynrychiolwr o sefydliad sydd wedi derbyn arian o'r gronfa flaenorol Rhaglen Ddiwylliant i son am eu profiad o ymgeisio ac i glywed am y prosiect, pa effiath mae hyn wedi ei gael ar y maes celf penodol hwnnw, yng Nghymru ac i weld sut mae parteneriaethau Ewropeaidd wedi datblygu.
Os hoffech sesiwn 1-1yn hwyrach ymlaen, yna ebostiwch Catrin Cooke o flaenllaw.
Date and time
Location
Volcano Theatre
Iceland Building
27-29 High Street
Swansea
SA1 1LG
United Kingdom