Description
Is it worth it starting your own film production company? Can local stories filmed in Basque language reach people in Seattle, Istanbul or Mar de Plata and have an international distribution circuit?
In this masterclass, Basque director Asier Altuna will talk about why we should look at the film production process from a creative perspective, as well as share some of the challenges directing award-winning films like Amama or Betsolari.
Later on Thursday, Cinemaattic organise a special screening in Summerhall showing 'Amama' and his previous shortfilms 'Txotx', 'Topeka' and 'Zela Trovke' followed by Q&A with the director.
Asier Altuna is one of Spain's most interesting filmmakers. Arthouse cinema at its core. Plastic Arts, literature, tradition, visual arts, rural life, Super 8... Asier Altuna moves comfortably between fiction and documentary, successful feature films and shortfilms. All together make of Altuna's filmography one of the most interesting contemporary filmmakers not just in Basque Country but in the whole Spain today. Strong advocate of the short-film format, a genre which he has returned despite the success of his feature films.
Asier will make the case for setting up your own film production company if you want to make films that are truly free. He will discuss why they chose to start Txintxua Films and the case for filmmakers to jump from feature to short and to direct from a range of different genres.
Variety - skewering the Basque – and Spanish – status symbol of summer holidays, whatever the cost, screwball satire "Aupa Extebeste!" touched a popular nerve, winning San Sebastian's 2005 Youth Jury Award. Demonstrating Altuna's range, AMAMA (Grandma) – following on a memorable documentary, 2011's "Bertsolari," about the Basque tradition of improvised song" – is Altuna's first solo fiction feature.
http://variety.com/2015/film/festivals/san-sebastian-asier-altuna-grandma-1201598520/
Cineuropa - Intriguing, beautiful, powerful and highly symbolic (...) Amama rejects a standard narrative and long-winded verbal explanations, instead relying on people's looks, silence and symbols. What actually does the job of the narration are the gorgeous images and the nimbleness with which they are edited, and they mean as much as, if not more than, the dialogue. Through this technique, we get to know a family living in a country house, slap bang in the middle of the mighty northern natural landscape (Cineuropa) http://cineuropa.org/nw.aspx?t=newsdetail&l=en&did=300182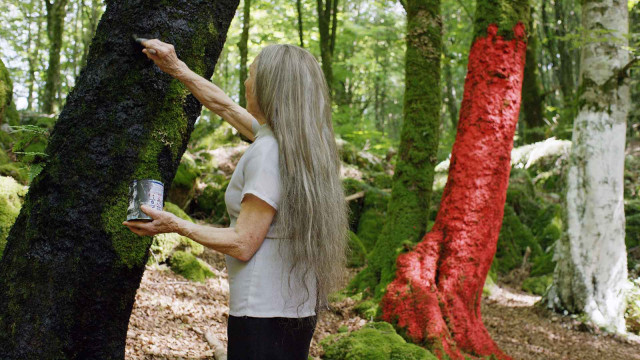 Cinemaerrante - Deep and strong like the roots of a beech, Amama is a beautiful journey from the heart of the baserri, the ancestral cradle of the Basque culture, where home and work share the same space linked to tradition.
Rooted in reality but delving into the fable just enough. Amama shows Altuna's great cinematic maturity. "Cinema is life for me," he says. "Films made in euskara (basque), a language spoken by very few people… in recent years it has led to the birth of a new cinema that, although small, it is quality cinema with a very direct way of telling." https://cinemaerrante.wordpress.com/2016/09/28/entrevista-con-asier-altuna-director-de-amama-2/
Asier Altuna Director Biography
Asier Altuna was born and raised in the Basque Country. For his 2005 debut feature, Aupa Etxebeste!, he was nominated for Best New Director at the Goya Awards. AMAMA: When a Tree Falls is his second Basque-language film, and only the second Basque-language film to play in competition at the San Sebastian Film Festival (2015). In 2008 he founded, with Marian Fernández, the production company Txintxua Films, a decision he considers key in order to make true arthouse cinema without external pressures.
Later on Thursday, Cinemaattic organise a special screening in Summerhall showing 'Amama' and his previous shortfilms 'Txotx', 'Topeka' and 'Zela Trovke' followed by Q&A with the director.
This event is part of Cinemaattic's retrospective KIMUAK: 20 YEARS OF BASQUE FILMS, celebrating twenty years since the Basque Government decided to include the production and distribution of short films as a core area of support and interest. As a result, the public agency Kimuak ('Sprout' in Basque) became the major driving force behind a whole new wave of Basque filmmakers.
Cinemaattic's Retrospective KIMUAK: 20 YEARS OF BASQUE FILMS is a project supported by Etxepare Basque Institute, Film Hub Scotland and Acción Cultural Española (AC/E) through the PICE's grants programme.