Description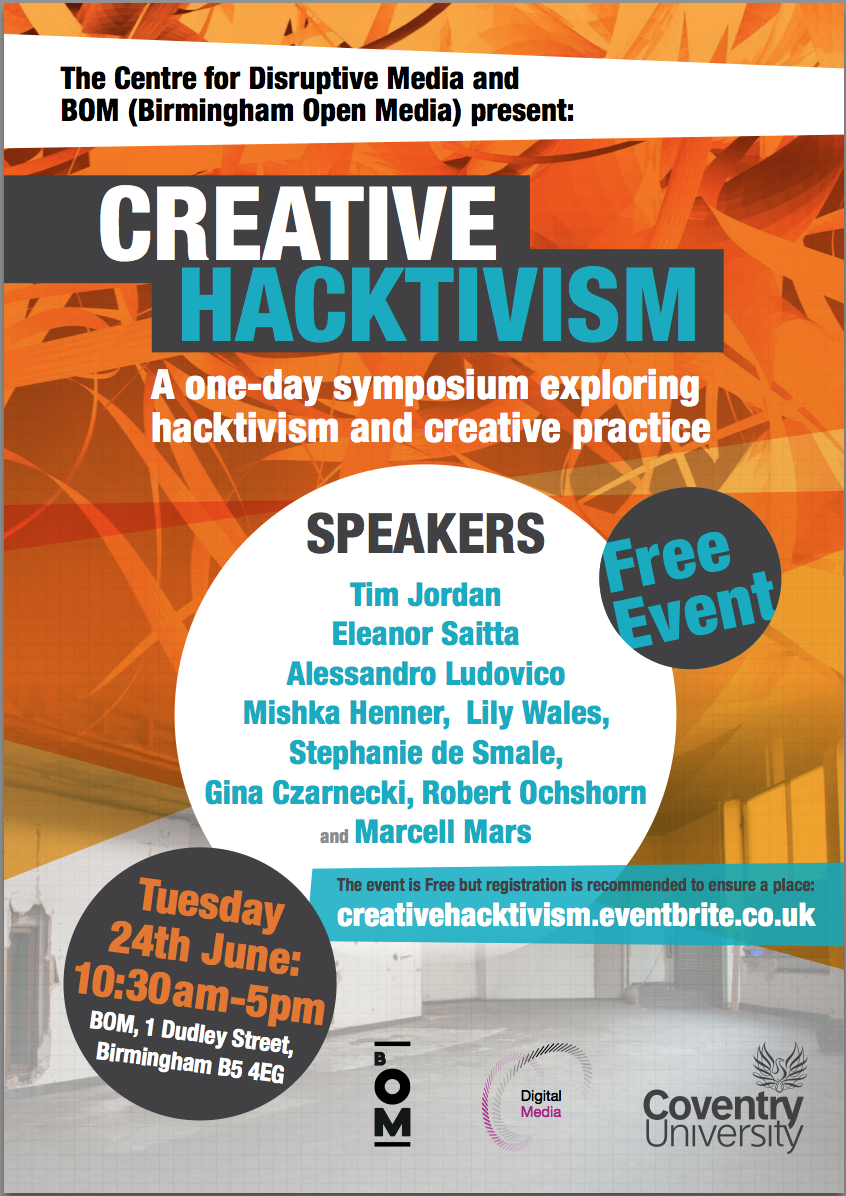 Creative Hacktivism
---
Tuesday 24th June, 10.30am – 5.00pm
1 Dudley Street, Birmingham B5 4EG
Presented by the Centre for Disruptive Media
in collaboration with BOM (Birmingham Open Media)
---
Artists and hackers have been responsible for some of the most innovative digital developments. In this one-day seminar The Centre for Disruptive Media in collaboration with BOM will explore the rise of 'hacktivism' and its relationship to creativity.

Hacktivism, described as "politically motivated hacking" by cultural theorist Tim Jordan, is an approach sometimes used by artists, software designers and synthetic biologists to highlight ethical issues in digital culture. This seminar fuses debates around creative practice and hacktivism, focussing on key projects that have highlighted issues with surveillance, bio-ethics and the pursuit of 'free' information.

The seminar will take place in BOM's new space at 1 Dudley Street, Birmingham B5 4EG prior to the building's refurbishment and BOM's launch this autumn.
Speakers:
Janneke Adema – Research Fellow (Digital Media) Coventry University
Gina Czarnecki - Artist
Gary Hall - Director of the Centre for Disruptive Media, Coventry University
Mishka Henner – Artist
Tim Jordan - Professor of Digital Cultures at King's College London
Alessandro Ludovico - Artist, media critic and editor in chief of Neural magazine
Marcell Mars - Free software advocate, cultural explorer and social instigator
Karen Newman – Research Fellow (Digital Media) Coventry University / Director of BOM
Robert M Ochshorn - Artist
Eleanor Saitta - Hacker, designer, artist, writer, barbarian
Stephanie de Smale – Researcher in the Open Wetlab, Amsterdam
Lily Wales – Artist
Schedule
10.30 – 11.00 Arrival and coffee
11.00 – 11.15 Introduction, Karen Newman
11.15 – 11.45 Keynote Presentation: Dr Tim Jordan
11.45 – 12.15 Keynote Presentation: Eleanor Saitta
12.15 – 12.45 Keynote Presentation: Alessandro Ludovico
12.45 – 1.15 Q&A and Discussion
1.15 – 2.00 Break for lunch (please note lunch will not be provided)
2.00 – 3.00 Image Hacking: Presentations and Discussion
Mishka Henner, Lily Wales (chaired by Karen Newman)
3.00 – 4.00 Bio-Hacking: Presentations and Discussion
Stephanie de Smale, Gina Czarnecki (chaired by Gary Hall)
4.00 – 5.00 Book Hacking: Presentations and Discussion
Robert M Ochshorn, Marcell Mars (Chaired by Janneke Adema
For the full event details and speakers biographies go to: http://disruptivemedia.org.uk/portfolio/creative-hacktivism/
Organiser of Creative Hacktivism
Birmingham Open Media (BOM) is a new centre for applied research and collaborative practice. It will bring together artists, computer scientists and researchers to produce new commissioned artworks and online interventions, exploring the impacts of emerging technologies on society and hacktivist culture.
The Centre for Disruptive Media at Coventry university has three main areas of research interest and activity: Open Media, Creative Archiving and Digitalisation and Immersive Media