Description
Last year I launched a new course for artists and crafters in business - or who would like to be! We had a brilliantly mixed group including artists, illustrators, felters, card makers, weavers, musicians, jewellery makers, upcyclers, ceramicists and wire workers. The course ran four times, to great reviews. One testimonial went as far as to say:
'I totally recommend Lynn as a tutor. She always oozes inspiration and enthusiasm! I really enjoyed this course, it helped me find my first steps into starting my business.'
Gail, Newcastle upon Tyne
So...
• Are you an artist or crafter who wants to turn their talent into a business?
• Do you have a creative business already, that is not performing as well as it might?
I have worked in the creative industries for more than thirty years, and business planning has always been the hardest part of my work. Creative minds flit like butterflies from one inspiring idea to the next, and sometimes it is hard to find headspace to crystallise those vapour-wisps of thought into solid business plans. The bottom line is, too many fantastically talented people are struggling to pay bills. People don't fail because they aren't motivated or disciplined, nor because they lack talent – it's just sometimes difficult to translate all these strands into a workable creative business.
That's where my creative course comes in, to bridge the gap between creative flair and business planning. Visual journals are familiar to creatives as a way of exploring ideas and opening up thought processes. It's a lovely way to develop work and allows us to enjoy the process as well as the product. It is not a great leap to use this comfortable medium to develop and reflect upon our business practise.
All those things that creatives can find dull – goal setting, planning, routines and self-promotion – are translated into a visual form. We'll also talk about ways to silence the inner critic, and how to create your own creative CPD.
Our course lasts four weeks, and as a part of the course you will be invited to join an online community of artists and crafters in business, and after the course finishes, you will have the opportunity to attend bi-monthly meet ups to socialise, network, build partnerships and listen to invited speakers to help you to grow your creative business.
Week One – The Creative Caddisfly
What does success look like to you? Is it validation? Being recognised as a creative? Exhibiting? Selling in shops? Direct selling via events and Etsy etc? Peer recognition? You'll think about these things, and identify your creative role models.

You'll start to identify your creative business's niche and unique selling point.
Journal Entry:
Collage or sketch a creative caddisfly spread in your journal. How did you get to where you are? What are your influences? What sort of creative business do you want to build? Like the caddisfly, you are the sum of your experiences.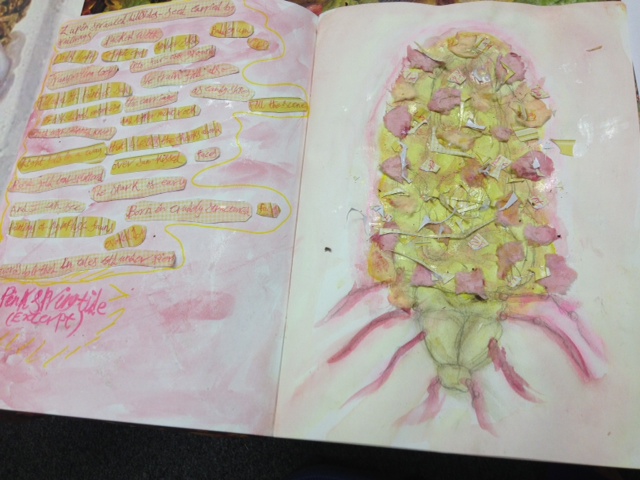 Week Two
Planning, Focus and Goal-Setting – The Perfect Storm of Creativity
Starting from where you are right now, we'll build the perfect creative storm – where the investment of time and energy brings rewards. Money and success don't just materialise/manifest because you are doing what you love – you still need a plan.
Once you have carried out your 'wish-list' brainstorm, it's time to organise your objectives.
You'll look at artistic v. marketplace value, and creating a balance between the two. Remember, marketplace value is just what somebody will pay you for your craft. You'll look at the pricing conundrum – putting value on your time, skills and experience as well as material costs. You'll also consider the importance of building innovation into your goals. It's artistically satisfying, and helps you stay ahead of the herd.
Journal Entry:
Create a 'perfect storm' cloud in your journal - a wild and wonderful list of the things you want to achieve in your business. Then create a bunting string timeline of your chosen objectives, and work out how to get from the idea to the concrete eventuality and make plans on how you will achieve your goals.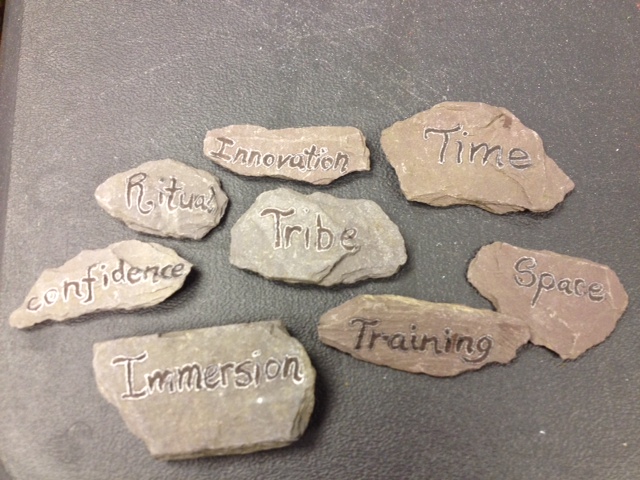 Week Three
Dirty Habits
Creatives have a raft of common 'dirty habits' – you'll identify your gremlins and learn how to banish them!
• No giving up on projects. Creatives are surrounded by these (and unused art supplies!)
• Keep a routine – build a habit
• No disorganised working space – and we'll demand photos!
• Cage your inner critic – don't listen to gems such as 'Will someone really pay me for that?'
Journal Entry:
Create a 'bonfire of the insecurities' spread. All those little whispers that tell you that you aren't really a creative or artist? Put them on the bonfire! Add an image of your inner critic as a 'guy' to the top – and banish it forever!
Week Four
Promotion Commotion? Build your Strategy.
It's often tempting for creative types to hide in their garrets or ivory towers creating art – but in order to sell your wares, there's no getting away from the need for communication with your audience and hopefully buyers to promote your work. It doesn't have to be intimidating – you will be building on skills you already have.
In this final session you will:
• Define your target audience
• Look at competitors – who is their target audience? What works for them? Then define your USP - what makes you different? Why should people buy your creations instead of those already on offer?
• Look at using social media to create, define and refine your niche market – no 'scatter-gunning' and posting indiscriminately and wondering why you get no results…carve your own furrow!
• Fb and other social media – learn how to build a community around your work
• Reflect this in the presentation of your business – packaging, ad copy, etc. Think of packages you have received – make a ceremony out of receiving an order from you
Journal Entry:
Shouting from the rooftops! Create a visual representation of the ribbons of messages you want to send out into the world.
The course lasts for 4 sessions at the same time each week and costs £145. The cost includes all materials and refreshments.
Tuesday 8th November 7.30-9.30
Tuesday 15th November 7.30-9.30
Tuesday 22nd November 7.30-9.30
Tuesday 29th November 7.30-9.30
**EARLY BIRD OFFER - SAVE £25!**
You can attend the course for £120 if booked before 31st October.