Creative Industries Employability Day 2019

Wednesday, 6 February 2019 from 10:00 to 17:00 (GMT)
Event Details
Join us for our annual Creative Industries Employability Day for an insight to your chosen industry and advice on how to build a successful career for industry practitioners, experts and advisory bodies. This year we have speakers from Idlewild, National Theatre of Scotland, Forth FM, Business Gateway, British Council Scotland, Blazing Griffin, Artlink, Scottish Institute for Enterprise and many, many more. We will also have a special workshop from the Festival Fringe Society on how to put on a show at the Edinburgh Festival Fringe.
See below for the full timetable and make a note of the panels you want to attend (you can see a bigger version here). You can then select them when you register.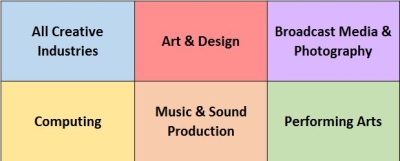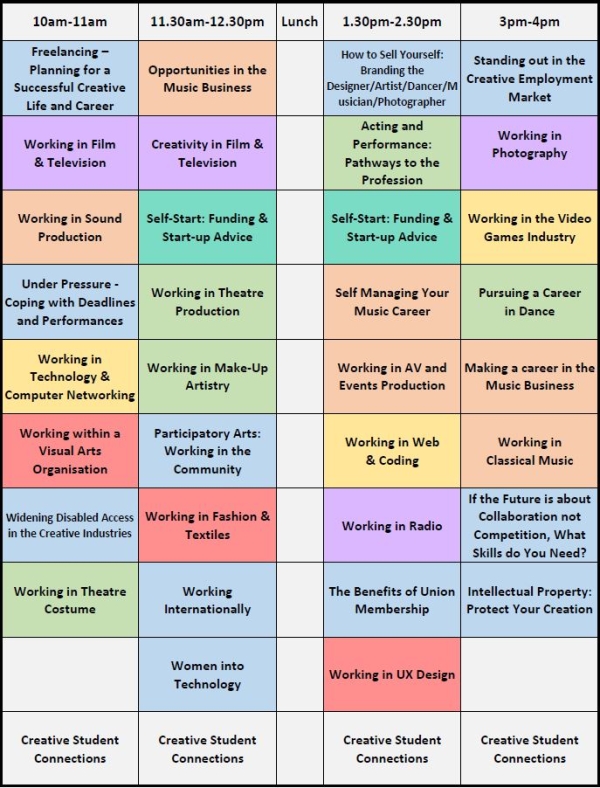 The Fringe Festival Society workshop will take place at the end of the day from 4.15pm-5.30pm and you can also sign up for that when you register.
Panel Speakers:
Acting and Performance: Pathways to the Profession?
Louise Oliver - Scottish Drama Training Network
Meghan Tyler - Playwright / Actor 
Dawn Sievewright - Actor
more tbc
If the Future is about Collaboration not Competition, What Skills do You Need?
James McVeigh - Festivals Edinburgh
more tbc
Creativity in Film & Television
Andy Brown - Andy Brown Films
Tommy Slack - 0405 Photography
Paul Diffley - Hot Ache Productions
Freelancing – Planning for a Successful Creative Life and Career
Colin Macnab (Sound Recordist)
Alice Melvin (Illustrator)
David Smith - Cultural Enterprise Office
How to Sell Yourself - Branding the Dancer/Artist/Musician/Photographer etc.
Korina Abbott - Kinetic Atom
Fin Wycherley - Supersize Media
more tbc
Intellectual Property: Protect Your Creation
Euan Duncan – MacRoberts
more tbc
Making a career in the Music Business (DJ/Electronic)
speakers tbc
Opportunities in the Music Business
Ailsa Harper - A Modern Way Management
Lisa Thomson - MAMA/Live Nation
Chris Beltran - DF Concerts
Participatory Arts: Working in the Community
Sarah Yearsley – Engage
Michael Fraser - Lung Ha Theatre Company
Emma Clarke - Lung Ha Theatre Company
more tbc
Pursuing a Career in Dance
Pamela Distefano - Freelance Dancer (Lady Gaga, Rihanna, Janet Jackson)
David McIntosh - Freelance Dancer/Actor (Mary Poppins, Funny Girl, Hairspray)
more tbc
Self-Start: Funding & Start-up Advice
Lisa Wardlaw - Young Enterprise Scotland
Tom McGuire - Scottish Institute for Enterprise
Rebecca Burnett - Business Gateway
more tbc
Standing out in the Creative Employment Market
Beata Skobodzinska - Just Festival
Joy Lewis - Adopt an Intern
Pamela Walker - Imaginate
Steve Small - Strange Town
The Benefits of Union Membership
Chris Aberdeen Doug McGill - BECTU
Caroline Sewell - Musicians' Union
Lorne Boswell – Equity
Under Pressure - Coping with Deadlines and Performances
Jess Abrams - Freelance Music / Educator
Samantha Jane - YBL Empower You
Widening Disabled Access in the Creative Industries
Thursa Sanderson - Drake Music Scotland
Jan-Bert van den Berg – Artlink
Robert Softley Gale - Birds of Paradise Theatre Company
Women into Technology
Iza Ledzka – SwarmOnline
more tbc
Working in AV and Events Production
speakers tbc
Working in Classical Music
Finlay Hetherington - Freelance musician
more tbc
Working in Fashion & Textiles
Solii Brodie - Be Fab Be Creative

more tbc
Working in Film & Television
Colin Macnab - Sound Recordist
Joyce Rennie - TV Advertising Commercials Producer
more tbc
Working in Make-Up Artistry
speakers tbc
Working in Photography
speakers tbc
Working in Radio
Michelle Mackay – Bauer Media
Richard Melvin – Dabster
Martyn Ewart – Forth Radio
Working in Sound Production
Graeme Steel - Live Sound Engineer (Young Fathers)
Mark Morrow - The Depot
Rod Jones - Idlewild / Post-Electric Studios
Working in Technology & Computer Networking
speakers tbc
Working in the Video Games Industry
Neil McPhillips - Blazing Griffin
Korina Abbott - Kinetic Atom
Alexander Sliwinski - Bithell Games
Working in Theatre Costume
Antonia Anic-Antic - Festival Theatre

Pat Jastrzebska - Perth Theatre
Working in Theatre Production
Euan McLaren - National Theatre of Scotland
Jo Burgess - Freelance Theatre Tech
Working in UX Design
speakers tbc
Working in Web & Coding
Mairianne Young - SwarmOnline
more tbc
Working Internationally
Norah Campbell - British Council Scotland
Gwen McLeod - British Council Scotland
Robert Softley Gale - Birds of Paradise Theatre Company
Isabelle Moore – Furniture-maker, Craft Artist / Designer
Lisa Whytock – Music Agent
Working within a Visual Arts Organisation
Elizabeth McLean - Fruitmarket Gallery
more tbc
Save This Event
When & Where

Edinburgh College
Granton Campus
350 West Granton Road
EH5 1QE Edinburgh
United Kingdom


Wednesday, 6 February 2019 from 10:00 to 17:00 (GMT)
Add to my calendar