About this Event
Challenge Discovery Workshops are fun and informal scoping and shaping sessions that pave the way to more focused ideas for Creative Informatics Challenge Holder applications.
Do you work for a creative or cultural organisation looking to power new ideas in your work, but don't know where to start?
Have you identified challenges or hurdles that could be addressed through innovative applications of data?
If you have heard about our Challenge Projects but aren't sure where to start, the Creative Informatics team can help you identify and articulate potential challenges and opportunities for innovation and creativity in your organisation.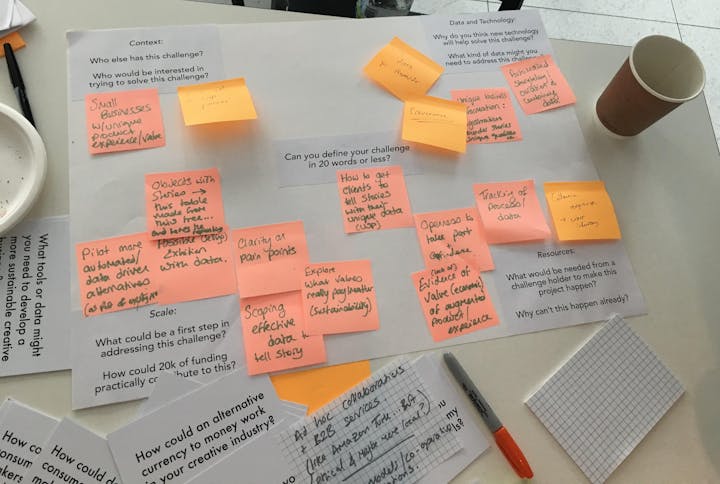 Workshops will start with a short presentation from a current Challenge Holder. By the end of the session participants should have a better understanding of the Challenge Project process and ideas and resources to help them develop potential Challenge Holder applications.
Challenge Discovery Workshops are open to anyone working in the creative industries in Edinburgh and South East Scotland.
About Creative Informatics
Creative Informatics is a collaboration across the University of Edinburgh, Edinburgh Napier University, Codebase and Creative Edinburgh.
Funded by the Creative Industries Clusters Programme managed by the Arts & Humanities Research Council as part of the Industrial Strategy, with additional support from the Scottish Funding Council. The programme is part of the City Region Deal Data Driven Innovation initiative.
Find out more at https://creativeinformatics.org/
Data Protection
In providing your completed registration response you are giving explicit consent for us to use this data in our programme monitoring and reporting processes. The data is managed confidentially. Your data will be held and used by the Creative Informatics delivery team based at the University of Edinburgh with some data shared with our funders the Arts and Humanities Research Council and the Policy and Evidence Centre based at Nesta. Your data will only be reported in anonymous aggregated forms and will always be processed in accordance with the Data Protection Act 2018 and therefore also in accordance with the General Data Protection Act 2018 and therefore also in accordance with the General Data Protection Regulation (GDPR).