An evening of live performances and presentations from musicians and producers that use data and new technologies in their work.
About this event
CI Labs #7: The Sound of Data
CI Lab 7 will explore how data and data-driven technologies are changing the way that music is made, performed, published and distributed.
Organised in collaboration with Delic, musicians and sound designers will guide you through the various flows and types of data involved in making and performing music, audio and other accompanying media.
This 'deconstructed gig' will showcase how data intersects with creative practice, with short presentations from artists followed by live performances.
Image credit: Atzi/Decagram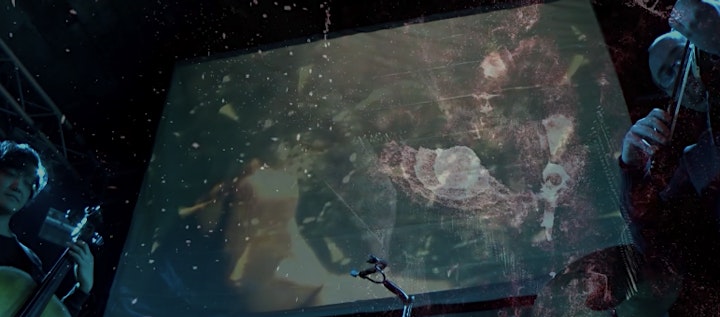 Performers and presenters on the night will include:
Tef Dara is an audiovisual artist and electronic music composer based in Edinburgh. He makes 3D real-time audiovisual systems that combine various contemporary aesthetics in non-linear forms. His compositions explore themes such as chaos, silence, dissonance, altered states, Human Computer Interaction and other intersections of culture and technology. He aims to blur the boundaries between audiovisual art and video games by creating game-like performance systems.
Raw Green Rust are a laptop trio that make improvised, gnarly glitch-dub, exploiting the musicians long working relationship and musical intimacy, constantly sampling and transforming each other, in pursuit of an organic, shifting sound mass. The released a live recording of their gig at Leith Depot earlier this year.
Atzi, Dave House and Esther Swift collaborate to create improvised ambient soundscapes, with Dave House (aka The Reverse Engineer) using live samples of cello, harp and voice from Atzi and Esther.
Image credit: Raw Green Rust/Alicja Pawluczuk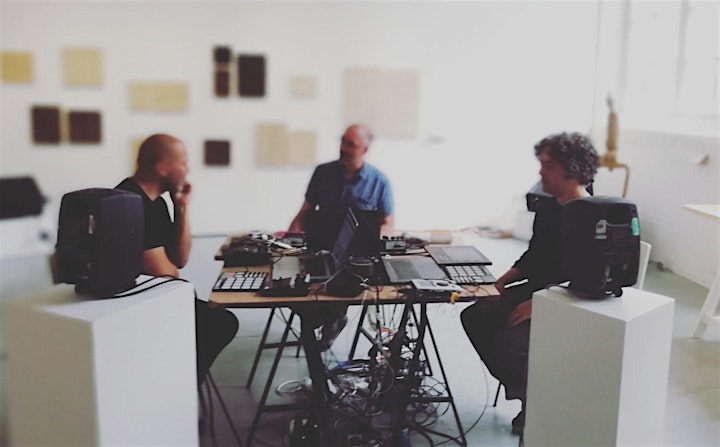 Delic.network
Delic, who are currently undertaking a Creative Informatics Resident Entrepreneur placement at Codebase, are creating a progressive asset management platform for independent music labels, management companies and artists, with the aim of helping artists to maximise the value of their catalogues beyond streaming services.
They will be making live recordings of performances on the night that will be used as the basis for projects on the Delic platform during its user-testing phase. If you are interested in trying out Delic, there will be an opportunity to sign up for free access to the technology at the Lab, ahead of its official launch.
There will be food on the night from Dough Pizza and profit-to-artist beers from Decagram.
Image credit: Maxime Ragni/Kiss photography and design
CI Labs are informal, monthly events which pop up at venues across Edinburgh, sharing innovative data-driven creative work and providing a meeting place for creatives of all disciplines to connect and collaborate. They are part of Creative Informatics, a partnership across the University of Edinburgh, Edinburgh Napier University, Codebase and Creative Edinburgh, enabling individuals and organisations to explore how data-driven technologies can enhance their work.
To find our more about the Creative Informatics programme visit https://creativeinformatics.org/
#CreativeInformatics
About Creative Informatics
Funded by the Creative Industries Clusters Programme managed by the Arts & Humanities Research Council as part of the Industrial Strategy, with additional support from the Scottish Funding Council. The programme is part of the City Region Deal Data Driven Innovation initiative.
Data Protection
In providing your completed registration response you are giving explicit consent for us to use this data in our programme monitoring and reporting processes. The data is managed confidentially. Your data will be held and used by the Creative Informatics delivery team based at the University of Edinburgh with some data shared with our funders the Arts and Humanities Research Council and the Policy and Evidence Centre based at Nesta. Your data will only be reported in anonymous aggregated forms and will always be processed in accordance with the Data Protection Act 2018 and therefore also in accordance with the General Data Protection Act 2018 and therefore also in accordance with the General Data Protection Regulation (GDPR).