Location
Edinburgh College of Art, The University of Edinburgh
74 Lauriston Place
Edinburgh
EH3 9DF
United Kingdom
Join us for a day of panels, presentations and demos, exploring innovation across the creative industries in Edinburgh and beyond!
About this event
The 2022 Creative Informatics Innovation Showcase will explore and celebrate a host of inspiring data-driven projects taking place across the creative industries in Edinburgh and South East Scotland.
Come along to this FREE all-day event to find out more about some of the innovative products, services and experiences that have been developed by creative individuals and organisations with funding and support from Creative Informatics.
This year's programme focusses on three key strands that demonstrate the ways in which data-driven innovation can support individuals and organisations working in the creative industries to explore, transform and connect.
We'll be hearing from our wonderful Creative Informatics community and some very special guest speakers including creative entrepreneur and co-founder of BAFTA-winning games company Bossa Studios, Beta Lucca, and Creative Director of True and Woke, Nikki Kilburn.
View our full programme below...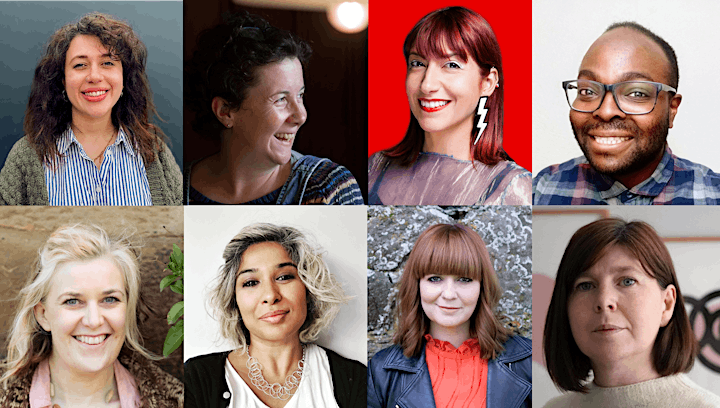 CI Innovation Showcase Programme
8.30am Registration Opens
9.05am Welcome Address: Melissa Terras, Co-Director, Creative Informatics
9.20am CONNECT: Speed networking with Creative Edinburgh (Online Breakout Rooms)
10.00am TRANSFORM: Keynote and Q&A with Beta Lucca, hosted by Jennifer Crichton
11.00am Morning Break
11.15am CONNECT: Accessibility and Inclusion Panel and Q&A hosted by Yasmin Sulaiman
Panellists: Barbara Melville (BiaScan) Caitlin Mulgrew (Drake Music Scotland) and Elizabeth McLean (Fruitmarket)
12.00pm Lunch Break
Attendees can explore the Creative Informatics Exhibition, watch some short CI films and/or download the Creative Bridge podcast.
1.00pm EXPLORE: Lightning talks from Creative Informatics participants hosted by Smart Hopewell, followed by Q&A
Panellists: Tom Methven (Amicable Animal), Sian Bevan, Chris Dooks, Ingi Helgason (Creative Informatics)
2.00pm CONNECT: Keynote and In Conversation with Nikki Kilburn (True and Woke), hosted by Nicola Osborne
2.45pm Afternoon Break
3.00pm TRANSFORM: Data and Creative Practice Panel and Q&A hosted by Susan Lechelt
Panellists: Caro Overy (Creative Carbon Scotland), Lynne Hocking (Applied Arts Scotland), Inge Panneels (Creative Informatics)
4.00pm CI Showcase Creative Commission: Tinderbox Collective
4.25pm Closing Remarks: Melissa Terras, Co-Director, Creative Informatics
4.30pm CI Showcase Ends
Please stick around after the event and join us for the official opening of the Creative Informatics Showcase Exhibition.
The Creative Informatics Showcase Exhibition will run at Edinburgh College of Art from Thursday 30th June to Sunday 3rd July, featuring a selection of the incredible work that has been developed by the Creative Informatics community.
About Creative Informatics
Funded by the Creative Industries Clusters Programme managed by the Arts & Humanities Research Council as part of the Industrial Strategy, with additional support from the Scottish Funding Council. The programme is part of the City Region Deal Data Driven Innovation initiative.
Data Protection
In providing your completed registration response you are giving explicit consent for us to use this data in our programme monitoring and reporting processes. The data is managed confidentially. Your data will be held and used by the Creative Informatics delivery team based at the University of Edinburgh with some data shared with our funders the Arts and Humanities Research Council and the Policy and Evidence Centre based at Nesta. Your data will only be reported in anonymous aggregated forms and will always be processed in accordance with the Data Protection Act 2018 and therefore also in accordance with the General Data Protection Act 2018 and therefore also in accordance with the General Data Protection Regulation (GDPR).