Location
Blackfriars Hall,
Blackfriars Centre
Newbridge st
NEWCASTLE UPON TYNE
NE1 2TQ
United Kingdom
Refund policy
Refunds up to 7 days before event
Description
Creative Legacies: Heritage & Mental Health Conference
Saturday 29th June 1pm-6pm @ Blackfriars Hall
0191 209 4058 jo@chillistudios.co.uk
Tickets £6 concession £3 Free access to carers supporting the person they care for during the Conference
"How can we create a legacy of equality, empathy and empowerment for mental health in the North East?"
The Heads & Tales project led by the mental health and arts charity Chilli Studios will put this question to analysis at an exciting conference looking at Creative Legacies of heritage and mental health initiatives in the North East.
Speakers from across sectors from the arts, health care, museums & emergency services will be discussing, exploring and challenging the role of heritage collections, peer-led initiatives and representation of people with mental health conditions. The event will be full of discussion and talks exploring and unveiling issues and opportunities to improve experiences and services for those directly or indirectly facing mental ill health in a challenging political climate.
The conference is open to the public from those working in the arts, heritage and mental health to carers, people with lived experience of mental health conditions or just anyone who is interested in learning more about the work at Chilli Studios and the themes of the event. It will be an opportunity to explore and discuss Mental Health in a time of political uncertainty and public opportunities in the field.
Conference places: booking is essential. Free buffet and refreshments will be provided for all attendees.
This conference is being made possible through funding from The National Lottery Heritage Fund and led by the Charity Chilli Studios. Visit website, Instagram, Twitter or Facebook for updates.

Ivor Crowther, Head of The National Lottery Heritage Fund North East, said: "Thanks to money raised by National Lottery players, we're delighted to support this project which will ensure mental health, and the experiences of those who have been affected, becomes part of the story of our region's heritage. From sharing their own stories to using art to explore this underrepresented part of history, people of all ages are set to take part in the Head & Tales project."
#NortheastMH
#socialjusticeformentalhealth

Conference Timetable:
(Right click image to enlarge in new window)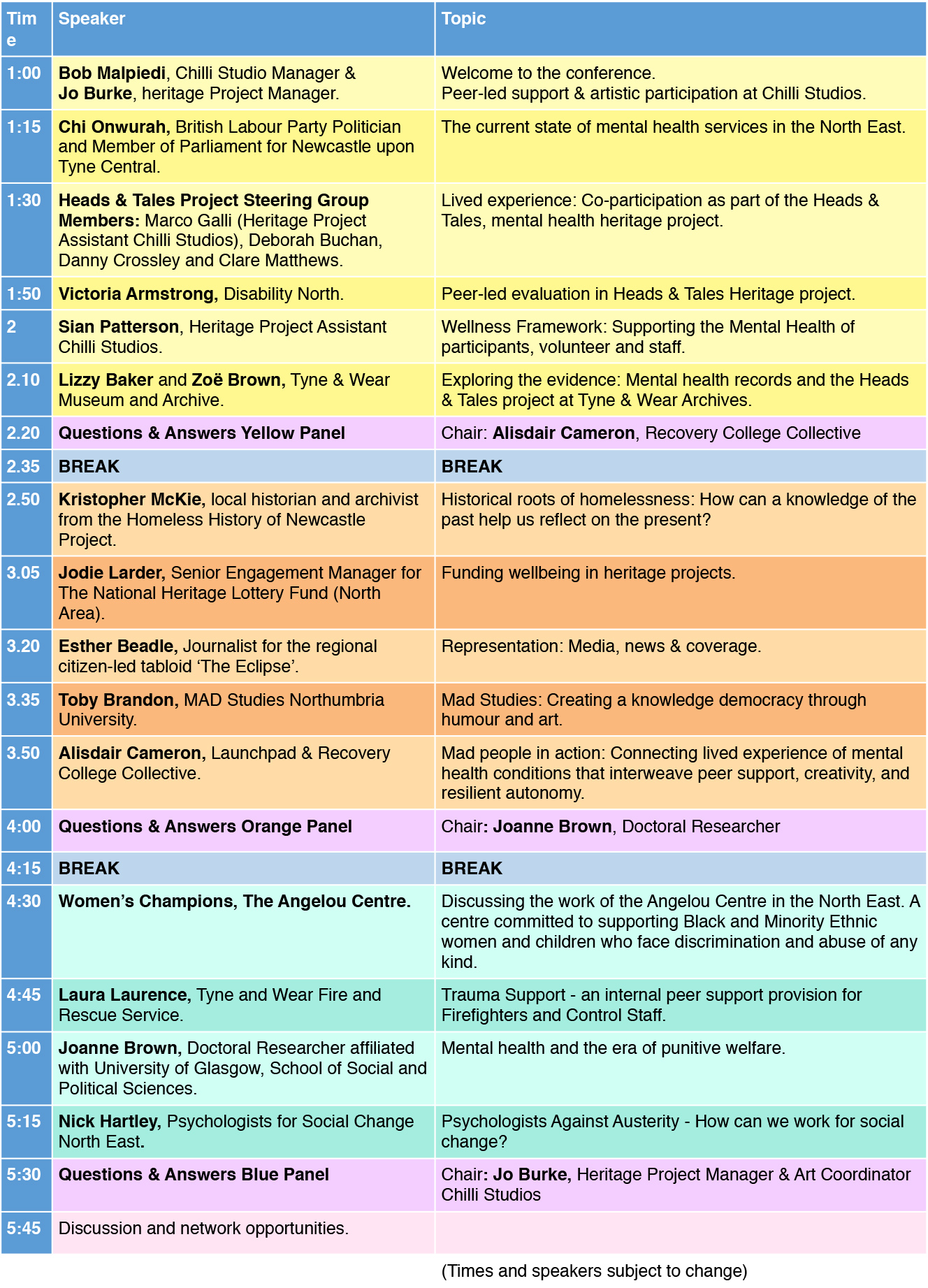 ---
Travel Information:
Below we have attached a map containing the closest parking spaces and metros.
Parking:
Blackfriars Centre is marked in red.
There is limited free parking on Crawhall Road, Stoddart Street, Stepney Bank and Lime Street. Note: charges may apply at certain times.
Also free is Ouseburn Central Car Park, off Foundry Lane (postcode NE6 1LH) when available with pedestrian access to Stepney Bank via small footbridge near The Cluny. It is also possible to park in Byker Morrisons (NE6 1EJ), which is an 11 minute walk away.
There's paid parking available at Stoddard House on Stoddard Street and also next to Arch 6 under Byker Bridge at the bottom of Stepney Bank.
Finally, there is a large amount of free parking at Spiller's Quay on the Quayside next to the Cycle Hub which is about a 10 minute walk away.
Metros:
The closest metros are Manors (8 minute walk) and Jesmond (15 minute walk).
About the wider Heads & Tales Project

Heads & Tales is a 2-year project to create a new heritage archive for the North East exploring, rebalancing and celebrating the voice of adults experiencing mental health conditions.

This project will be shaped and led by participants, volunteers and staff who are directly and indirectly affected by mental health issues. The project will expand to reach a wider population through public engagement, audience and participation strands across the North East.

Looking back through time from the late 1800s on, we will gather together and respond to current Archives in Museums, Health & Arts sectors. As well as this reflective work, we aim to also create substantial new archives with the starting point of the Declaration of Human rights in 1948 up to the present day.

Through Artistic means, we aim to capture and create new material for the archives that show a more diverse perspective and understanding of the contemporary Mental Health Sphere. We hope to raise equality in archival material of an underrepresented group by creating new narratives on people's memories and experiences for future archives and generations.

www.headntales.uk
https://www.facebook.com/MHheritage/