Sales Have Ended
Ticket sales have ended
Thank you for your purchase. Instructions on joining the online session will be sent to you up to 12 hours before your class starts.
Sales Have Ended
Ticket sales have ended
Thank you for your purchase. Instructions on joining the online session will be sent to you up to 12 hours before your class starts.
Learn to draw Hana 花 in creative calligraphy style with your own brush made from plants on Sumi-e style Hanabi fireworks painting!
About this event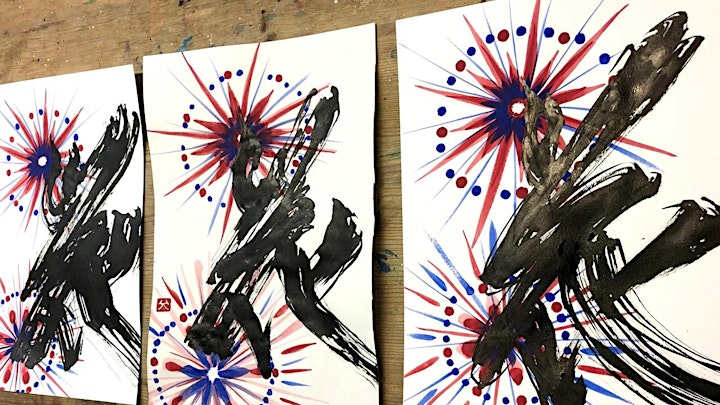 Artist and calligrapher Rie Takeda will introduce her popular themed art workshops to the HYPER JAPAN community.
GRAB A NATURE TO CREATE YOUR OWN STYLE!
In this workshop, you will be first learn to draw the Sumi-e ink painting fireworks ( Hanabi – 花火 – in Japanese ) as a background and then to create your own brushes from materials from nature such as flower buds, twigs, leaves, stems wooden sticks, veggies or even any of your old household materials such as toothbrush or card board. Then you will be guided to explore the Kanji character FLOWER 花 with your own brushes!! How fun this would be!
Prior to the workshop, have fun and go hunt for your brushes-to-be materials in your house, garden or parks or woods in your neighbourhood! Let's be creative, mindful and experiment with different 'brushes'! I am sure you will experience a very soothing active creativity in you.
This is a perfect opportunity for any family members/friends to join together to create something memorable for this summer!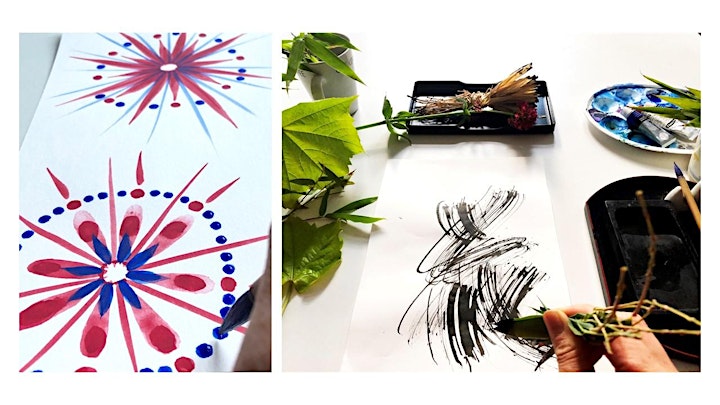 Date: 24th July 2021, Saturday
Time: 14:00-16:30 ( 2.5 hours lesson,10 minutes break in between)
Instructor's profile: Rie Takeda ( click for the instructor page )
Online tool: ZOOM (link will be sent to you after your purchase**)
Ticket Price:
£30 - Single person ticket
£45 - DUO ticket - 2 person to join with 1 access
Ticket sales will close at 5pm on 23rd July 2021, Friday.
Precautions: Suitable for all ages and beginners. (under 8 years old may need adult supervision) No art /crafty experience necessary.
** Please read our Terms and Conditions for HYPER JAPAN ONLINE EVENTS before you purchase your tickets:
https://hyperjapan.co.uk/terms-and-conditions-for-cross-media-limited-event-attendees-participants/
**If you don't receive any information one day before the class, please send an email here: contact@hyperjapan.co.uk
* Images above: examples of what you would create at the workshop
Workshop plan
Please prepare all the equipment listed below by yourself before the workshop starts.
Welcome/Meet and greet. Introduction to the creative-lettering. Showing interpretations + variations of fireworks and Kanji flower 花 in design.
Sketching the composition and choosing the main colours. Demonstrating various fireworks in ink painting
Painting the fireworks-background with light colour tones
Demonstrating and showing the energy flow of Kanji 'Flower 花' in Kaisho (block) and Gyosho (Seemi-cursive) calligraphy styles
Practise basic techniques and flow of the Kanji
Showing how to create your own brushes
Brush making and experimenting with the Kanji
Demonstrating the Kanji in diverse brushes
Fine-tuning + completing with the stamp (or painting a stamp)
Finissage presentation
Q&A time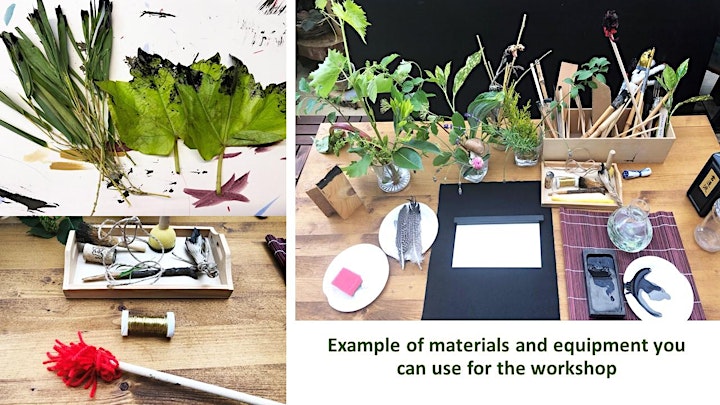 Materials & equipment you can use for the workshop
Please prepare all the equipment listed below by yourself before the workshop starts.
Water based paint (water colour, gouache, gansai)
Sumi liquid ink - calligraphy ink (or indian ink/water colour black ink)
Brushes – calligraphy and watercolour (large-medium)
Calligraphy papers or drawing papers for your practice and clean copies. Watercolor/Gouache paper (160mg- 200mg) or Sumie ink painting papers ( Hanshi papers) – ideally 30 papers.
Materials for your DYI brushes - anything you can find at your home or in nature to make your own brush such as flower buds, leaves, bamboo, wooden sticks, vegetables or upcycled household materials like toothbrush, yarns, cardboard etc.
String, yarns, scissors for creating the brushes.
Red felt pen to paint the name stamp on the final work
Some Kitchen papers/towels or tissue papers, recycled papers to dry the art works on
You will receive a Kanji 'Flower' template ( as an example) prior to the workshop which you can print or have it handy on your device.
About Rie Takeda - Neo Japonism Atelier
Rie started practicing calligraphy at the age of five under the creative supervision of her grandmother, a distinguished "GAYU-Ryu" calligrapher. Later she completed the master of the Gayu calligraphy school in Japan.
Rie's most representative work is a collection of her 'Painted Poems' series. 'Painted Poems' radiates with an embrace of unified harmony, striving to create a Natsukashii feeling~a warm nostalgia paired with the momentum of the here and now. Original poems pour into calligraphic design compositions, flowing with rich colours, patterns and an atmospheric spirit. The art of calligraphy, traditional craftsmanship, symbolism, Wabi-Sabi and Haiku-inspired poetry are all interlaced in her collection.
In addition, Rie produces calligraphy works, collages, print designs and works in Body-Art. She works on several projects, collaborations from game companies like Sega to the fashion brands including Kin by John Lewis, Desmond and Dempsey.
She's been teaching the art of Shodo with her original mindfulness-based-method for 15 years.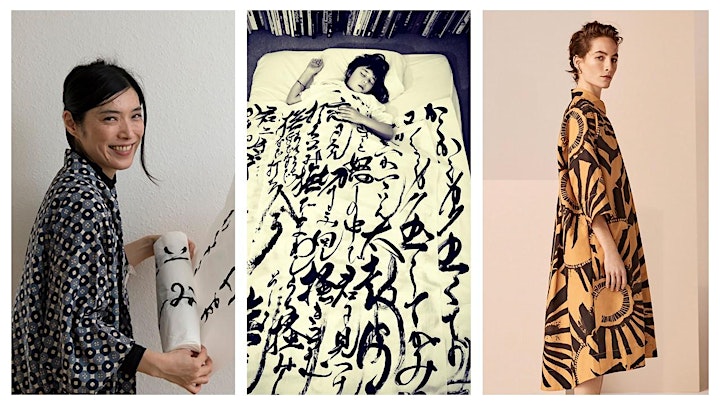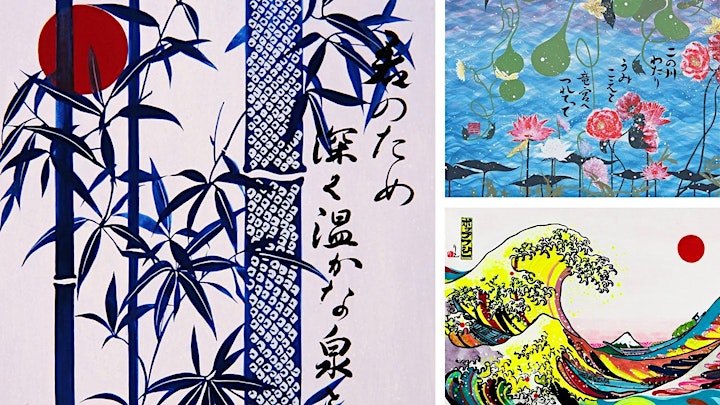 Above: Image of Rie herself and her own art works and designs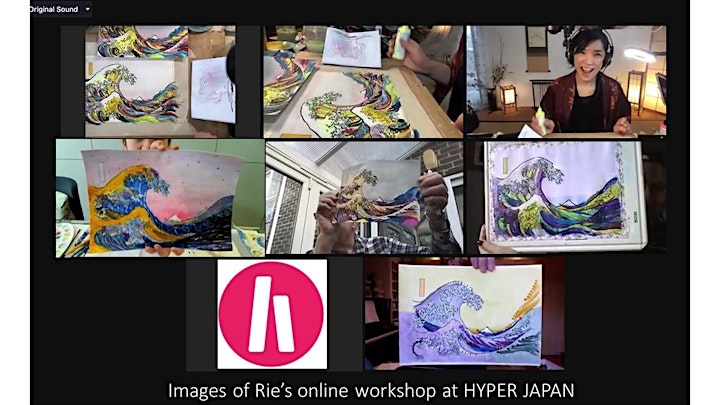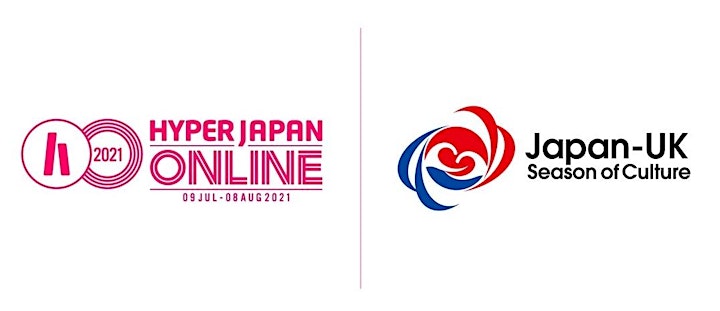 Organiser of Creative Lettering 花 Hana flower on Sumi-e style fireworks art workshop