Event Information
Location
Balham Library, Children's Library
16 Ramsden Road
London
SW12 8QY
United Kingdom
Explore & have fun with big maths ideas. Hands-on tools & problem-solving maths enrichment activities for Ages 7yrs-12yrs
About this event
About Maths Explorers
We are Maths Explorers, grassroots maths activists, on a mission to get our country moving to the beat of maths. We take mathematical thinking outside the classroom and make it part of the community. Working on the ground at community events, in schools and with families, we actively blur the distinction between work and play, allowing children and adults to experience their own mathematical thinking without the fear of failure that can be experienced in more formal settings. Opportunities to engage in maths not as a mere memory test, but rather as a game of hide and seek, where every clue found can help us play the game more successfully, can open up more curiosity and pleasure in our maths journeys.
Join us in Balham Library (Children's Library, upstairs), SW16, 6th April, 11am for a taste of this experience! Whether your child loves, hates or is ambivalent towards maths, we're sure to have something they'll really enjoy. We are validated by the Children's University - please bring your passports or make sure to ask for your stamp if your child is part of the scheme!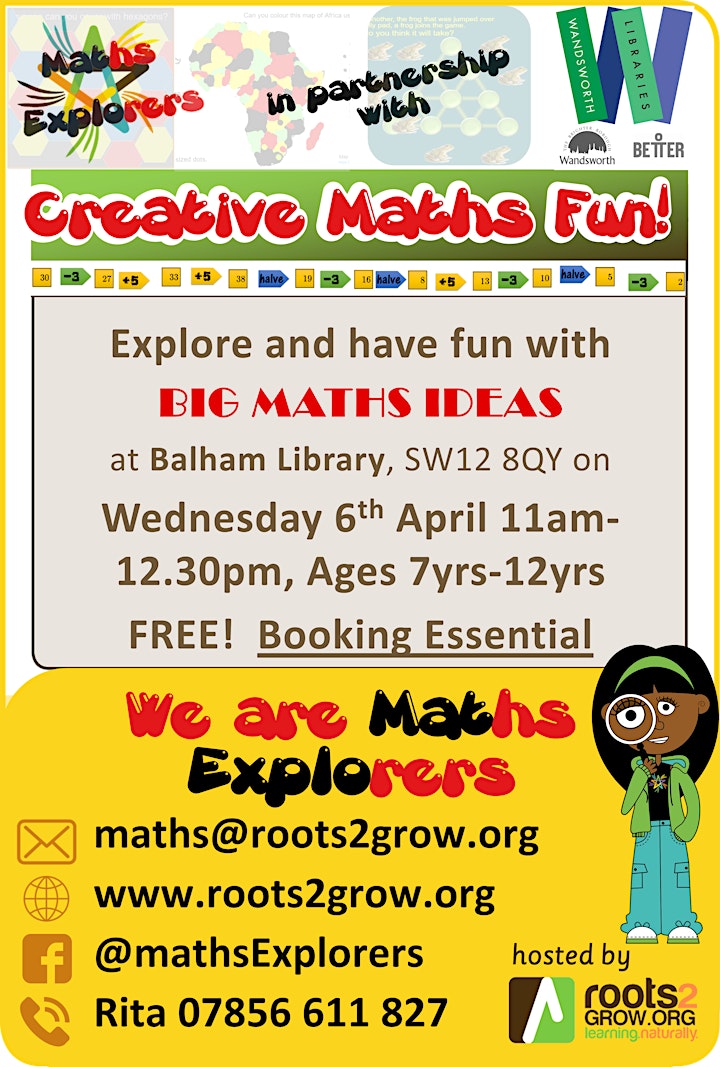 Booking info
Please note that booking is essential, places are limited to 12 children. Children under 8yrs must be accompanied by an adult. The Children's Library at Balham has a lovely space for reading with younger children, parents are welcome to wait there (or join in with their children at our tables!) Please also bring your own refreshments, including water.
If you have any questions, just contact Rita on 07856 611 827 or on rita@roots2grow.org
Please have a read of these guidelines from Balham Library
This is a live, in-person event taking place at Balham Library
Please note that due to social distancing, spaces are limited and advance booking is required. Children under 8 must be accompanied by an adult
When attending the event please help us keep you and our staff safe:
Do not enter if you have symptoms of coronavirus
Please sanitise your hands
Face coverings are welcome and encouraged
Please respect others' space
Contact Balham Library (balham.library@gll.org or 02086731129) for further details.For more Wandsworth Libraries events, visit https://www.eventbrite.co.uk/o/wandsworth-libraries-34186778945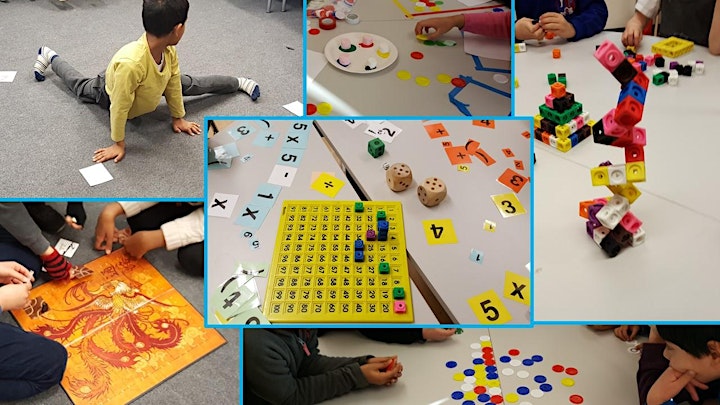 Some inspiration!
"Maths for the mathematician is like music is for the musician. It is everywhere. It is part of every experience because it is a way of thinking about and seeing the world. However, whilst everyone can appreciate and connect to music in their own way, not everyone has experienced this personal connection to mathematics; without this, the practice of maths can make as little sense and be as little pleasurable as practising scales on a photo of a keyboard. Experiencing joy & fun, whilst being deeply challenged, is a great place to redefine our journey with maths." Jason Gottfried, Creative Maths Director, Maths Explorers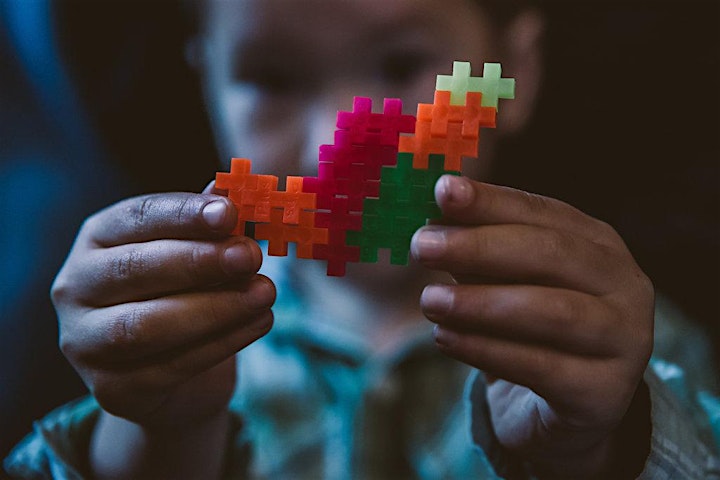 Date and time
Location
Balham Library, Children's Library
16 Ramsden Road
London
SW12 8QY
United Kingdom