A safe space to connect with others with social anxiety, explore through movement, and find a place of rest, peace, joy, and freedom.
About this event
About this Event
Hi!
We are offering a zoom taster session of creative movement, specifically for those struggling with Social Anxiety.
The session is happening on Saturday 7th August, from 10 am - 11 am.
What will it look like?
We will simply be offering a safe, secure, non-judgemental space for us to fully let go of our worries and concerns, and come to a place of rest, peace, joy, and freedom in our bodies and minds, together.
We will start with a creative check-in to see how we are all doing, then do some gentle meditative movement and stretches. We may then play some more energetic music to get ourselves moving a bit more, before coming back to a gentle finish.
I know that many people with Social Anxiety can find the prospect of dancing scary. However, we want to reassure you that there is nothing that you must do, and there is no right way to do it! Did you know that stillness and just breathing are important parts of moving and dancing? – your movements can be as small or as large as you want them to be. Also, our spirits can dance within us, even if our bodies might not seem to be moving very much.
Dance and movement enable us to communicate in non-verbal ways, which takes the pressure off having to speak. If you find it difficult to use your voice at any point in the session, you can instead communicate through movement or gesture, a noise, by typing in the chat, or holding a written message or any artwork you have done up to the camera so that we can see it - or any other creative way you can think of to communicate! We will encourage you to just be free to be how you need to, during the session. If you would like privacy to dance without being on camera, just simply turn your camera off and come back to us afterwards.
Emma - "Having suffered from Social Anxiety myself, I fully understand that video and audio calls can be incredibly challenging (a definite no-go) for some people (I can still find this hard myself!)" – hence, while it would be nice to see you and hear you, there is no pressure for you to have your camera or audio on – do not feel bad about this. While it may be a little stilted, we are ok with that if you are! We are more than happy for you to just communicate through a typed message on the chat.
Who are the sessions led by?
The sessions will be led by Emma and Sue, who trained together and both hold MA's in Dance Movement Psychotherapy. They both have a deep understanding of anxiety and trauma and have a passion for helping others to feel safe and heard.
Emma ran two events in 2008/9 called 'Freedom to Shine', in which many people with Social Anxiety and low confidence issues came and took part in many different creative workshops. Here are some testimonies from them:
"A fantastic, great, enjoyable day in a relaxed, non-threatening environment. I really had fun and at the same time was able to be involved in activities that I would normally shy away from".
"Every little cell is happy and well!"
"I really enjoyed today – I liked that there was no pressure to take part and we were encouraged to take things at our own pace".
What to bring:
1. Yourselves!
2. Comfy clothes that are easy to move in.
3. An idea for a piece of music or two that you love - so that I can play them in the session, as we explore together.
4. We may use props, so if you could gather a few objects like a scarf, a larger piece of material, sticks, balls, or things with different textures, that would be great. Many people find soft fabrics comforting, and these can be used within sessions. An email will be sent the week before the event confirming which props will definitely be needed.
5. Drawing paper and coloured pens/pastels – whatever your favourite art medium is in case you want to draw something.
6. You may want to find a room in which you will not be disturbed, so you can fully engage in the process of finding true rest.
7. You may want to light a candle (somewhere in the room away from where you are moving), or turn some fairy lights on, burn some essential oil, and even close the curtains a bit so you can feel even more held and nurtured during the session (this is what Emma likes to do anyway!)
We look forward to meeting you! :)
How much?
We are asking for a reduced amount of just £3.50 per person for this taster session, which will go up to £5 per person, per session, if the group continues.
How do I Join?
In preparation for the session, you will receive an email the week before, which will include a Zoom link from which to join on and other important information.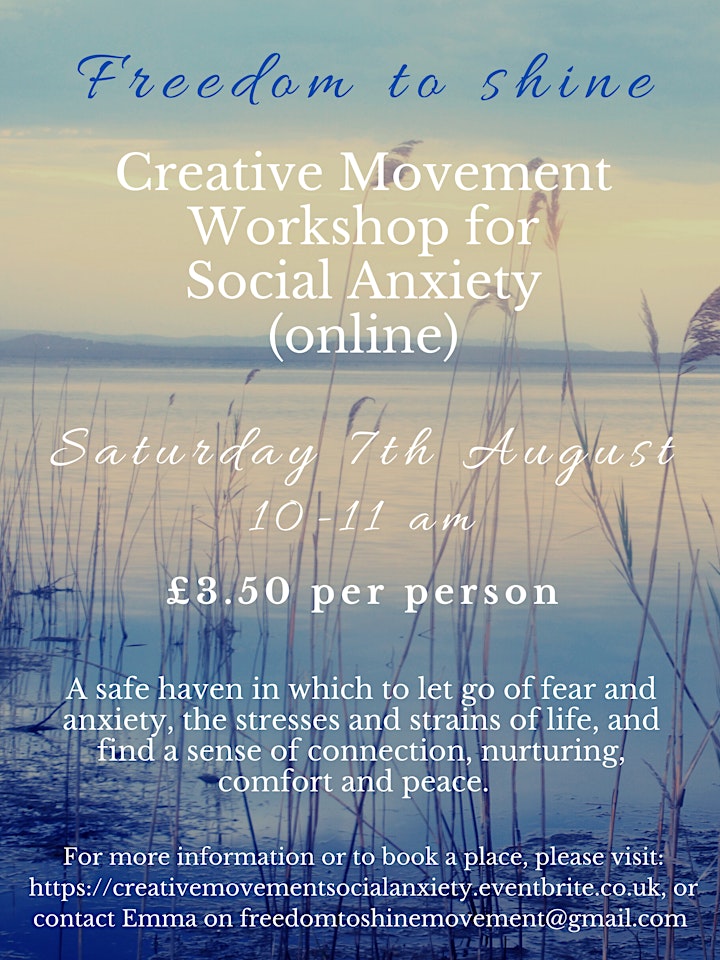 Organiser of Creative Movement Workshop for Social Anxiety