Meet Stacey Olika, designer, curator, creative producer and Founder of AmakaDesigns
About this event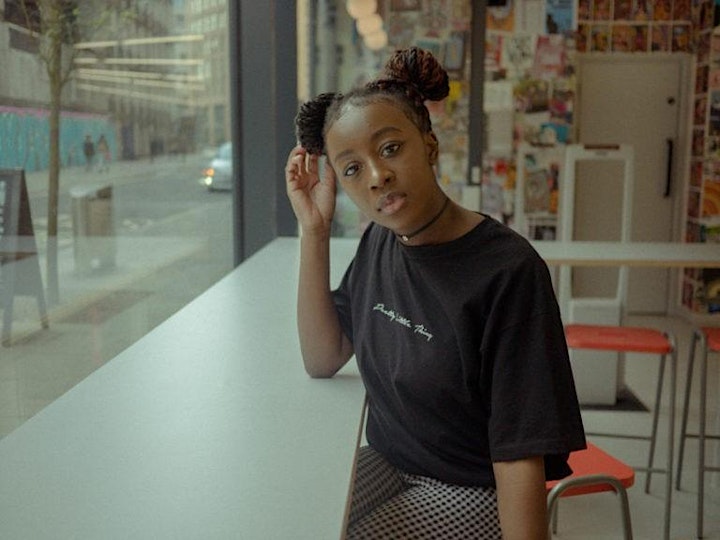 On this virtual visit, we'll meet Stacey Olika who is a multidisciplinary artist born in New York, raised in Switzerland and Bristol.
Blending together Stacey's love for block colours, digital design and interest in ownership of storytelling, she aims to narrate her experiences through the lens of her many identities.
Looking into the perspective and mindset of the African diaspora, her work invites much needed conversations as well as showcasing the beauty that is misrepresented by society.She is currently a production management assistant at the BBC and runs a multidisciplinary creative business, AMAKADESIGNS. She is also the curator of Agents of Change and co curated Why Are We Not Here at Spike Island; tackling the lack of representation in art institutions.
She has spoken for CMN, Sky and BBC regarding young talent and was named one of Bristols Most Influential Creatives under 24 in 2017 and 2019.
About the visit
As well as a tour of Stacey's working from home setup, we will also learn about how she set herself up as freelancer when leaving university, has navigated the creative industries and current projects she's working on from home + top tips and advice for you!
Creative Shift Virtual Visits aim to be relaxed, informal ways of introducing students to those working in the Creative Industries. On this visit you will:
Be introduced to the Creative Shift Team and Stacey Olika
Hear Stacey's creative career journey + background as a multidisciplinary artist as well as top tips and advice on staying creative during lockdown.
Mini virtual tour of Stacey's working from home space
Q+A (Your chance to ask any questions!)
To book your place, please check 'who can attend' below and book a ticket if you are eligible.
Who can attend this virtual visit?:
Creative Shift believe in shaping a diverse creative industry and supporting students who are underrepresented in the creative industries. Our programme is an additional offer, as part of UAL Careers and Employability.
Due to the way we're funded, we work with Home (UK), Undergraduate students at UAL, who meet one or more of the following criteria:
• Students whose parent(s) or guardian(s) have not completed a university degree
• Students from underrepresented ethnic groups.
• Students from low-income backgrounds (based on their London postcode)
• Care leavers and Care givers.
• Students who have taken part in the UAL Insights* programme
• Students whose family receives benefits** for living costs
*UAL Insights is the University's Outreach programme which offers young people access to our Colleges for creative activities and pre-university advice and guidance.
**Including: Universal Credit, Child Tax Credit, Free School Meals, Housing Benefit, Income Support, Income based Job Seekers Allowance (JSA), Pupil Premium.
Creative Shift will also consider students on a case-by-case basis when a referral has been made by UAL staff. Please refer students by emailing creativeshift@arts.ac.uk. Decisions will be made by at least 2 managers of the Creative Shift Team.
If you're not sure if this applies to you, or you have questions please email creativeshift@arts.ac.uk
If this does not apply to you, you may be interested in the wider Careers and Employability offer which is open to all UAL students; see here for more info.
#UALCreativeShift #CreativeShift
FAQs:
Who can I contact about my access requirements?
If you believe there are any barriers to your participation in this event, or you have any digital access requirements you wish to discuss, we are happy to talk to you. Please contact us in advance by emailing rochelle.gray@arts.ac.uk .
Does UAL provide any other support for graduates?
Careers and Employability is committed to helping you to make a living doing what you love, providing support for graduates for up to 5 years after graduation. For more details go to: arts.ac.uk/grad-support
Student's who have previously attended a Creative Shift Visit said:
"Visiting the artist in their own space made it more relaxed, you got to see the 'real picture' of how the industry works."
Student on the Creative Shift Visits: Photographer Kenneth Lam
"The industry visit allowed us to explore the working environment or the agency and directly learn about the work they do. Additionally, we got to network with the employer and learn more about their job."
Student on the Creative Shift Visits: Allison+Partners PR