Description
We've all run around the house with a cape and dreamt of having superpowers.
Times change, but dreams don't.
Come and join us for an evening where will be exploring the four creative superpowers of Maker, Hacker, Teacher and Thief. Four creative superpowers which will ultimately define whether you simply survive or positively thrive as we enter a New Age of Creativity. Not only as individuals, but also as Agencies and Brands.

Confirmed speakers, in running order, include:
Opening the session we will hear from Daniele Fiandaca, co-editor Creative Superpowers, Equip Yourself for the Age of Creativity (CSP) & Co-Founder of Utopia, Creative Social and Token Man, on what is driving this Age of Creativity.
We then have a packed agenda including;
Spoken word poetry from Sophia Thakur, Spoken Word Artist and Marketing Director, UniRunners
Laura Jordan Bambach, co-editor CSP & CCO, Mr President will be hosting a session with Nils Leonard, Founder, Uncommon on Maker, focusing on the value of experimentation, practical knowledge and happy accidents that breathe life into an idea!
Hugh Garry, CSP contributor & Director, Storythings will get us all Hacking with some help from Alex Pittas, Head Magician from Abracademy, they will focus on how we can trick our brains to allow us to be more creative.

Mark Earls, CSP co-editor, Heardmeister and the master of Thieving, will be teaming up with Paul Graham, Cheif Marketing Officer at Versace to explain why we all need to make use of what already exists to solve our problems.
Nadya Powell, CSP contributor & Co-Founder, Utopia and Innovation Social will be hosting a panel with some extraordinary trailblazers who will teach us what the future looks like. Panelists include:
Alex Fefegha, founder and head creative technologist at Comuzi, a small team of builders, thinkers, designers, and explorers using emerging technology to build a better future for humans.

Sophia Thakur, Spoken Word Artist and Marketing Director, UniRunners has been recognised as one of the most distinct and powerful performers of her generation by BBC, MTV & YouTube.

Naomi Taylor, Junior Creative, Mr President, who's story includes an upbringing in foster care to launching a fundraising campaign to fund her place at the School of Communication Arts, she has since gone on to win the student award at the inaugural VOWSS at Cannes Lions along with D&AD New Blood Yellow and Black Pencils. It's Naomi's ambition to help fund scholarships for other creatives from foster care backgrounds in the future.

Ellen Jones, Activist, Writer & YouTuber has been named Stonewall's Young Campaigner of The Year (2017) after running successful campaigns tackling LGBTQ+ inequality in schools and online. Ellen makes content about LGBTQ+ issues, mental health, activism, books and internet culture.
And if that's not enough, we will finish off with a fun Creative Superpowers workshop. We end with some drinks, nibbles and networking.
More about Creative Superpowers
"Creative Superpowers" is Creative Social's 3rd book and is a collection of essays that unpacks the superpowers we need in the Age of Creativity, edited by Laura Jordan Bambach, Daniele Fiandaca, Scott Morrison and Mark Earls.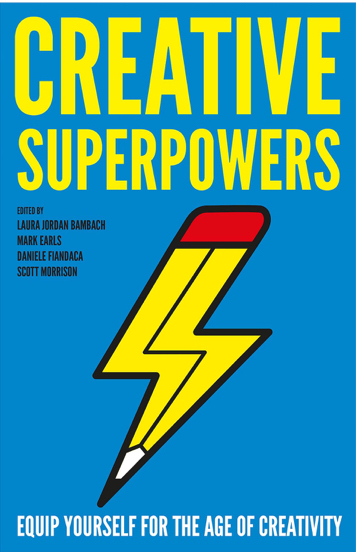 A BIG THANK YOU to our partners:
Venue Partner: