About this event
Do you know a young person who prefers sketching over spelling? Would sooner be running than reading?
Then they're probably a Creative Thinker!
The Creative Thinkers Day is part of a 6 week campaign run by the team at Creative Briefs in Hull to uncover the creative potential of young people who like to learn differently.
The day will be full of free activities for imaginative children aged 9+, ranging from taking part in large scale live art, to designing their own mixed up animals or anime characters. Each activity will last around 45 minutes, and you can book on to as many of the activities as you like!
As well as the activities for young people, we'll have members of our team on hand to talk to parents or carers about some of the opportunities we have for young people to be involved in our activities on a more regular basis.
This is an outdoor event, held on a working urban farm. We will be under cover (gazebo) in case of wet weather. Please dress appropriately for any change in weather conditions.
We request that a supervising adult is on hand and able to stay for the duration of your booking. You do not need to book a ticket for the adult.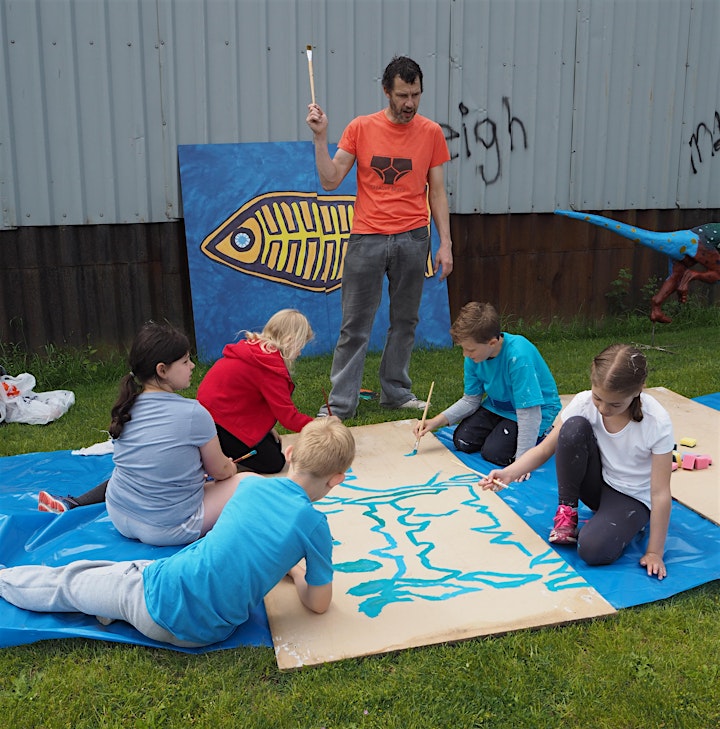 Creative Briefs run creative activities for youngsters who 'learn differently', or who have diagnoses such as dyslexia. These children are not always given the opportunity to build and develop the creative life skills they excel at. Through nurturing this creative talent, children can have inspirational futures - with studies showing 40% of the world's entrepreneurs are dyslexic.
However, a report by the British Dyslexia Association (BDA) has found that at least 80% of children with dyslexia are not diagnosed, whilst the Department of Education estimates that 870,000 children have SEND but only 150,000 are diagnosed.
Creative Briefs mission is to nurture the creative potential of young people who like to learn differently - bringing free, creative activities that spark children's imagination and build higher aspirations.
FAQ'S
DOES MY CHILD NEED TO BE DIAGNOSED AS DYSLEXIC TO TAKE PART?
This event is catered to children who like to learn differently and has been designed for both diagnosed & undiagnosed dyslexic children. If you think your child would benefit from creative activities they are welcome to take part.
WHAT IS ROOTED IN HULL & WHY IS THE EVENT THERE?
We are proud to be collaborating with Rooted in Hull, an Urban Farm a short walk away from Hull's Old Town. It focuses on the communities relationship with food & has a dedicated, closed safe space suitable for our activity. The farm grows produce - there are no animals.
WHAT MEMBERS OF YOUR TEAM WILL BE THERE?
Our team of tutors will be present at the event. All staff are DBS checked. We will also be joined by young ambassadors from the Junior Design Factory
WILL I NEED TO BE THERE?
We ask that parents are present for this event. The market at Rooted in Hull will be open as well as their cafe which will be serving food and drinks.
COVID 19
This event is happening after the planned Covid restrictions are lifted, however we know this is still a time of caution for many so this is an outdoor event allowing us to enjoy our creative activites in the fresh air. Masks to be worn at your own discretion. Please do not attend if you are presenting any of the following symptoms: fever, shortness of breath, loss of sense of taste or smell, dry cough, runny nose or sore throat.
Organiser of Creative Thinkers Day
At Creative Briefs our projects are open for everyone to be involved in, but we work increasingly with young people who struggle with the standard curriculum and who like to learn differently, in particular those with diagnosed and undiagnosed dyslexia.
Our core team is made up of professional designers and qualified tutors, and as such we passionately believe in the power of creativity to increase life chances. We also believe that success for young people is not only about the examination results they achieve, but about developing important life skills that will help them succeed in all walks of life.  
We use professional design briefs from real clients and ask the young people we work with to respond, allowing our participants to take creative control in answering the brief. In doing this participants are enabled to respond as creative minds, not as young people with specific learning difficulties. The positive interaction introduces the creative sector to participants as an area in which they may excel.