What can businesses learn from the arts and cultural sector in designing innovative and engaging wellbeing strategies?
About this event
Thursday 23 September | 11am - 12.30pm
An online event exploring how workplaces can adopt a creative approach to wellbeing to drive business success, amplify employee productivity, and create happier and healthier staff communities.
Over the past year, individuals have turned to arts and culture in ever greater numbers in recognition of the impact that creativity can have on improving mental and emotional health. This event asks what can be learnt from this, discussing ways businesses can incorporate creative wellbeing into their strategy.
Experts in business, health and creativity will discuss strategies and opportunities. The panel discussion will be followed by case studies, breakout and practical sessions and end with a Q&A. The event is open to all businesses and may be most helpful for workplace leaders, decision makers and HR teams.
George Bell
Co-founder of ON:SONG
George has over 15 years industry experience across a broad range of musical, cultural and ethnomusicological projects, and is passionate about how music can be used to improve wellbeing. ON:SONG provides musical experiences for businesses, communities and individuals to tune-in, connect and take care of their wellbeing. Committed to having a real impact, ON:SONG work with clients to measure and review wellbeing and its benefits.
Dr Simon Opher
Gloucestershire GP and founder of Artlift
Dr Simon Opher is Chair of Stroud Integrated Locality Board with responsibility for the healthcare of 120,000 people. He was also the lead clinician for the national Cultural Commission Pilot and leads on Social Prescribing in Gloucestershire. He founded Artlift in 2007, providing arts on prescription to patients in Gloucestershire and Wiltshire. Latest projects include arts and ballet to help survivors of cancer, the use of comedy to engage hard to reach communities, and Allotments on prescription sited on unused NHS land.
Catherine de la Poer
Leadership coach, expert on emotional intelligence
Catherine de la Poer is on a mission to change the conversation about organisational value. She is founder at halcyon coaching ltd, where the focus is to create more resilient and agile individuals, teams and organisations with Emotional Intelligence forming the centre-piece of her coaching approach. #humansustainability puts talent investment and employee wellbeing front and centre. Talent-first CEO's see TALENT as a value creator, as such talent is tied to every item of the strategic agenda.
Pete Allison
Director of festivals of business and innovation
Pete Allison runs County Business Shows Ltd which produces The Gloucestershire Business Show and The South Gloucestershire Business Show. The events bring leaders in business together to discuss, consult, celebrate, promote and grow great businesses and good business practice across the county
Change is a constant, and rarely more so than over the past eighteen months. The narrative has moved on from getting 'back to normal' to what the world of work might look like in the future. The huge increase in working from home has proved that people CAN be engaged and productive away from the office, but creates its own challenges. How can managers keep in touch with their teams and create a sense of shared purpose and belonging? What about new people joining the business, and how can you replace those informal, low-key touchpoints that help to build & maintain relationships?
Many people are wary of change & may even instinctively oppose it, but with so much in a state of flux, might now be the perfect time to re-evaluate our workplaces and explore different approaches?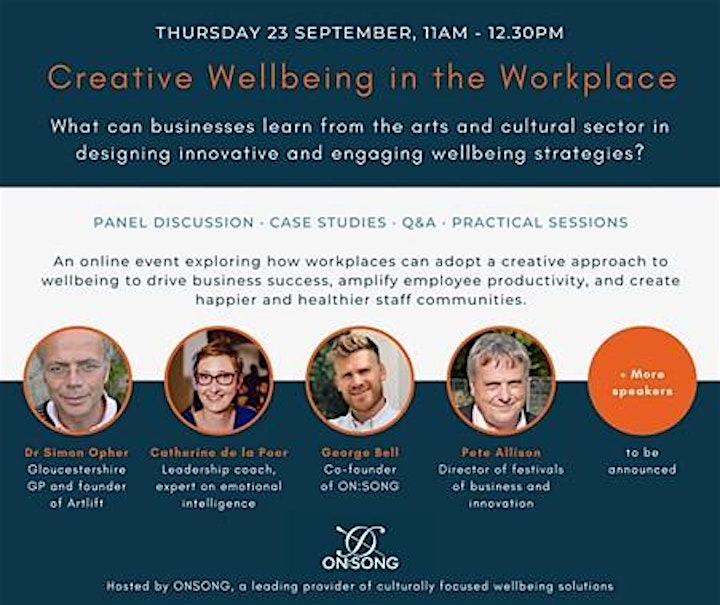 Organiser of Creative Wellbeing in the Workplace
The Gloucestershire Business Show
The South Gloucestershire Business Show
Business Insights online festival of Business & Innovation
Business insights International SME network

Each of our two day festival events is a Festival of Business and Innovation, developed with the Business Community and for The Business Community.

Our Business Insights International SME Network (BIISN) is a network of Business owners, innovators, entrepreneurs from across the globe who meet on a regular basis on a digital platform to meet, collaborate, innovate and grow their businesses with other like minded people across different countries, cultures and languages.

We draw on expertise from contributors, partners and sponsors, providing a stage for innovation, collaboration, discussion, learning and business growth.

The show tackles a range of topics relevant to today's business community and welcomes businesses of all sizes and across all sectors.