Creative Workshop: Paper-cutting with artist Maryam Golubeva
Description
Join us for this creative workshop aimed at everyone aged over 12 years and learn the craft of paper-cutting with artist Maryam Golubeva. Using a few simple materials and tools you will create a beautiful delicate moon-inspired paper-cut piece and develop the skills to explore the craft further.
The moon has long inspired curiosity and wonder. It appears at night, the time of sleep and dreaming. Radiating an air of mystery and magic, the moon is also associated with love and is a symbol of time, change, and repetitive cycles. In this workshop we will be looking at different ways people depict Moon in a variety of cultures around the world and the ways these themes can be translated into a paper-cut pattern.
In this workshop, you will be introduced to the history of paper-cutting, feel inspired by intricate Moon inspired patterns, learn to use manicure scissors in a creative way and have fun creating your own work.
During this session you'll learn all that you need to help you get started, including:
• An introduction to paper cutting with a look at some examples,
• A quick run-through of the tools needed,
• Essential tips and tricks in paper cutting,
• Work on practice sheets,
• Create a final project from a choice of the original templates.
At the end of the session, you can expect to proudly walk away with a beautiful piece of moon-inspired art and the skills to carry on making your own paper-cut artwork at home.
Tickets for this afternoon workshop are £10. This includes all tuition and materials. No previous art or design experience is required. Beginners warmly welcomed.
About the Artist
This creative workshop will be led by local artist and designer Maryam Golubeva. Born and raised in Russia, Maryam is a British artist and designer currently working in the field of Islamic art, creating handmade bespoke artworks, patterns, and inspirational customised emblems. She works in a wide range of media, using tools from simple manicure scissors and paper to graphic design software. Maryam's work was recently showcased at MOCAfest at the World Islamic Economic Forum in Dubai and Malaysia. In 2015 and 2016, she was shortlisted for Muslim News Alhambra Award for Excellence in Arts in the UK.
You can find out more about her work here: http://www.maryamgolubeva.com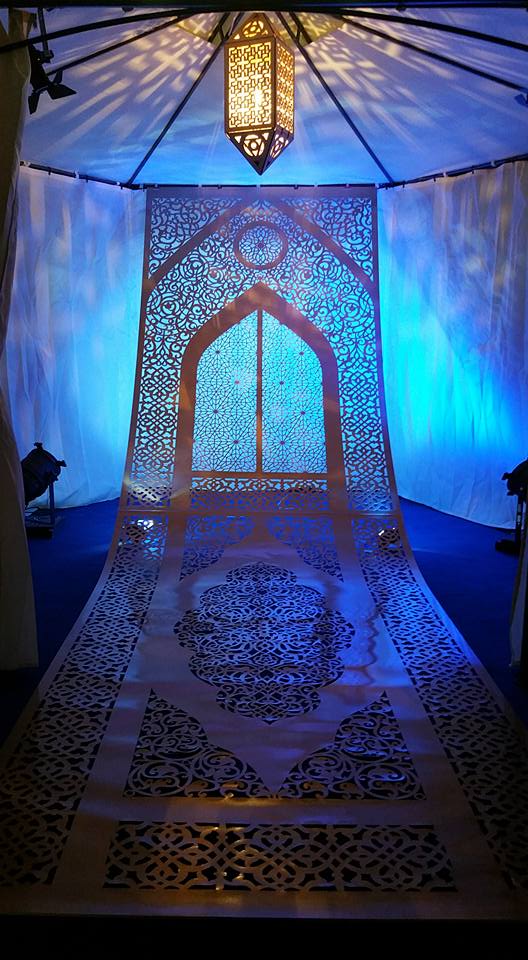 Part of the Museum of the Moon events programme. For more information please visit: https://bit.ly/2QMMpul

FAQs
Are there ID or minimum age requirements to enter the event?
This workshop is best suited to those over 12 years of age