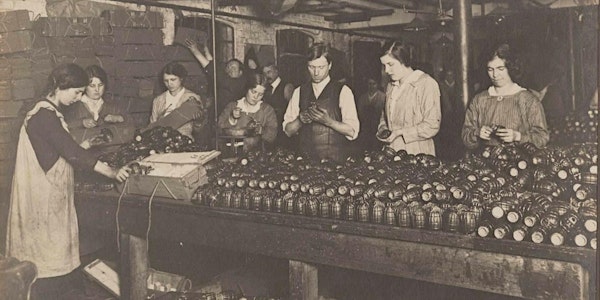 Creative Writing using First World War Archives with Fiona Joseph
Event Information
Location
Wolfson Centre for Archival Research, Level 4
Library of Birmingham
Centenary Square
Birmingham
B1 2ND
United Kingdom
Description
Join Birmingham historical novelist and biographer, Fiona Joseph, for a hands-on Creative Writing session around the theme of the First World War. Archive material at the Library of Birmingham has been specially selected by Fiona Joseph in conjunction with Corinna Rayner, Archives & Collections Manager. This writing workshop will give a unique opportunity to explore some of the many archival treasures themed around Women at War (Home Front, Industry) and Conscience at War (Quakers, patriotism and pacifism). You will be able to browse items such as family letters, photographs, posters, postcards, news items and memorabilia from the period and use these as a springboard for your own creative response. Writers at ANY level, including beginners, are welcome. Just bring some writing equipment – pen and paper or laptop.
During the afternoon there will be an opportunity to read your work to the group for reaction and feedback. (Please note that this is strictly optional!) Fiona Joseph will be able to offer professional guidance on shaping and editing your writing. You will also be able to submit your piece for possible publication on the Library of Birmingham Archives & Collections blog.
Programme
11:15 Welcome and introductions
11:30 Finding your inspiration … a look at the Archives
12.00 Practical writing session (1)
12:30 Lunch (not provided)
1:15 Practical writing session (2)
3.15 Break and sharing our work
4:00 Questions
4:15 Close
How to find us:
The Wolfson Centre for Archival Research is based on level 4 of the Library of Birmingham in Centenary Square. On arrival, please report to the information desk on level 4.
Additional Information:
Since we will be using original archival material in this workshop, all attendees will be asked to place bags and coats etc. in the lockers provided, to use only pencils for making notes (laptops and tablets are welcome!), and will not be able to consume food or drink in the room in which the archives are out.
Date and time
Location
Wolfson Centre for Archival Research, Level 4
Library of Birmingham
Centenary Square
Birmingham
B1 2ND
United Kingdom