Creativeworks London Festival Registration (Please book individual sessions...
Description

CWL Festival registration is from 9.30am
This ticket will give you access to the exhibition spaces only between 10.00am & 9.00pm, Friday 29th April 2016.
To book onto individual sessions please view the full list of festival activities here.


About the festival
Creativeworks London (CWL) is London's Knowledge Exchange Hub, funded by the Arts and Humanities Research Council (AHRC) over four years to bring London's researchers, creative entrepreneurs and businesses together to explore the issues with an impact on the capital's creative economy.
Since its inception in September 2012, CWL has funded 143 collaborative research and innovative knowledge exchange projects between researchers from our London-based partners and London's creative, cultural and digital creative SMEs and practitioners.

We are delighted by how much has been achieved during this time. CWL's in-house research and funded project outcomes over the past three years have generated substantial and very useful knowledge for SMEs in the creative economy, policy makers and academic researchers. In addition we have built a strong and ongoing network of creative and innovative people.
Please join us at the on the 29th to celebrate our work.
Throughout the day festival attendees will be able to:
Attend a key panel discussion on the relationship between arts and humanities research and the creative economy, with all four AHRC-funded KE Hub Directors.
Experience

the innovative outcomes of this collaborative knowledge exchange programme - exhibitions, installations, discussions, workshops, debates and much more.

Discover the impact of this research on the future of London's creative economy.
Learn about the process and benefits of collaborative knowledge exchange.
Network with an exciting range of creative and innovative people.
We look forward to welcoming you on the day.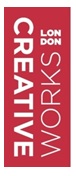 With special thanks to