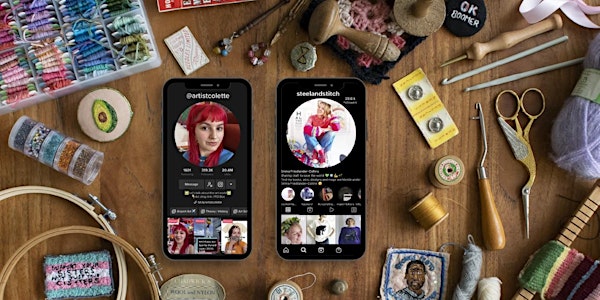 Creativity in the Lockdown Home: Crafting, Parenting, Researching
A free online event with craft-makers, content creators, writers and academics exploring the creativity that emerged in the lockdown home.
About this event
In this second event of a three-part series taking place over May–June on the theme of HOME, members of Kingston University's Visual and Material Culture Research Centre will be in conversation with guest speakers exploring various forms of creativity that emerged in the Covid-19 lockdown home, from crafting and its flourishing on social media to the challenges and opportunities presented by parenting while working from home. The conversations will be followed by a discussion and opportunity for audience questions.
Craft at Home: Exploring Social Media Content Creation as a Craft
Has the recent popularity in domestic craft practice been influenced by social media? While the multiple lockdowns pushed more people towards their screens to connect and many used this unprecedented time at home to learn a craft, this period only accelerated an already growing phenomenon being fuelled by the Instagram craft community. Content creation is a creative output and making successful content for social media requires a unique set of skills and know-how.
From the comfort of their couch and through the palms of their hands, crafters are not only making with material, but also using their mobile phones to upload content of their making for their social media feed. Making is a way of connecting and this discussion will feature a short talk by three content creators @daisyBow_Craft, @SteelAndStich and @ArtistColette exploring connections between craft and social media, with a focus on the home as a site for this creative practice.
Child-led Creative Disruption in the Lockdown Family Home
As well as the merger of spheres and the new visibility and acceptance of children in the background during defined 'work' time in households lucky enough to be able to work from home, the Covid-19 lockdowns brought children and their rhythms to the fore of our everyday: having to rethink habits and priorities, learning to work together and play together, and embracing the collaborative meaning-making made possible by 'letting go'.
This discussion-based research event between researchers and parents Anna Johnson and Lina Hakim proposes to look into this phenomenon and, drawing on insights from the perspectives of the speakers' research interests and pursuits, to consider whether it might provide an opportunity to rethink the role of children as meaningful contributors in creative/research practice.
Speaker biographies
Colette Bernard (TikTok @Artistcolette) is a Louisiana-born artist whose work focuses on their queer and southern identity, and their relationship with social media as an artist. Her talk is about the intersection of art and social media, discussing her own experience as an artist online.
Daisy Bow du Toit (@daisybow_craft) is a research student at Kingston University. Her research sets out to explore the centrality of image and video-based social media platforms, namely Instagram and TikTok, to the current 'craft renaissance', focusing primarily on the intersection of the medium as a technology of self, with multiplatform craft practices through storytelling and its specific display aesthetic. She is a crafter and makes content of her craft on TikTok.
Emma Friedlander-Collins (Instagram @Steelandstitch) is a freelance researcher-designer-maker. Her work focuses on how collaborative making on social media can encourage sustainable actions, with the home at the heart of identity, meaning-making and change. She is the author of a number of zero-waste craft books, and lectures at University of Brighton in the Dark Arts of Digital Content Creation.
Lina Hakim is a researcher, lecturer and artist particularly interested in overlaps between the material cultures of science, technology, craft, and play. She joined Kingston University in 2015 teaching Critical and Historical Studies, mainly to Graphic Design students (https://www.kingston.ac.uk/staff/profile/dr-lina-hakim-542).
Anna Johnson lives and works in East London and is currently undertaking a PhD in Creative Writing at Kingston University. Her practice is one of poetic-prose life writing and her research focuses on the intersections of maternal studies, disability and illness writing, neurodiversity and queer theory. Anna's PhD explores the ways in which the language of the spectral offers a possible route to the expression of difficult-to-articulate experiences, such as the strangeness of early motherhood. Her practice of poetic-prose life writing deals with the complexity and ambivalence of early motherhood, offering something like an immersion in the affects of care. Anna's recent publications include chapters in the collections, Women in Transition: Crossing Boundaries, Crossing Borders (Routledge, 2021) and From Band-Aids to Scalpels: Motherhood Experiences in/of Medicine (Demeter Press, 2021). Further details about her work and publications can be found at: https://annaotheranna.wixsite.com/mysite