Find out why brands need to use creativity and purpose in their marketing to solve the climate crisis at this hybrid breakfast event.
About this event
Join us for a sociable morning of talks, activities & networking that will leave you with the key skills & confidence to use creative marketing as a tool in combating the climate crisis.
This hybrid breakfast event will mobilise brands and creatives to work together in using creativity and value-driven communications using business as the driver in positive behaviour change.
This hybrid event is kindly sponsored by Network members Enviral, a key brand marketing agency creating environmental and social campaigns for ethical companies.
We welcome speakers Enviral, Shambala Festival, Future Leap/Seatox and Kendra Futcher.
Government guideline and pandemic dependent, this event will take place physically and virtually. Both options offer the full event experience, including networking, Q&A and our famous 60 second pitches. Virtual attendees will need to B-Y-O-Breakfast!
If you purchase a ticket but the event is moved due to covid guidelines, you can attend the new date or request a full refund.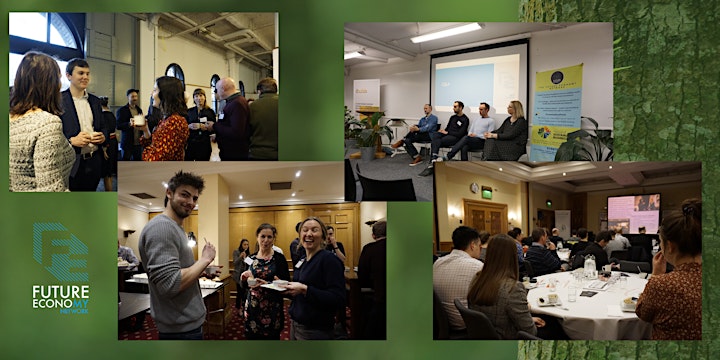 Agenda
07:45 – 08:05 - Registration, Breakfast and Networking
[Online Attendees: 07:45 - 07:50 Registration, 07:50 - 08:05 Group Networking]
08:05 - 08:15 - Introduction by The Future Economy Network
08:15 - 08:35 – Joss Ford, Founder, Enviral - The importance of the marketing and the creative industries in solving the climate crisis
08:35 – 08:50 – Chris Johnson, Founder of Powerful Thinking/Shambala/Vision 2025 - Purpose, Impact and Voice - Ramblings of a festival organiser
08:50 - 09:05 - Kendra Futcher, Creative Copywrighter and Thinker - the language of climate change
09:05 - 09:25 - Panel Discussion (chaired by Tay Aziz)
09:25 - 09:30 - 60 Second Pitches
09:30 - 09:35 - Close
09:35 - 09:45 - Finish and Mingle
[Online Attendees: 09:35 - 09:45 Group Networking - Lessons Learned]
Meet The Speakers!
Joss Ford is the Founder of Enviral , a purpose-driven brand marketing agency that works with brands to create and communicate their environmental and social purpose. A graduate of The School of Earth and Environment at Leeds University and CISL (Cambridge Institute for Sustainability Leadership), Joss helps companies operate more sustainably and communicate their environmental messages through impactful campaigns.
Kendra Futcher, Freelance Brand Writer
What we say and how we say it matters. Kendra works with a mix of brands, organisations, individuals and businesses helping them find the right words to capture who they are, what they do and why they do it.  Kendra's strategic focus and interest in the 'why, what and how' has helped her to build up valuable experience writing and running workshops around naming, tone of voice and brand positioning across an eclectic mix of clients and sectors. The language of climate change is of specialist interest to her, having worked on the brand creation for The Climate Group back in 2004. Since then, Kendra has continued to explore how we communicate about this vital issue through her work with the UN climate team and most recently, UK start-up, The Good Stream.
With many people being 'at capacity' in terms of hearing about global warming and climate change, what we say and how we say it has never been more important.
Chris Johnson is Co-Founder, Operations Director and Sustainability Lead of pioneering festival Shambala, Chair of the UK's outdoor event industry environmental steering group, Vision:2025, co-founding member of the Association of Independent Festivals (AIF), co-founder and CEO of live industry sustainable travel charity ecolibrium, sustainability consultant, columnist, speaker, and activist. He driven by climate advocacy and combines a depth of experience and fierce optimism to lead and support climate action.
Tess O'Shea, Founder of Seatox and Freelance Content Creator at Future Leap
Tess is a freelance content creator and marketer for Future Leap. She has a passion for storytelling through filmmaking, regularly making social media and website content as the in-house Future Leap video creator. She has also founded her own sustainable brand, Seatox. Seatox is a non-toxic, wild skincare business, using seaweed as the key ingredient. Tess was inspired by her childhood living on the west Atlantic coast of Ireland. This is a place where seaweed has been foraged for centuries and serves a plethora of wellbeing purposes from food source to skincare. Seatox products are handmade with love in Bristol and use 100% organic ingredients.
Tay Aziz, Science Communicator and Researcher, Wild Space Productions
Tay is a science communicator, filmmaker and natural history researcher, passionate about sharing inspiring stories of our planet for broadcasters such as the BBC and Netflix. She is driven towards intersectional storytelling efforts around the climate crisis, which spotlight social justice issues and diverse voices. She has worked with groups across Bristol, such as St Werburgh's City Farm and Friends of the Earth to elevate stories of Black, Asian and Minority Ethnic individuals and their work towards building a more environmentally-just world.
----------------------------
Want to Know More?
If you would like to join our sustainable business community please get in touch via info@futureleap.co.uk or sign up easily here.
Follow the Future Economy Network on Facebook, Twitter, Instagram & Linkedin
Follow Enviral on Facebook, Twitter & Instagram
Never miss what's next in sustainability by signing up to the Future Economy Network's monthly newsletter HERE
Opportunities, Suggestions and Conditions
Physical attendees must adhere to all safety guidelines sent in advance of the event.
You can get 20% off your next online event with us by choosing the add on option during booking.
Most of our events are available on demand here, however this does not include opportunities to network, take part in the discussions or do a 60 second pitch!
We will share your name, job title & company with the other event attendees for this event only. If you don't want this information to be shared please let us know when you have purchased your ticket.
We take photos at our events for marketing purposes, if you don't want your picture taken please let us know in advance.
We record some of our events for marketing purposes, if you don't want to be in the recording please let us know in advance.
We have included a £1 carbon offsetting fee to all event tickets in our commitment to being carbon neutral in our operations. You can find out about our chosen charity here.
Please let us know at least one week in advance if you require closed captions or have any other accessibility needs.
If you require a complimentary carers/assistant ticket, please email events@futureleap.co.uk at least one week in advance and we will be happy to support you!
#wegrowthhub #business #seminar #carbon #netzero #marketing #creativemarketing #branding #marketing #sustainablemarketing #advertising #climatecrisis #climateemergency #climatecrisis #social
Organiser of Creativity, Marketing and Our Climate Crisis