Description
French People Give Me The Crepes
Yes – that sounds about right. As summer sets in, one would long for an ice-cream. Nonsense! Why going for an ice-cream when you can have delicious crepes! We promise you'll feel just like in Brittany (homeland of Crepe culture).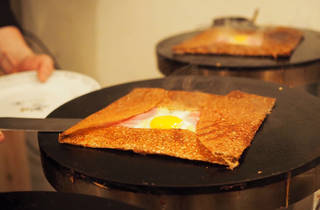 We manage to get you a pretty sweet (and savory) deal – 3 crepes and half a bottle of cider for £21!
Starter: galette blue cheese and fresh pear OR galette apple jam and andouille from Guemene
Main: galette complete (ham, cheese, egg) OR galette ratatouille and blue cheese sauce
Desert: crepe caramelised apples, cinnamon and home made caramel OR crepe flambéed pear, vanilla ice cream and home made chocolate sauce
Drink: half a bottle of cider
Hurry up – 25 seat capacity only!