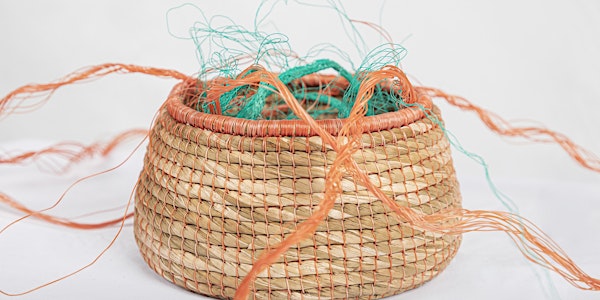 Creu Basged Dorch|Coil Basket Making
Location
St. Fagans National Museum of History
St Fagans National Museum of History
Cardiff
CF5 6XB
United Kingdom
Cwrs basgedwaith yn Sain Ffagan Amgueddfa Werin Cymru | Coil Basket Making course at St Fagans National Museum of History
About this event
Scroll Down for English
Dewch i ddysgu crefft draddodiadol basgedwaith ar y cwrs undydd hwn, gyda'r artist a gwneuthurwr basgedi Colette Davies. Mae gwaith Colette yn ffres a chyfoes, ac yn defnyddio cyfuniadau syfrdanol o ffibrau planhigion a phlastig gwastraff wedi'i gasglu o draethau Cymru.
Mae'r cwrs hwn yn addas ar gyfer dechreuwyr pur – darperir y deunyddiau a'r offer i gyd.
Gallwch ddefnyddio ffibrau planhigion naturiol neu blastig wedi'i gasglu o'r traeth ar gyfer eich basged.
Byddwch yn dysgu sut i bwytho'r defnydd hwn i greu mat neu fasged fach unigryw.
Gallwch bwytho gydag edau lin wedi'i thrin â chwyr, neu blastig o'r traeth.
Bydd Colette hefyd yn dangos i chi sut i greu strap syml o ffibrau planhigion neu sbwriel o'r môr.
Mae croeso i chi ddod â phecyn bwyd neu ymweld â'n bwytai a chaffis ar y safle. Gallwn gynnig gostyngiad o 10% yn ein bwytai a chaffis* i ddeiliaid tocyn cwrs *(heblaw am Bopty Derwen)
Mae pris y cwrs yn cynnwys parcio. Bydd y tîm tocynnau yn cysylltu â chi gyda manylion drwy'r e-bost a ddarparwyd wrth archebu.
Iaith: Cynhelir y cwrs drwy iaith cyntaf yr hwylusydd - sef Saesneg
Oed: 16+ (rhaid i blant 16–18 fod yng nghwmni oedolyn sy'n cymryd rhan).
Gostyngiad: Myfyrwyr gyda cherdyn NUS, pobl sy'n derbyn budd-daliadau. Pobl dros 60 oed a dan 18* (rhaid i blant 16–18 fod yng nghwmni oedolyn sy'n cymryd rhan).
Hygyrchedd: Mae rhai o ofodau dysgu'r Amgueddfa 5 munud ar droed o'r prif adeilad a'r maes parcio – cysylltwch â digwyddiadau@amgueddfacymru.ac.uk cyn archebu i drafod anghenion hygyrchedd.
_______________________________
Learn the traditional technique of coil basketry on this one-day course with local artist and basket maker Colette Davies. Her work is fresh and contemporary – using stunning combinations of foraged plant fibres and marine plastic waste collected from Welsh beaches.
This course is suitable for complete beginners - all materials and equipment will be provided.
There will be a choice of natural plant fibres and beach plastic materials for you to work with.
You will learn the stitching technique to create your own unique small basket or mat.
You can choose to stitch with waxed linen thread or beach plastic.
Colette will also show you how to make a simple strap from plant fibre or marine debris.
You are welcome to bring a packed lunch or visit our on-site catering facilities. We can offer a 10% discount to course participants in our catering outlets* on production of Eventbrite ticket. *(excludes Derwen Bakehouse)
The price of this course includes parking. The ticketing team will contact you in the weeks leading up to your course with details (via the email address supplied at time of booking).
Language: These courses will be held in the first language of the facilitator – which is English.
Accessibility: Some of the Museum's learning spaces are up to 5-minute walk from the main building and carpark. Please contact events@museumwales.ac.uk prior to booking to discuss any accessibility requirements.
Age: 16 + (16-18 year olds must be accompanied by a participating adult)
Concession eligibility: Students with NUS or those in receipt of benefits. Over 60's, Under 18's* (16-18 year olds must be accompanied by a participating adult)