Description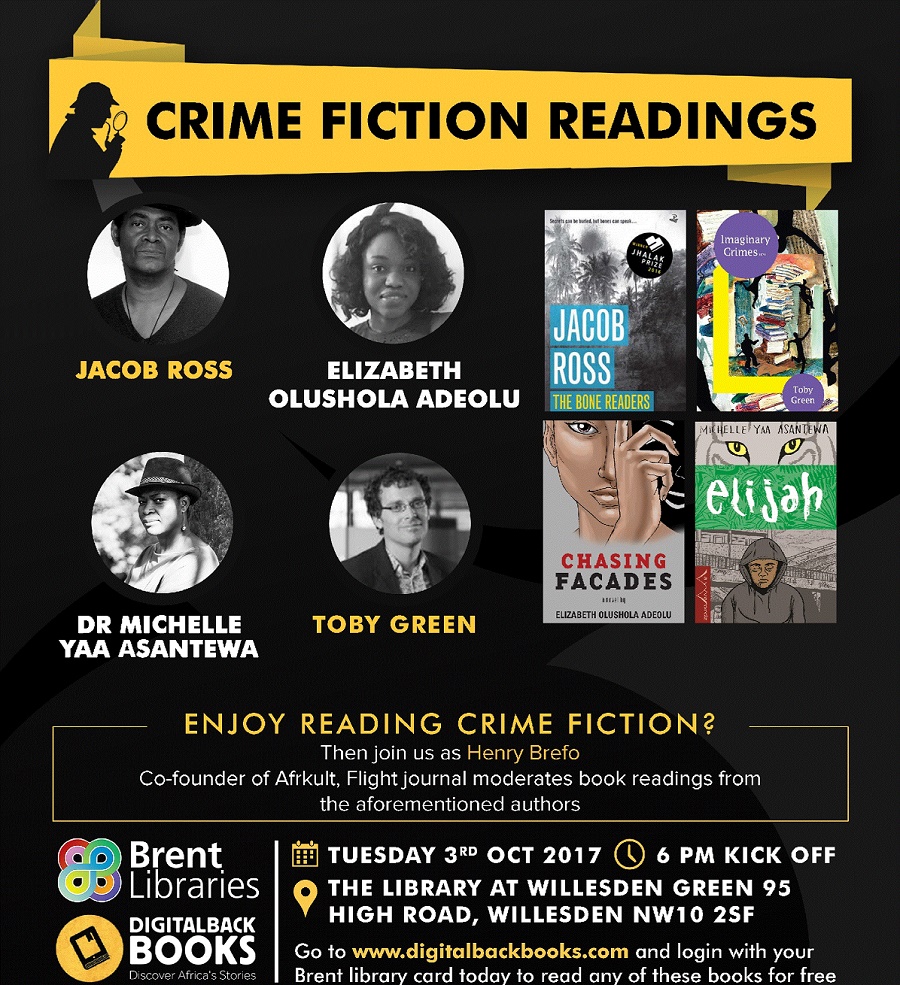 DELICIOUSLY DIVERSE STORIES FROM AFRICA AND BEYOND: CRIME FICTION READINGS
Stand aside Scandinavian crime fiction and behold fast paced thrillers not to be missed by writers of African and Caribbean descent!! YES! Crime fiction takes center stage in the FIRST of our THREE book reading events planned in October with an explosion of exciting authors exploring the nature of evil.
Join Henry Brefo Co-editor of Flight Journal and Former Afrikult Co-founder (2014 - 2017), as he facilitates captivating Crime fiction readings and conversations with
Toby Green. Toby is the author of Imaginary Crimes amongst a diverse body of other non-fiction works which have been translated into a dozen languages. He worked as a teacher, literary agent and journalist before becoming an academic specializing in the history of West Africa in the era of the trans-Atlantic slave trade, and he is now Senior Lecturer in Lusophone African History and Culture at King's College London.
Elizabeth Olushola Adeolu is a Nigerian writer who currently resides in Edinburgh, UK, where she is studying for a postgraduate degree in Linguistics and English Language. She is the writer of the detective fiction, Chasing Facades. An amalgam of romance and thriller about betrayed trust, rage, and love and the facades we pus up to hide our true selves.
Jacob Ross is a novelist, short story writer, editor and creative writing tutor. His latest book, The Bone Readers, marks a new departure into crime fiction, and won the inaugural Jhalak Prize in 2017. His work has been shortlisted for the Commonwealth Writers Regional Prize and chosen as one of the British Authors Club's top three Best First Novels.
Dr Michelle Yaa Asantewa taught Fiction, Non-Fiction Writing and English Literature for a number of years at London Metropolitan University. The author of several books including The Awakening ,a collection of poems, Guyanese Komfa: the ritual art of Trance, Something Buried in the yard, and most recently Mama Lou Tales: a folkloric biography of a Guyanese Elder. She will be reading from her first novel Elijah about a 15-year old boy's search for cultural identity.

---
Following an exciting partnership between Brent Libraries and Digitalback Books, a wide range of deliciously diverse stories are now freely available to access online with your library card. To view the above mentioned titles, go to www.digitalbackbooks.com and log in with your Brent library card number. Alternatively come along on the day with smart phone and your library card and we will show you how over a glass of wine!

---