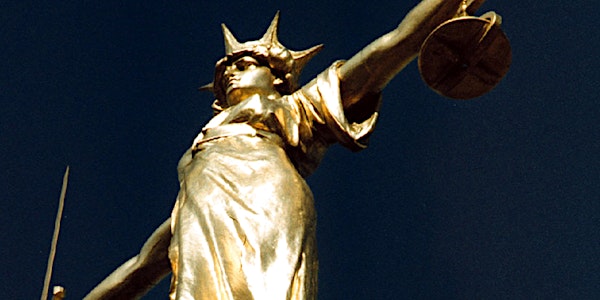 Crime & Punishment Webinar - An Insight into England's Justice System
Refund policy
Contact the organiser to request a refund.
Eventbrite's fee is nonrefundable.
Three top speakers including a senior criminal barrister, who sits as a judge, a top forensic scientist, and a convicted armed robber
About this event
We are delighted to announce that on the 16th February will be hosting our Online Crime & Punishment Seminar from 6pm to 8pm
We have three fantastic speakers (details below) who will each give a fascinating talk with a Q&A at the end of each segment.
This event will give you an exclusive insight into the English legal system from three different perspectives. It will open your eyes into how the law works on a day to day basis from an insider's point of view.
Make sure to book your tickets ASAP!!  Please click here to purchase your ticket
For further information email: info:@oldbaileyinsight.co.uk or call 07866690618 
Speakers:
Scott Walsh
Scott Walsh is a convicted armed robber, who was jailed in the No 2 Court at the Old Bailey in 1996. His last sentence was 19 years ago. Scott transformed his life and is now a pillar of his community with a law degree and has worked as a Parish Councillor since 2008. He lectures on criminal justice, restorative approaches and his personal insights into our prison and the Justice System. He helped found and manage the charity, The Restorative Justice Foundation and has worked extensively with young offenders. Scott received a major award from the Ministry of Justice recognising his achievements in significantly reducing youth crime through Restorative Justice (RJ) methods. His experience of youth crime and our prisons from a first hand perspective is second to none.
Sushil Kumar
Sushil Kumar is a criminal defence barrister, who has recently started sitting as a judge. He specialises in serious organised crime, mental health, fraud and violence. He has particular experience in defending professionals, high profile and high net worth individuals. He has given lectures to both solicitors and fellow barristers and been asked to advise well known sportsmen in the fields of football, boxing and cricket. He lectured at one of Germany's leading law schools in Hamburg on war crimes and crimes against humanity. He is an expert on the Nuremburg trials, which followed the Second World War. He worked as a researcher for the British Institute of International and Comparative Law on the European Union funded "Iran Project" focusing on human rights in the Islamic republic and was called to the bar in 2009. Other cases he has defended in include people trafficking from Iraq, Vietnam and China and large scale criminal conspiracies. His practice encompasses all areas of criminal defence .
Dr Hilary Hamnett
Dr Hilary Hamnett is a senior forensic scientist, who obtained a Master of Chemistry and Doctor of Philosophy from the University of Oxford, and a Master of Science with Distinction in Forensic Science from the University of Strathclyde, UK. She will deliver a talk entitled Death, Drugs and Detection .She has over eight years of experience reporting forensic toxicology results in the UK and New Zealand, and is currently Senior Lecturer in Forensic Science at the University of Lincoln, UK. She has published papers and book chapters, and presented at international conferences on the analysis of drugs in biological specimens, driving whilst impaired by drugs and cognitive bias in forensic toxicology. She is a member of the UK government Advisory Council on the Misuse of Drugs. She will reveal how forensic scientists prepare their cases for court, the detection processes that are used to gather evidence in criminal cases such as drug-facilitated sexual assault and murder, as well as Coroners' inquests using case studies to bring to life this fascinating subject.
For further information please get in contact anytime: email: info:@oldbaileyinsight.co.uk or call 07866690618