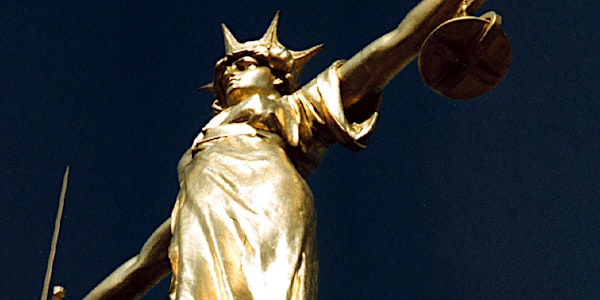 Crime & Punishment Webinar - An Insight into England's Justice System
Event Information
Refund policy
Contact the organiser to request a refund.
Eventbrite's fee is nonrefundable.
We have three top speakers (full bios below), who will each give a fascinating talk with a Q&A at the end of each talk.
About this event
We are delighted to announce that on April 26 we will be again hosting our Crime & Punishment Seminar. We have three expert speakers, who will all be giving their insights into our criminal justice system. Former undercover cop Neil Woods, who risked his life bringing down major drugs gangs but now believes all drugs should be legalised and brought under government control. Dr Hilary Hamnett, an expert in forensic toxicology, who has presented at international conferences and is a senior lecturer and former Oxford Don Peter Collett, a top psychologist and expert in body language on how to spot when someone is lying. Click here to purchase your tickets for this intriguing insight into crime detection and a chance to pose your questions to expert practitioners, who are top of their field.
Dr Hilary Hamnett
Dr Hilary Hamnett is a senior forensic scientist, who obtained a Master of Chemistry and Doctor of Philosophy from the University of Oxford, and a Master of Science with Distinction in Forensic Science from the University of Strathclyde, UK . She has over eight years of experience reporting forensic toxicology results in the UK and New Zealand, and is currently Senior Lecturer in Forensic Science at the University of Lincoln, UK. She has published papers and book chapters, and presented at international conferences on the analysis of drugs in biological specimens, driving whilst impaired by drugs and cognitive bias in forensic toxicology. She is a member of the UK government Advisory Council on the Misuse of Drugs. She will reveal how forensic scientists prepare their cases for court, the detection processes that are used to gather evidence in criminal cases such as drug-facilitated sexual assault and murder, as well as Coroners' inquests using case studies to bring to life this fascinating subject.
Neil Woods
Neil is a former undercover police officer. He infiltrated drug dealing gangs around the U.K. As part of the East Midland Special Operations Unit he also helped develop training for other undercover cops. He is a board member of the Law Enforcement Action Partnership in the USA and is the chair of the organisation in Europe. LEAP advocates for evidence driven policy and their position is that that evidence points towards legal regulation for all drugs, to take power away from Organised Crime. Neil is the author of his memoir Good Cop Bad War, and the history book Drug Wars with JS Rafaeli. He's a regular media pundit around the world on the topics of drug policy, organised crime, corruption, and mental health in policing.
Dr. Peter Collett
Dr. Collett is a psychologist and a former Oxford don. For many years he was a member of staff at the Department of Experimental Psychology at Oxford University, where he taught and did research on a range of topics, including body language, culture, management style and television audiences. Peter has written a number of books and presented several programs on television and will be giving his unique take on the criminal justice system and how to spot when someone is lying. Peter is widely acknowledged to be a world expert on communication. The Guardian called him a "body language guru" and the Mail on Sunday described him as "a grand master of the secret code of fleeting gestures, signs and expressions that give us all away." Reviewing one of Peter's books, Sir Peter Ustinov wrote that he "displays razor-sharp observation ... There can hardly be a more astute and mischievous handbook than Peter Collett's."
Date and time
Location
Refund policy
Contact the organiser to request a refund.
Eventbrite's fee is nonrefundable.