Crime Science versus Crime Fiction: exploding the myths
Description
***NOTE: Due to the popularity of this event we have now moved to a bigger venue - tickets are once again available for those who originally went on to our waitlist, and for those who have not yet registered. The event will now take place at UCL's Logan Hall. Could we please request that you only register if you are certain that you can make the date. Thank you.***
Crime fiction is now officially the most popular genre in the world. From Sherlock Holmes to CSI, fictional depictions of this good-versus-evil conflict have sought to utilise the latest advances in scientific knowledge. But how closely does crime fiction mirror the realities of police investigation? How far is modern science able to help in the fight to reduce and prevent crime?
This unique, free-to-attend event, held at UCL's Institute of Education, and jointly organised by one of the world's top crime research departments (UCL Jill Dando Institute) and one of the world's foremost crime writers' organisations (the CWA - Crime Writers Association), brings together bestselling crime authors with leading academics who research crime. Together they will discuss the ways in which crime prevention and detection differs in real life from how it is depicted in our favourite tales of murder and mayhem.
So, if you have ever wondered whether DNA really is the 'magic bullet', or how murder trials really work, or even how an innocent person might end up with a killer's gunshot residue on their hands just by riding in the wrong taxi, then this event is for you.
A must for all those interested in crime prevention and detection, whether in real life or in fiction.
The stellar line-up: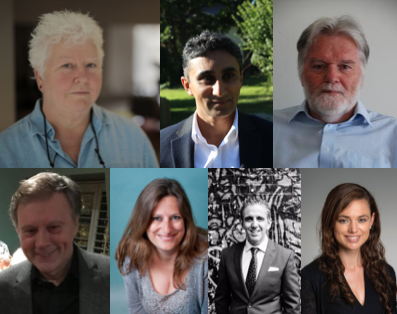 Val McDermid

Dubbed the Queen of Crime, Val McDermid has sold over 15 million books. Best-known for her Wire in the Blood series, featuring clinical psychologist Dr Tony Hill and DCI Carol Jordan, she has won many awards internationally, including the CWA Gold Dagger for best crime novel of the year, and the LA Times Book of the Year Award. In 2017 she was elected a Fellow of the Royal Society of Literature. Val is also the author of non-fiction book Forensics: The Anatomy of Crime. Val was born in Kirkcaldy, a coastal town in the heart of the Scottish mining community. She is a lifelong Raith Rovers Football Club supporter.
Elly Griffiths
Elly Griffiths is the author of the Dr Ruth Galloway mysteries and the Stephens and Mephisto books. Her books have been shortlisted for the Theakston's Crime Novel of the Year three times and, in 2016, Elly won the CWA Dagger in the Library, awarded for a body of work. The Dark Angel (Feb 2018) is the tenth Ruth book and Elly's first standalone novel, The Stranger Diaries, will be published in November 2018.
Vaseem Khan
Vaseem Khan is the author of the bestselling Mumbai-set Baby Ganesh Detective Agency series featuring Indian detective Inspector Ashwin Chopra and his baby elephant sidekick. The first book The Unexpected Inheritance of Inspector Chopra was a Times bestseller and a Waterstones paperback of the year. Born in London, Vaseem spent a decade working in India, where he first saw an elephant lumber through daytime traffic as if it was the most normal thing in the world. He now works at UCL's Department of Security and Crime Science.
Imran Mahmood
Imran Mahmood is a barrister in full-time practice and has been knocking about the criminal courts for over a quarter of a century now. He divides the remainder of his time between his family, his writing, and trying and often failing to make useful things out of wood. And a little painting. His debut novel You Don't Know Me was a BBC Radio 2 book club choice. He is working on his second novel in between representing alleged criminals
Professor Ruth Morgan
Ruth Morgan is the Director of the UCL Centre for the Forensic Sciences, the first dedicated interdisciplinary research centre addressing the big challenges of interpreting forensic science evidence. Ruth is one of the most prolific and award winning researchers in forensic science, with her group focussing on how we interpret what forensic science evidence means, and understanding decision making under uncertainty. She regularly presents her research at international conferences and her research has been featured in popular TV crime dramas.
Professor Richard Wortley
Richard Wortley is the Director of the Jill Dando Institute and the Head of the Department of Security and Crime Science. He began his career as a practicing psychologist in the Australian prison system, working in maximum and minimal security prisons. He is a former chair of the Australian Psychological Society's College of Forensic Psychologists. His research focuses on online abuse and situational crime prevention.

Chair: Barry Forshaw
Barry Forshaw is an expert on crime fiction and film. Books include the Keating Award-winning Brit Noir, Nordic Noir, American Noir, Detective and Historical Noir. Other work: Death in a Cold Climate, Euro Noir and the British Crime Writing encyclopedia (also a Keating Award winner). He writes for various papers, records extras for Blu-rays, broadcasts and edits Crime Time (www.crimetime.co.uk).
Programme
6.00pm - Arrival

6.10pm - Welcome by Vaseem Khan, crime author and UCL JDI staff member

6.20pm - Panel discussion chaired by Barry Forshaw
7.30pm - Audience Q&A
7.45pm - Book signing
8.00pm - Drinks reception and networking
*** PLEASE NOTE - Books will be on sale on the night via the Newham Bookshop - a local book store that has served the community of Newham for 40 years. We would be delighted if we could send the bookshop home having sold out their stock for the evening. All the authors will be on hand to sign copies ***
This is a science public engagement event supported by the UK Engineering and Physical Sciences Research Council (EPSRC) through the UCL Security Science Doctoral Centre (UCL SECReT) Grant no: EP/G037264/1