Bring it on!! Chefs Antonio & Charlie bring Spain to us in a lush garden setting. Eleven tapas / empanadas / croquettes / desserts. BYO.
About this event
Finally we can welcome guests back to our garden supper clubs, safely, socially distanced and in Moregeous style!
A spectacular outdoor food event featuring a feast of Spanish delights: a selection of mouthwatering tapas, croquetas and empanadas, plus two delicious desserts. Full menu below.
Two of Manchester's "Crispy Balls" team: Spanish tapas expert Chef Antonio Pavez and parsty chef extraordinaire Charlotte Fisher are back at Moregeous HQ for 2021 - and aren't we all just READY to eat out again and enjoy being fed and watered outaide the confines of our own living rooms!
Hosted safely outdoors on the terrace on distanced tables, in the lushly planted garden with the firepit lit. Enjoy spectacular food in relaxed surroundings, with local chefs, great company and your hosts Sian and Martin.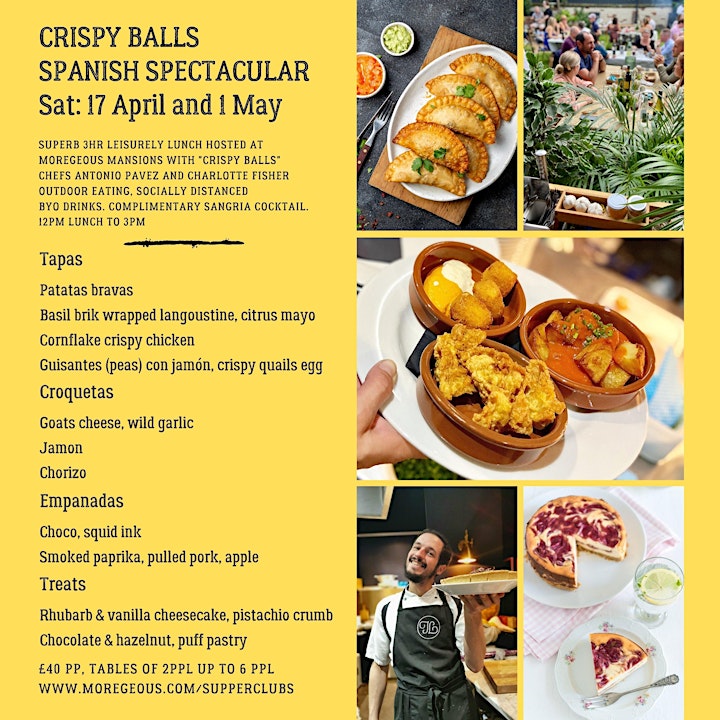 Guest comments:
"Fab fab fab day @Moregeous Mansions with the lovely Sian + Martín as hosts in their beautiful home and garden. Safely run and restrictions abided by." Lottie
"First day out post Covid yesterday to a supper club run by Sian and Martin @Moregeous in their fab house, Spanish theme. Well run, safe. Paella was great! Woke up with a bit of sunshine in my soul today. " Mark Garner, Manchester Confidential
"Thanks again for hosting such a fab evening. We had a brillaint time once again." Steph
"The best paella I've ever had! What a brilliant event @Moregeous thanks for having us." Leon
"Amazing food, atmosphere and company at the @makeitmoregeous Spanish supper club. I highly recommend checking it out for a really different and personable way to spend the evening." Jay
Our events over Summer 2021 are planned around outdoor eating in the lush garden at Moregeous HQ and will adhere to the Govt guidelines on social distancing, with temperature testing on entry, limited contact, distanced tables if applicable and strict cleanliess rules.
In line with current Govt guidelines and to make seating compliant this will be an outdoor event, please wear flat shoes and we'd suggest bringing a warm jumper as, well, this is Manchester.
During this time of distancing limitations, we cannot seat individual ticket holders unfortunately, so pls rope in friends for a table of six if you fancy this event! This makes us sad as we are very welcoming to solo diners, but soon, hopefull, we'll be able to host you again.