Description
Girl Geek Scotland Mentoring Community: Critical Skills for Leadership
Tuesday 7 November 2017
If you have been looked over for a Leadership position (or don't want to be) read on! In this set of workshops Girl Geek Scotland will tell you what you need to know, and what you may not want to hear.
Please help us save paper. Bring a laptop or other device so that we can share resources without having to print.
Workshops
1. Essential Skills for the Board in a Digital Age.
If you are an entreprenur looking for your board members, or if you have ambitions to be on one, this workshop will help you:
Identify the gaps in your skill set
Understand what skills are most commonly missed and
Tell you the single most important skill that every modern digital business needs on their board.
Please bring a laptop or other device for the activities in this workshop.
Based on a Briefing Paper By Entrepreneur Vicky Brock, and Led by Morna Simpson Founder of Girl Geek Scotland and CEO at Enterprise Porridge Ltd
2. Do You Have The XFactor?
The secret list that most large companies have for leadership progression, and how to get on it.
Most large companies have a secret talent list of high potential employees to identify candidates for leadership progression, development and opportunity. In this workshop we'll explore some of the themes from the HBR article 'Are you a high potential' by Douglas A Ready, Jay A Conger and Linda A Hill and the forthcoming book of the same name. We will look at what it takes to become a high potential, what makes them different and some of the pitfalls to look out for.
Based on a Briefing Paper written, and Led by Gail Logan, Leadership Coach
3. Finding Your Purpose.

Senior leadership roles usually require hard decision making and it's never possible to please everyone all of the time. Rather than focus on the likeability vs. capability conundrum, research suggests that being clear about your purpose can make you a more effective leader. In this workshop we'll explore what we're really passionate about, what motivates and drives us, and how that can be translated into our professional sense of purpose. We'll work on developing purpose statements along with the concrete steps required to align this to our professional leadership goals.
Based on Harvard Business Review research and led by Anne Marie Scott, Deputy Director of Learning, Teaching and Web Services, University of Edinburgh.

Pre-register on Eventbrite
We have now limited tickets on this event in order to create a more intimate environment for audience participation and to create a promo video. There are very limited spaces due to filming and only people who register on Eventbrite can be admitted.
In this workshop we will explore what skills and experience are needed to get into a Leadership role, and what special qualities are desired at the highest levels.
Bios
Vicky Brock - Entrepreneur

Vicky Brock is a serial entrepreneur, including founder and former CEO of a high-growth technology start-up, Clear Returns. Vicky won Innovator of the Year at the 2014 FDM everywoman in Technology Awards & led Clear Returns to be named top Tech StartUp in Europe, by the European Commission. She graduated from King's College London, Birkbeck and MIT. She is a Director Emeritus of the Digital Analytics Association and previously worked with Google Analytics, HP and Tesco Clubcard. Named by Forbes.com & Bloomberg as one of the 9 top female tech CEOs to watch, she is currently leading a series of workshops for potential NXDs, boards, managers and data analysts in order use data and digital for strategic and commercial advantage.
Morna Simpson - Founder at Girl Geek Scotland & CEO Enterprise Porridge
Morna founded Girl Geek Scotland (GGS) in 2008 and has been developing and running world class educational events for women in creativity, computing and enterprise ever since. This has given her access to, and insights from, some of Silicon Valley's most high performing women. Since the relaunch in 2015 she has grown the volunteer team to over 30 people. This has put GGS firmly back on the map and earned her the title of one of the "Faces of a Vibrant Economy". Her own company Enteprise Porridge Ltd specialises in business development, copy and content, for education and technology companies.
Gail Logan
Gail Logan is a Leadership Coach & Mentor working predominantly with clients in the Technology Sector. She has over twenty years experience leading front line Customer Support teams in organisations such as Adobe, Fujitsu and GE. She set up her own business in 2016 to follow her passion for igniting talent and helping other leaders find their north star, lead with impact and show up as their true authentic selves. She is a trained Co-Active Coach and currently completing the rigorous Certification Programme to become a Certified Professional Co-Active Coach and accreditation with the International Coach Federation. Visit her website
at http://www.koretransformation.com
and join her leadership community at https://www.facebook.com/groups/koretransformationtribe/
Twitter @kore_coaching
Anne Marie Scott
Anne-Marie Scott is a Deputy Director of IT at the University of Edinburgh and has spent over 20 years working in the Scottish IT sector in a variety of leadership and management roles. Starting as a technical author in the private sector, she has spent the last 15 years in Higher Education in service development and service management roles. She has also been one of the Board of Trustees for the Mansfield Traquair Centre in Edinburgh for over 11 years, allowing her to blend IT skills with a passion for art and heritage.

Twitter: @ammienoot
Agenda
6:30pm-7:00pm - Registration and networking
7:00pm-7:30pm - Welcome and introduction presentations

7:30pm-7:40pm - Workshop sign-up and refreshments
7:40pm-8:45pm - Workshops led by speakers
8:45pm-9:00pm - Wrap up & Partner Announcements
9:00pm-9:30pm - Networking and refreshments
Refreshments
Wine/soft drinks and nibbles provided.
Directions and Parking
Here is a GOOGLE MAP LINK and excerpt below for the location of Whitespace: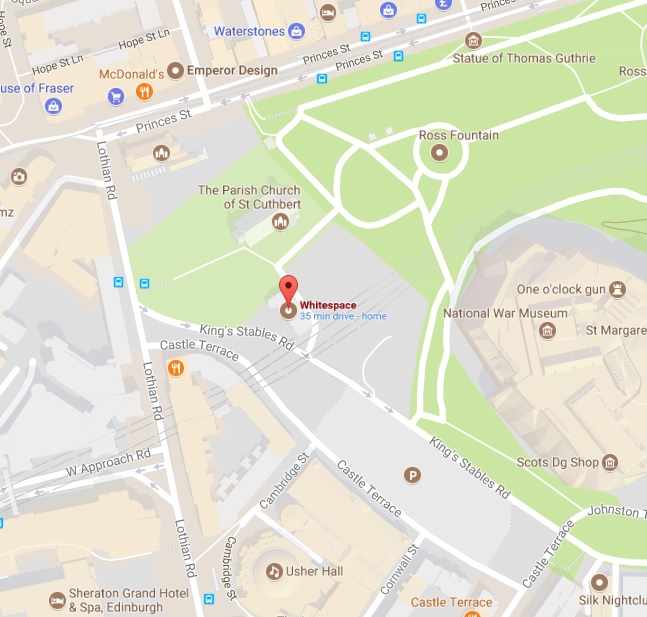 Please ensure you are pre-registered on Eventbrite so we can easily check you in. Public parking is available on King's Stables Road, metered before 6:30pm (please ensure you pay if arriving before this time to avoid a parking ticket). Parking on-street is free after 6:30pm.
Girl Geek Scotland's Mentoring Community
Girl Geek Scotland (GGS) has been developing world-class educational and networking experiences for women in Digital Technologies since 2008. We see the engagement of women in technology as being critical to the competitiveness of this sector, and to the development of our economy.
We are working to build a fantastic community and make it as easy as we can for interested people to find mentors in their area. Find out more information on our website.


Sign up for our Online Community
Register for the GGS online community and be the first to find out about new events, the latest new or strike up a conversation with others: http://www.girlgeekscotland.com/join
GGS Event Policies
Please refer to our Anti-Harassment Policy and Event Photography / Videography Policy as set out on our website. Your acceptance of which is assumed should you register to attend one of our events.
With enormous thanks to our Parent Organisation and Main Partners:

Now home to over 18,000 students from over 100 countries, we first welcomed 800 students as Napier Technical College in 1964. However our story goes back to the time of John Napier, the brilliant sixteenth century mathematician and philosopher from whom we take our name. When you come to Edinburgh Napier University, you'll study at one of our six specialist schools. Each of our schools is an impressive institution in its own right, with world-class facilities, academics, researchers and international links.

Bright Red Triangle (BRT) offers a comprehensive set of professional/personal development activities for students and graduates in partnership with key stakeholders within and beyond Edinburgh Napier. Our focus is on improving the enterprise skills and employability of our students and graduates while instilling them with an entrepreneurial mindset. We offer business incubation services, paid consultancy experience as well as design thinking and design your future courses to our current and past students.

LINC Scotland is the national association for business angels in Scotland, with a membership which includes many active individual investors and most of the main angel groups or syndicates. We represent our members at government level in Edinburgh, London and Brussels and were founding members of both the European Business Angels Association (EBAN) and the World Business angels Association (WBAA). Since 1993, we have played a significant and active part in changing the business culture in Scotland and the Scottish business angel marketplace is now recognised as amongst the most developed in Europe.


In continued gratitude to our Subscribers who help to achieve our four key aims of: Sharing Best Practice, Profiling Women, Supporting the Delivery of Training, and Being Visible Allies by signing our Declaration of Support for Women in Technology:












With hearty thanks to our Event Sponsors:


Organiser of Critical Skills for Leadership