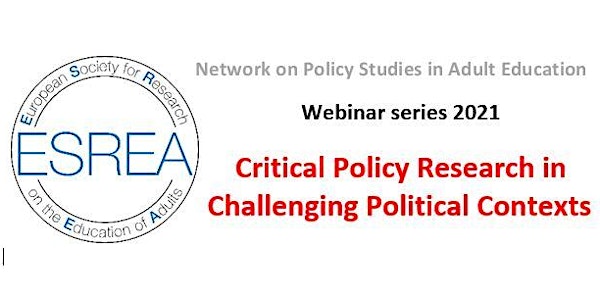 Critical Voices Between PIAAC and New Literacy Studies
Seminar 1: Critical Voices Between PIAAC and New Literacy Studies - Anke Grotlüschen & Lisanne Heilmann
About this event
The online seminar series Critical Policy Research in Challenging Political Contexts explores how researchers operate in different political environments, how they negotiate the challenges involved, and the impact of growing control – and "creeping authoritarianism" – today. It is far from clear that liberal notions of academic freedom are or have been the norm. Recent contributions point to the growing significance of authoritarian and populist political movements and ideologies, and ask: how this will influence policy research in adult education?
About this seminar : "Critical Voices Between PIAAC and New Literacy Studies" - Anke Grotlüschen & Lisanne Heilmann
"New Literacy Studies" and similar critical perspectives claim that deficit views marginalize learners: understanding literacy as decontextualized and objective hides power relations and introduces a hierarchy between legitimate and vernacular literacies. From this standpoint, OECD surveys like the Programme for the International Assessment of Adult Competencies (PIAAC) are problematic. Yet PIAAC also informs us about literacy and numeracy practices, and about what people do with their skills. It also illuminates inequalities and which countries are better at achieving labour market inclusion and trust in democratic institutions. We claim that PIAAC, made by economists, reflects the neo-liberal paradigm dominant in the OECD when it was developed, and marginalizes Southern countries; but that, re-interpreted using more critical theories, it can be of use for adult education, and especially for claiming better funding for marginalized groups.
Anke Grotlüschen has been professor for lifelong learning at Hamburg University since 2008. She works on literacy research, and contributes critical perspectives to mainstream discussions on competences. Lisanne Heilmann works at Hamburg University, where she earned her doctorate in 2020. Her focus is on Literacy, the Subject and Power, intertwined with research on Gender and Vulnerability.
Lyn Tett (Discussant) is Professor Emerita at Edinburgh and Huddersfield universities. Her research includes the impact of neoliberal policy on pedagogy and practice in adult literacies, and practitioners' responses to performativity regimes.
This is the first in the online seminar series Critical Policy Research in Challenging Political Contexts. The next online seminar is 'Lifelong Learning, Global Social Justice and Sustainability' (Friday 11 June).