Description
Cross Country Workshops (exclusively for MGC Members, and members of neighbouring gliding & flying clubs).
Saturday 30 March 2019 starting at 14:00
The British Junior Gliding Team are hosting a series of Workshops and Talks of interest to glider pilots of all ages and experience during the early part of 2019 in order to raise funds for Junior Team competition expenses. On Saturday 30 March they will be visiting The Mynd.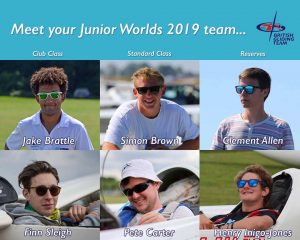 Current British Team members Jake Brattle, Simon Brown, Peter Carter, Finn Sleigh, Clement Allen and Henry Inigo-Jones will be presenting the programme below.
The event is for MGC members and members of neighbouring gliding and flying clubs. There is no charge for entry but those attending are respectfully requested to make a contribution to the British Junior Gliding Team fund.
We will need to have an idea of numbers so if you wish to attend, please notify the office which talks and workshops you will attend and if you require an evening meal. You can also indicate you are attending, via this Eventbrite event.

14:00 – Workshop on How to fly Cross Country faster.
17:30 – A workshop on flying your first competition.
18:45 – Adjourn to the Bar and Dinner
The usual legendary and unsurpassed Mynd Saturday night feast awaits.
19:45 - After Dinner Talk
Following dinner there will be a talk on a topic to be decided by the majority of attendees on either of the following:
Preparations of the British Junior Team for the Worlds 2019

OR, Use of equipment for XC and competition flying
The evening talk will last approximately 1 hour. All finished by 21:00.
The Workshops and Talks should be of interest to glider pilots and aviators of any age and experience level.
For full details of the workshop contents, see here: https://www.midlandgliding.club/cross-country-workshops/