Sales Have Ended
Registrations are closed
Many thanks for your order.
Sales Have Ended
Registrations are closed
Many thanks for your order.
Description

CROSSCORE® BRIDGE - Instructor Certification
WHAT IS CROSSCORE®? - Check it out
For those already certified in suspension-oriented training certifications with other organizations, the CrossCore Bridge course offers a direct pathway to CrossCore instructor certification. This 4-hour course is shortened from our full day course, yet covers the essentials needed to become certified.
Live Training – participant led group class at end of training course

Online – 50 question assessment

Course offers ACE, NASM and NSCA CEC's

Designed for commercial settings and fitness professionals

Covers RBT™ and product specifics

Accepted suspension-oriented training certifications: TRX®, Red Cord, Primal 7, and others.
Note: Those already certified in suspended bodyweight training must provide proof of certification within the past two years.
---
Following 100% attendance at the workshop and assessments, a certificate of attendance and completion will be available on your CrossCore online instructor account created on booking.
---

Unlock your potential.
CrossCore offers all of the benefits of traditional bodyweight training and adds instability and rotation to further challenge your balance and core.
Interested in purchasing your own CROSSCORE® for use in your PT/Training or home setting?
CROSSCORE® SYSTEM + Pro Kit
Because your fitness needs continue to evolve, we have taken the steps to proactively evolve our products as well. The new CrossCore® system reaches the next level in our training and yours. CrossCore's patented pulley system separates us from any other suspended bodyweight product on the market. CrossCore® System is literally the revolution in suspended bodyweight training!
Lightweight aluminum alloy

Increased main rope diameter

Easier locking and unlocking of pulley wheel

Color markings and audible clicks verify locking motion in progress and pin engagement

Rope Adjuster Device™ (RAD™) allows easy adjustment of handle placement and rope lengths
SKU: 4100-CC-360
CrossCore® PRO-KIT
Our CrossCore® Pro Kit offers specialized straps and an independent D-ring for easier installation and removal of the CrossCore system in clubs, gyms, studios, rec centers, and in outdoor environments. The Club Straps include locking and unlocking carabiners to assist with anti-theft needs. You can lock the CrossCore in place and leave it there, or you can quickly take it down after class sessions. You can use two Club Straps for extra length. Or you can add the independent D-ring onto the Anchor Strap that come with your CrossCore for use with higher ceilings. The Pro Kit lets you spend less time setting up and securing their CrossCore Systems which means there is more time for working out!
SKU: 4100-CC-7001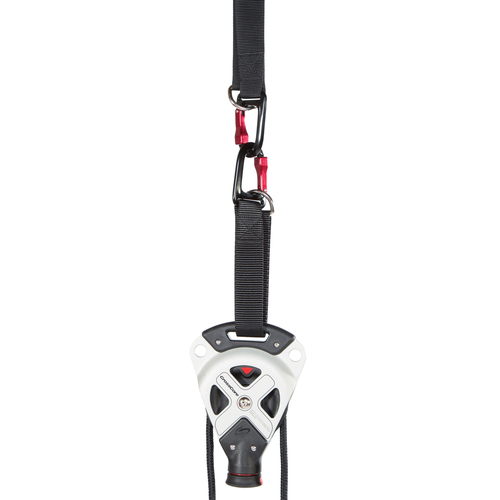 ---
PRICING & PACKAGES
CrossCore® Bridge Certification
Showcase Delegates: NOW ONLY £75 (was £135* | Standard £155* )
CrossCore® System (Launch Offer | Limited stock avaialable at this price)
New unit £245 +VAT (Free Shipping* excludes N.Ireland and R.O.I.)
ExDemo unit £195 +VAT collect at end of Showcase Blackpool (SSB18)
Additional shipping charge to N.Ireland and R.O.I. £15.00 inc
TOTAL PACKAGE: NOW ONLY £305 (was £365 including VAT)
CrossCore® System + Pro Kit includes CrossCore® Bridge Certification at SSB18
ExDemo unit - collect at end of Showcase Blackpool (by Sunday 25th March between 2pm & 3pm) If uncollected a postage and packaging fee will be charged to ship to your home address 7-14 days following the show. Additional shipping charge to N.Ireland and R.O.I. £15.00 inc
If you have further specific information required please email info@athleticum.co.uk
---
CrossCore® will be feature at SPINNING® SHOWCASE P.R.O.S. Fitness Conference 23-25 March 2018