Actions and Detail Panel
Crossover One Day Hiring Tournament - Cluj-Napoca
Sun 19 February 2017, 09:00 – 19:00 EET
Description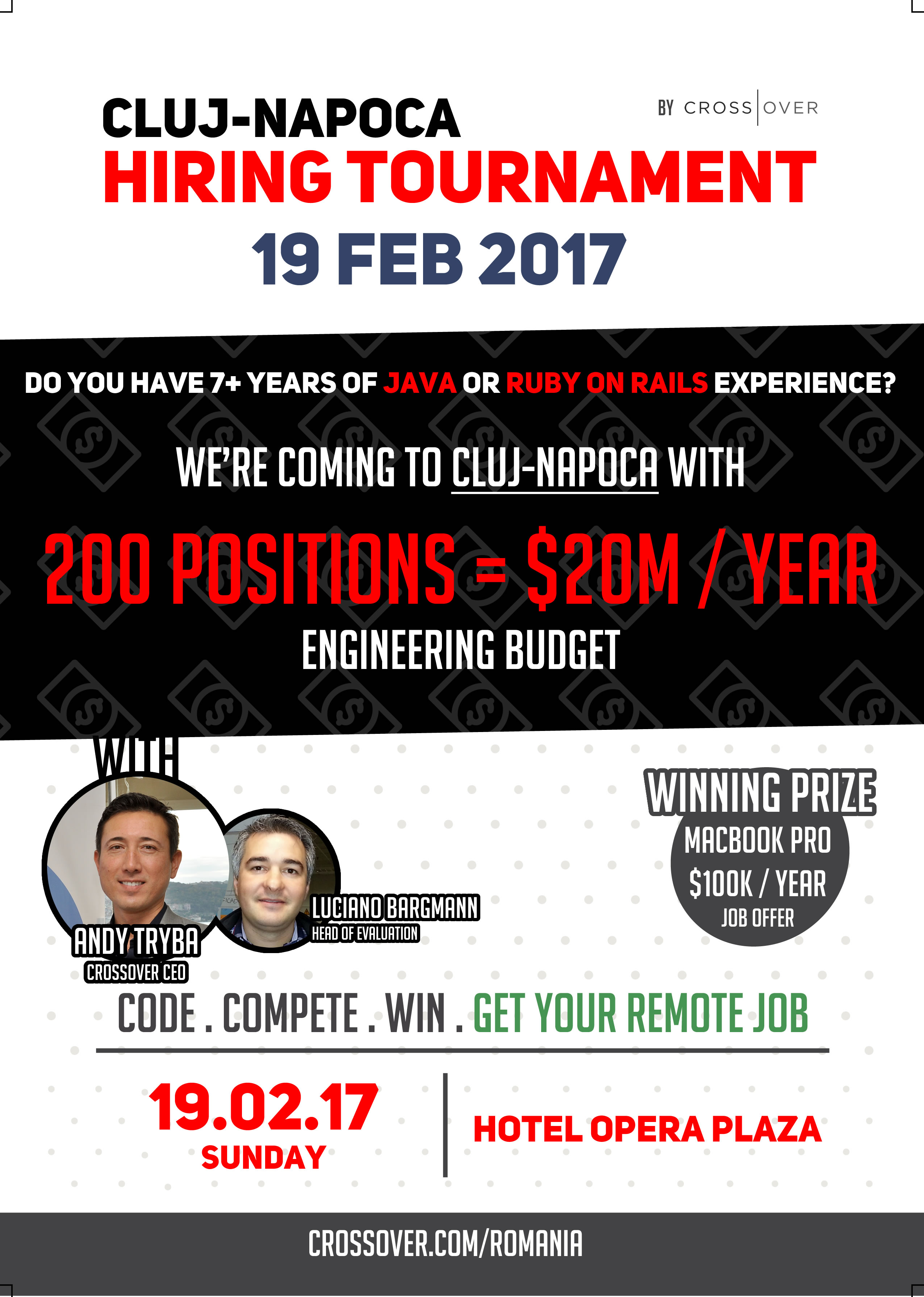 Do you consider yourself a top developer?
Have you ever wanted the chance to really prove your technical ability, instead of just having it shown in a resume? If yes, then this developer tournament may be for you.
We represent 2000 of the world's top developers. Among them we have 100 outstanding Romanian talents and counting. We want to connect Romania's top developers with our clients - Fortune 1000 SaaS companies who are tackling some of the largest technical challenges.
On February, 19th we are going to be in Cluj-Napoca looking for top technical talent to add to our community of full-time remote workers. Do you want to compare your skills against those of your peers? We're coming to host a tournament-style event with realtime (challenging!) testing*.
Tournament flow

What's in it for you? We're glad you asked!
Join us to compete against local peers the local competition, see how you compare and enter for a chance to win a Mac Book Pro, iPad, iPhone**, or the ultimate prize of a USD 100K/yr job offer with a consistent signing bonus***. There is no limit to win a USD 100k/yr job offer and bonus, we offer it for every competitor who passes the tests and accepts Crossover offer.
If all else fails, fun, food and drinks on us.
Who you can meet?
Our CEO and Head of Evaluation will be there also to manage this tournament. You can meet with Andy Tryba and Luciano Bargmann in person.
Also, you can meet Crossover Romania team, our VP of Engineering - Mircea Strugaru - , Crossover Country Manager - Sorin Zavelita - and many colleagues from Cluj-Napoca working already for Crossover:
- Marius Botis - Java Chief Software Architect
- Eduard Martini - Ruby on Rails Software Engineering Manager
- Gelu Vac - Software Engineering Manager
- Adrian Monea - Software Engineering Manager
- Alexandru Cojocaru - Software Architect, Global Evaluation Team
Pre-requisites
All participants: we kindly ask you to bring your laptops (any OS accepted)
For Java candidates:
JDK 8, Maven, Preferred IDE, Zip compressing app
For Ruby candidates:
Ruby 2.4, Preferred IDE, Zip compressing app
* The number of available seats for the tournament is limited to 200
** There is one MacBook Pro, one iPad and one iPhone as pool prizes.
*** The bonus value will be announced soon. You are eligible for bonus if you pass the tournament-style tests and accept Crossover offer.
Date and Time
Location
Hotel Opera Plaza
Strada General Traian Moșoiu 10-12, Cluj-Napoca 400132
Cluj-Napoca
Romania