Description
IT'S A PRODUCTIVE PARTY AND YOU'RE INVITED! So, if you have thought about starting a business, or crowdfunding to raise funds for a project- Get Ready.
At this event you can network with and learn from founders, funders, business support organisations and the UK's top crowdfunding experts to get your business off the ground.
No matter the stage or sector of your company, join us for an evening full of entertainment and opportunities.
Great news! There are four social enterprises showcasing their work and crowdfunding campaigns on the night.

These four young social entrepreneurs have been part of a 6 month Crowdfunding programme in collaboration with Business Launchpad, Crowdfund 360, Crowdfunder and 3Space. All participants took part in a series of workshops, shared their skills with each other and received 1-1 support.
What to expect in addition to food and drinks:
• 6.00-6.30pm Arrival, Registration & Entrepreneur Exhibits
• 6.30-6.40pm Welcome from Business Launchpad & Partners
• 6.40-7.00pm Business Showcase
• 7.00-7.20pm Introduction to Experts
• 7.20-8.45pm Networking with Poetry, Music and Live Voting


As an attendee you will experience a fun and welcoming atmosphere where you can connect with like-minded individuals, ask questions, gather business tips, and offer support to other entrepreneurs. All of your ticket sales go directly to a crowdfunding campaign of your choice. This already makes a big difference, you can also pledge your support in kind with advice, shout outs on social media, other assistance and more cash. By the end of the night, you will know more about fundraising for your business with crowdfunding and walk away with new friends.
If you want to go fast, go alone. If you want to go far, go together.
AFRICAN PROVERB
You won't want to miss it!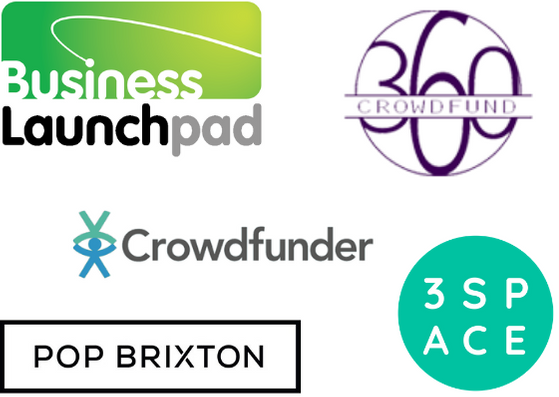 Organisers:
Business Launchpad is a youth enterprise charity on a mission to transform young lives through enterprise.

Crowdfund 360 is an award winning enterprise on a mission to help entrepreneurs succeed at crowdfunding. We are fortunate to work with them as our delivery partner!

Crowdfunder is on a mission to tackle societies challenges through crowdfunding. They are a leading platform that have raised over £60 million on projects. That is why we are chuffed to be using their platform.
3 Space are specialists in Meanwhile Use and Interim space activation, they launched London's largest affordable workspace in Brixton. Thanks to our work with 3 Space we have been able to open a Youth Innovation Hub in Brixton. This is where all our crowdfunding training has taken place.
Host:
TICKETS TO THIS EVENT ARE NON-REFUNDABLE.
Additional questions? - Feel free to email us at caesar@businesslaunchpad.org.uk
See you there #CrowdCash
@BusinessLP