Description
Given the political and social climate in Melbourne and around the world, it's the perfect time to channel that fire in your belly and successfully crowdfund that social cause project that's been keeping you up at night.
On Wednesday 29th March, Chuffed.org will facilitate a panel discussion that focuses on what it really takes to run a successful crowdfunding campaign for social causes in Melbourne. Hear from three of our local star campaigners: Ian Johnson, Rebecca Aoukar and Tim Lo Surdo.
Whether you're an individual, a community group or an organisation, considering crowdfunding for the first time or looking to hone the experience and make your next campaign even better, it'll be jam-packed 90minutes of insights! Along with the panelists, Chuffed will be offering advice and drawing upon learnings from over 4,000 projects that have been funded on Chuffed, raising more than $13 million in the past 3 years.
Key details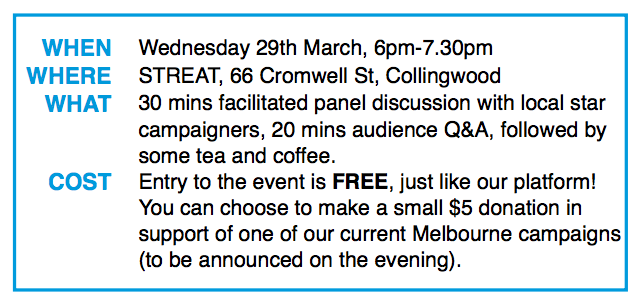 Show up for an evening of inspiration and knowledge-sharing; leave with a bundle of invaluable learnings on how to run a successful Crowdfunding campaign on Chuffed, not to mention a newfound community who like you are aspiring for nothing less than a better world.
Speakers

Ian is the Marketing Manager at STREAT, a social enterprise that exists to stop youth homelessness and help build the life and work skills of those who are disadvantaged to stand them in good sted in the hospitality industry. Thanks to Ian's ability to craft an engaging story, the 2016 campaign raised an amazing $131,742 in 60 days and led to the opening of STREAT's brand new site in Collingwood that very same year.
In October last year, Rebecca joined the close knit network of volunteers who form We Care Nauru, which sources much needed educational, health supplies and gifts for the individuals who are detained on Nauru, focusing especially on the children. Rebecca's insights on how to crowdfund for a overseas project will complement the panel and she will share the groups tips on how they raised more than $13,000 across three entirely volunteer-run campaigns.
Tim is one of the founders of Democracy in Colour, a movement of people of colour and allies using technology and distributed organising to tackle racism. Tim's expertise in the non-profit sector, particularly in campaigning, has been the perfect springboard for this bold 2017 campaign that raised $21,717 to fund equality and showcasing marginalised voices.


---
Whether you come alone or with colleagues and friends, you'll be warmly welcomed by our wonderful facilitators, who will introduce you to members of our community.
Can't make it?
We'll be live streaming it on Facebook. Alternatively, email us at info@chuffed.org if you have any questions or would like to learn more about Crowdfunding for social causes.