Description
Given the political and social climate in Sydney and around the world, it's the perfect time to channel that fire in your belly and successfully crowdfund that social cause project that's been keeping you up at night.
On Wednesday 22nd February, Chuffed.org will facilitate a panel discussion that focuses on what it really takes to run a successful crowdfunding campaign for social causes in Sydney. Hear from three of our local star campaigners: Louise McCoach, Thea Soutar and Rob Caslick
Whether you're an individual, a community group or an organisation, considering crowdfunding for the first time or looking to hone the experience and make your next campaign even better, it'll be jam-packed 90minutes of insights! Along with the panelists, Chuffed will be offering advice and drawing upon learnings from over 4,000 projects that have been funded on Chuffed, raising more than $13 million in the past 3 years.
Key details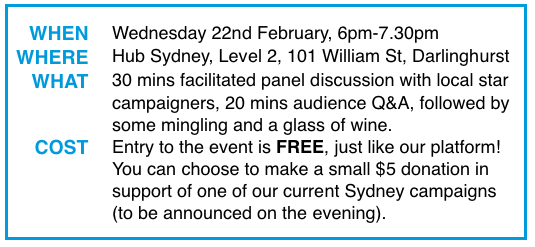 Show up for an evening of inspiration and knowledge-sharing; leave with a bundle of invaluable learnings on how to run a successful Crowdfunding campaign on Chuffed, not to mention a newfound community who like you are aspiring for nothing less than a better world.


Speakers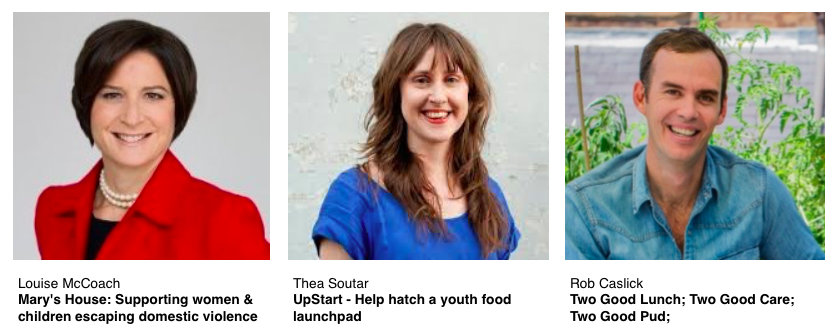 Louise, a Lawyer by day at Gilbert and Tobin, was a key driver of the 2016 campaign on Chuffed that helped establish a refuge on the Lower North Shore for women and children escaping domestic violence. Thanks to Louise's banking expertise and unique approach to crowdfunding, the campaign raised an amazing $107,096 in three months and allowed Mary's House to open in January this year.
Thea, Youth Food Movement Australia's National Community Manager manages a community of 18-35 Australia-wide food advocates to crowdfund a program that would grow 100 changemakers in the food and agricultural space. The 2016 campaign raised $21,005 in just 25 days and inspired individuals to start volunteering for the cause.
Rob, Chuffed's crowdfunding veteran in Sydney, is the Founder and head hussler of Two Good Co. Two Good Co has run four knockout campaigns to help them keep doing what they do best, providing beautiful food and lifestyle products to individuals in domestic violence refuges and soup kitchens. In total, the campaigns have raised $103,955 and exemplified the power of ambassadors and savvy media coverage.
---
Whether you come alone or with colleagues and friends, you'll be warmly welcomed by our wonderful facilitators, who will introduce you to members of our community.
Can't make it?
Email us at info@chuffed.org if you have any questions or would like to learn more about Crowdfunding for social causes.