Description
The Crowdhelix Network will hold its annual RTO Members' event, dedicated to university & research and technology organisation members, as well as corporations, at the Swiss Federal Institute of Technology Lausanne, Switzerland, on 3rd and 4th October 2019.
The aim of this two-day event is to discuss the network's current and future activities, as well as opportunities within the next Framework Programme, Horizon Europe. This meeting will therefore focus on key elements announced for FP9, including open science and international collaboration. It will be a great opportunity to meet with like-minded member organisations of the network, and to foster potential collaboration with research organisations and universities from the whole continent.
Please note that the venue has a limited capacity, consequently the attendance will be limited to 1 representative per member institution - the second representative will be included in the waiting list and subject to availability. Registrations are open until 30th August for logistical reasons - we will not be able to guarantee attendance in the event of late registration.
Should you have any questions about this meeting, please contact Marine at marine.desoche@crowdhelix.com
---
AGENDA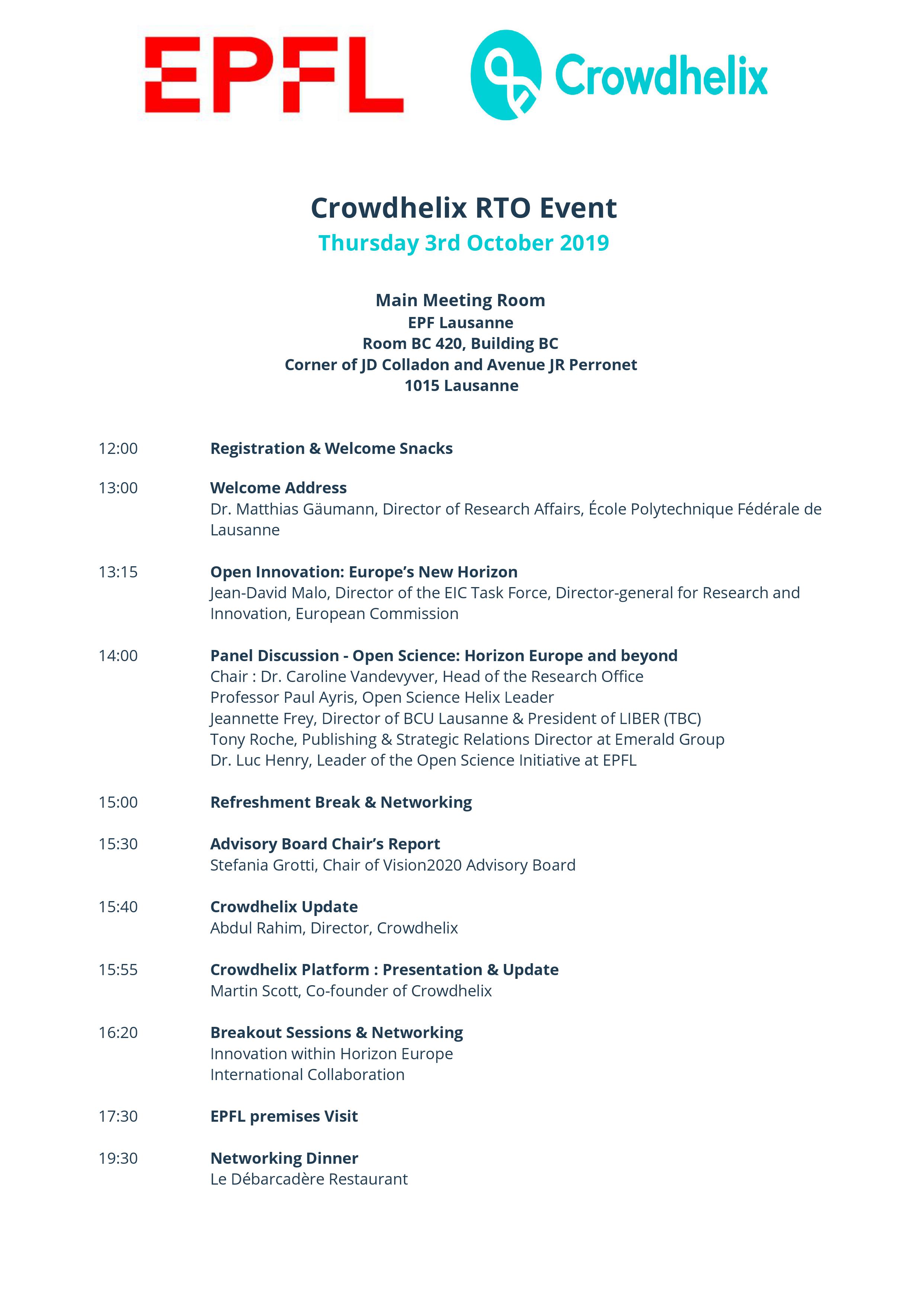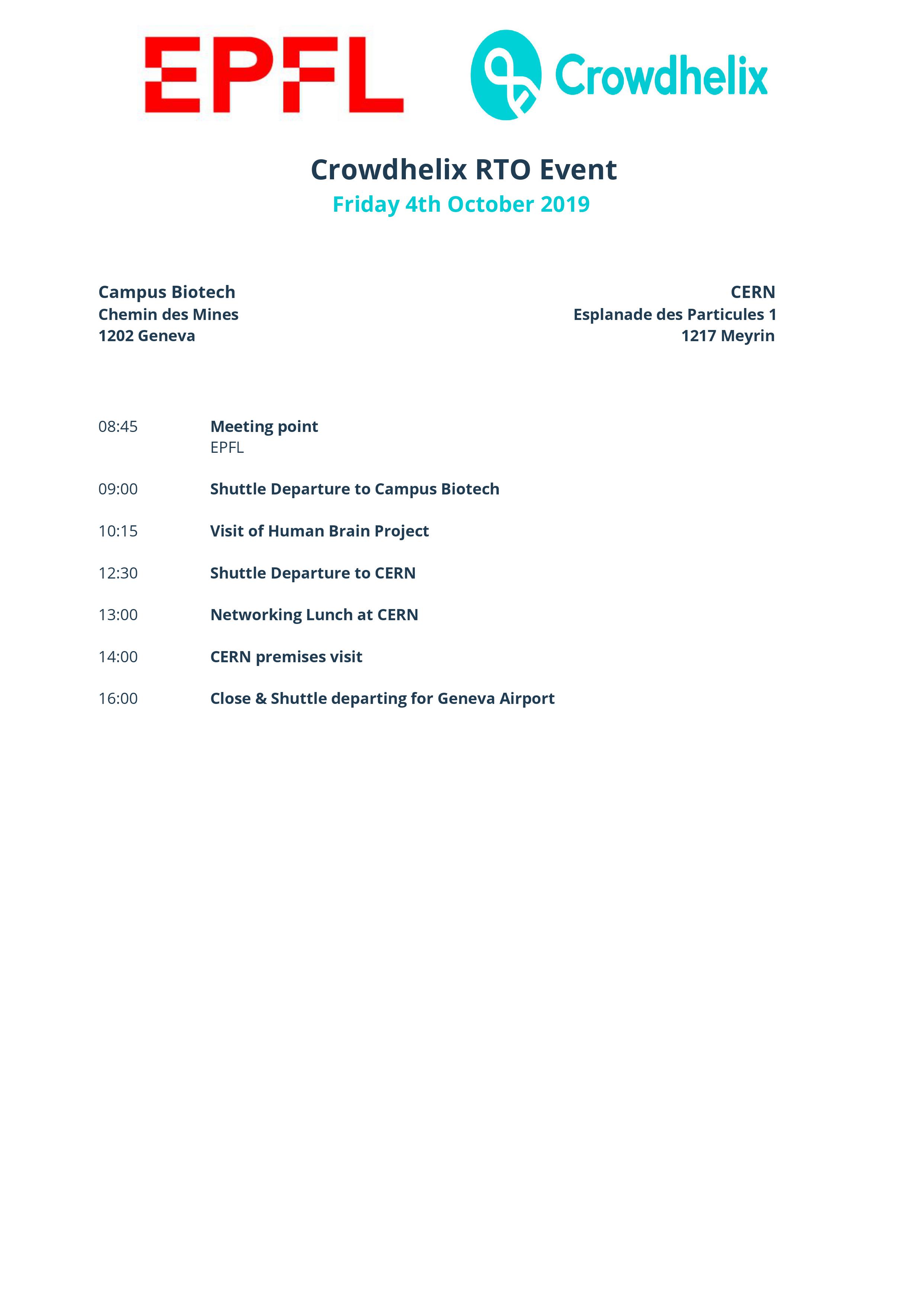 PRACTICAL INFORMATION
TRAIN
From Renens train station: metro line M1 (direction to Lausanne-Flon) stop Ecublens-EPFL.
From Lausanne train station: metro line M2 (direction to Croisettes), stop at Lausanne-Flon, then hop on metro line M1 (direction to Renens-Gare), stop at Ecublens-EPFL.
BUS
Bus lines TL (Public Transports of Lausanne area) and MBC (Transport Region Morges) run in western Lausanne:
MBC bus 701 (Echichens, Morges, Préverenges, EPFL, Bourdonnette-Lausanne)
MBC bus 705 (Lonay , Prévrenges, Denges, Echandens, Ecublens, EPFL)
TL bus 31 (Renens-Gare, EPFL-UNIL, Saint-Sulpice, Venoges)
CAR
By car, on the motorway, follow direction "Lausanne-Sud", exit "EPFL"".
Car parks: parking places (paying) for visitors are available under l'Esplanade, and along the Avenue Piccard. Car parks indicated by the green "P" symbol are reserved for holders of a special card.
The netowrking dinner on Thursday 3rd October will be taking place at Le Débarcadère Restaurant. The Crowdhelix Team will be contacting you in the coming weeks with further information.

Please note that for organisational purposes we may request you to print your badges, which is the common procedure to enter the Human Brain project and CERN. Our team will be in touch in early September to make sure you will have enough time to do so.
The EPFL Team has kindly secured a discounted rate with Starling Hotel, ideally located on the campus. In order to benefit from this discount, please contact us at events@crowdhelix.com after your registration. Our team will get back to you as soon as possible with the booking code.
Further recommendations include :
Swisstech hotel
Booking link
Location : 10 minute walk from the venue.
Hotel des inventions
Booking link
Location : 20 minute metro journey. Walk 10 minutes to Chavannes-R., Crochy Metro Station, and take m1 line towards Lausanne-Flon, pl. de l'Europe ; alight at Ecublens VD, EPFL. Ecublens VD station is a five minute walk to the venue.
Hotel Alpha Palmier
Booking link
Location : central Lausanne, 30 minute metro journey. Walk 10 minutes to Vigie Metro Station, and take m1 line towards Renens VD, gare ; alight at Ecublens VD, EPFL. Ecublens VD station is a five minute walk to the venue.
---
Your provision of, and our storage and/or use of, the personal data you provide when registering for this event is subject to the Crowdhelix Terms of Service, Data & Privacy Policies, which can be found at https://crowdhelix.com/terms. Additionally, we may use your name, honorific title, job title and institutional affiliation to compile a list of event attendees, which will be made available to other attendees, their organisation(s), and to the host organisation. Additional data such as your dietary preferences, access requirements, date, place, and country of birth, nationality and email address will be shared with the host organisation in order to make the appropriate arrangements for your participation in the event.