Learn how to cook plant based dishes and snacks in our free LIVE cooking classes – meals that you can easily cook in your own kitchen!
About this event
Courtesy of our Croydon SDA Health & Lifestyle Team, our classes will be conducted via Zoom, and take place each month on the following Thursdays at 7pm-8pm:
18 March
15 April
20 May
17 June
15 July
19 August
16 September
21 October
18 November
How does it work?
Step 1: Choose the classes you would like to attend by registering free.
Step 2: Receive the ingredients list before a class starts and the ZOOM meeting link, ID and password.
Step 3: On the day of the class have your ingredients and supplies ready, sign into ZOOM using the ID and password provided, mute your microphone so that everyone can hear our cooking instructor clearly, and let's cook together! 🙂
During each session registered participants will:
Learn how to cook in each session one tasty and nutritious plant based cooked dish and a healthy immune boosting smoothie
Get lots of useful tips and information on plant based cooking
Learn the health benefits of certain ingredients and how they can support the improvement of common lifestyle diseases
For further information email us at: health@croydonadventist.org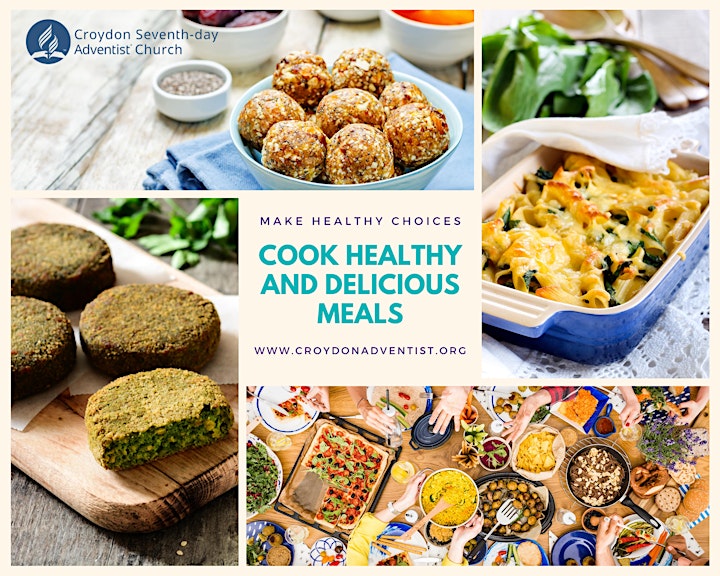 Organiser of Croydon Online Plant Based Cook-along Classes
Croydon is the second most populated borough in London with over 300,000 people, and even more importantly, it's the home to Croydon SDA Church! In a busy town full of people on the move we are sure that you'll find stability, family and a place to call home right here.
We believe that God is concerned with the quality of human life, and that everything — the way we live, eat, speak, think, treat each other, and care for the world around us — is part of His plan. 
We want to make a lasting difference in your life, in our community, and in the world. How do we go about that? By leading people to become fully devoted followers of Christ. That's the driving purpose behind everything we do. We believe that God wants to have a relationship with you, and his love can reach you wherever you are. The best way to find out more about our great church is to come and visit us. We can't wait to meet you!