Description
Dan Jones, bestselling chronicler of the Middle Ages, turns his attention to the history of the Crusades - the sequence of religious wars fought between the late eleventh century and late medieval periods, in which armies from European Christian states attempted to wrest the Holy Land from Islamic rule, and which have left an enduring imprint on relations between the Muslim world and the West.
Never before has the era of the Crusades been depicted in such bright and striking colours, or their story told with such gusto.
Join Dan at Heffers as he discusses his new book, Crusaders: An Epic History of the Wars for the Holy Lands, and answers your questions. The book will be available to purchase at the event and Dan will be signing copies.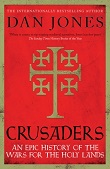 Tickets are priced at £7 in advance or £8 on the door, and can be purchased through this page, by calling 01223 463200 or in person at Heffers bookshop. Please note that tickets are transferable but non-refundable.
If you are unable to attend but would like to request a signed copy, please send an email via the 'contact' button on this page.
Like this? See a full list of our forthcoming events by clicking here.