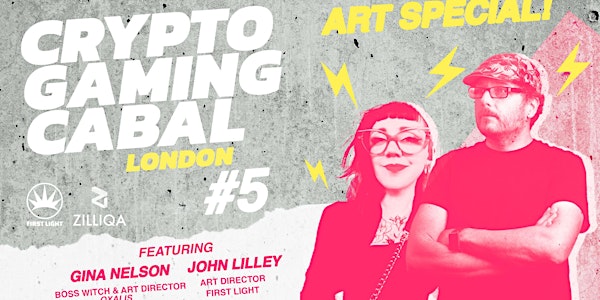 Crypto Cabal London #5 - Art Special
Location
33 Broadwick St
FORA Soho
33 Broadwick Street
London
W1F 0DQ
United Kingdom
Welcome to the Crypto Gaming Cabal! This is an open group for game developers interested in the adoption of blockchain and web3 technology
About this event
150 people showed up to our last event, but in Crypto people are only interested in UP. Bigger. Better. Faster. Stronger.
So how do we do that?
How about 2 talks from two of the best Art Directors in London; Boss Witch Gina Nelson (Fall Guys, Moonfrost) from Oxalis Games and John Lilley (Cannon Fodder, Tomb Raider and Blast Royale)?
Sounds pretty good but is that all we've got? Hell no!
How about a panel talking about blockchain games and NFTs in games featuring renowned guests from our Helsinki chapter?
Well that does sound pretty good, but I thought this was the Crypto GAMING Cabal? Where are the games? So as a cherry on top, how about an exhibition match of Blast Royale live on the big screen, with the winners getting Crypto prizes? Oh and recording and streaming the whole event whilst we do it?
Well that's what we're doing! This is the Crypto Gaming Cabal episode 5, the Art special. And it's happening on Wednesday 1st June, just before the 2 day Bank Holiday here in the UK. So you'll have two whole days to recover from the outing.
------------------------
Taking place in the events space in Fora SOHO, we'll be talking all things blockchain, gaming and web3!
Professionals from several London Crypto gaming startups attend this event as a means to help further the adoption of Crypto in gaming and help push the envelope in terms of what can be done with gaming with Web3 technology.
What's this meetup all about?
Are you part of the industry and want to know what's going on? Join us and find out.
Got a new game you want to show off? Bring it along and wow us with your creations.
Looking for a new job? Several startups are recruiting and are actively hiring.
Want to find out how to break into gaming as a career? Get great advice from those who have been there done that and got the t-shirt.
Looking to fund raise? Get tips and if you're lucky even meet potential investors for your project.
Hate NFTs and want to tell us why? Turn up and let's have a civil discussion!
Drinks and some snacks will also be provided, free of charge, and who knows there might be an after party in Soho somewhere afterwards ;)
When you arrive at FORA, head downstairs to the event space. Or tell the people at reception that you're here for the Crypto event.
Contact Links
Discord:
https://discord.gg/sZ7TshFt6P
Telegram:
https://t.me/CryptoGamingCabal