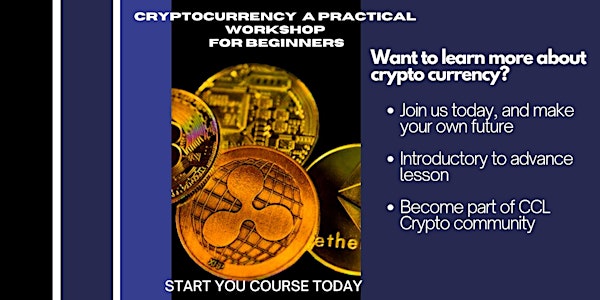 Cryptocurrencies: A Practical Workshop For Beginners (Introduction)
Refund policy
Contact the organiser to request a refund.
Eventbrite's fee is nonrefundable.
A workshop for beginners who want to understand how to invest and use cryptocurrencies (such as Bitcoin).
About this event
Join the Cryptocurrency Learning Institution for this practical workshop for beginners. At the end of the day, you will understand what cryptocurrencies like Bitcoin are, how they work and how to use them in your daily life, and why it is important to start now and take a proactive approach to your learning. Many countries already use digital currencies as standard practice and there are even entire countries and economies that are aiming to use only cryptocurrencies in the future.
Learn and feel comfortable and secure with the history, theory, and context of cryptocurrencies and the blockchain. Set up and start using your wallet in real life and meet other people interested in and investing in these digital technologies.
Face the future by joining us in this hands-on workshop to learn what cryptocurrencies like Bitcoin are, why you need them for the future, and create and use your own wallet.
At the end of this workshop:
- With knowledge of the history and context of Blockchain and Cryptocurrencies.
- Having opened and configured your own wallet and knowing / using a cryptocurrency.
- Learn about the cybersecurity protocols you must implement to protect your digital investments.
- Having practiced the use of cryptocurrencies in a real life situation so that you feel safe to start using your cryptocurrencies in any part of the world that accepts it now or in the future).
- Understand cryptocurrencies in the context of the traditional stock market and how some are also traded as commodities.
- Having opened and set up your own trading account if you also want to start trading cryptocurrencies on the stock market after the workshop.
This workshop is taught by leaders with experience in investments in the traditional stock market and who are fully immersed in the use of cryptocurrencies and blockchain.
At the end of the workshop there will be time for general questions and answers on any aspect covered during the course.
Please note that the topic of the use of cryptocurrencies in business is not covered in this workshop and is outside the scope of this workshop *.
If you are interested in how to use blockchain or cryptocurrencies in business, please follow us and attend our next workshop 'Use of cryptocurrencies in business', which addresses the use and also the specific legal and tax aspects of the use of business cases.
* This first workshop is a prerequisite to attend the 'Use of cryptocurrencies and a Introduction on how you can get started today' workshop.
The Cryptocurrency Learning Institution was founded by five investors from England, who formed the first cryptocurrency institution in Europe and North America to help individuals and companies increase their confidence in the use of blockchain and cryptocurrencies through educational courses. They also run a private club that meets regularly to discuss various topics related to the field of blockchain, cryptocurrencies, and trading.
All Workshops are held on Zoom