Description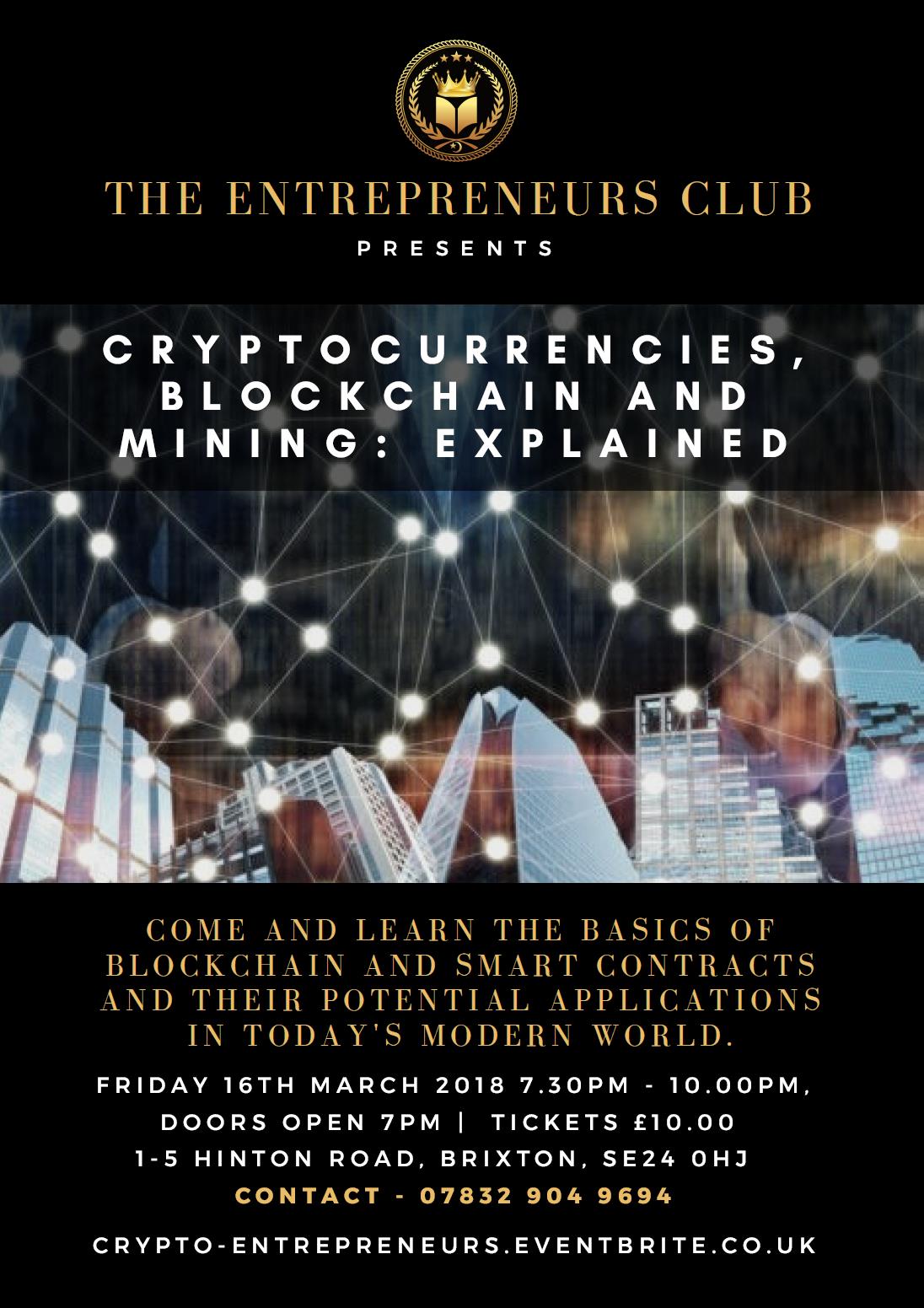 THE ENTREPRENEURS CLUB PRESENTS: CRYPTOCURRENCIES; BLOCKCHAIN & MINING - EXPLAINED
The Blockchain industry has reached a tipping point and it's no longer limited to a small group of computer 'geeks'.

Blockchain technology has exploded in recent times creating vast opportunities in the following industries financial services, healthcare, insurance, energy, music, government, real estate and more.

Come and learn the basics of Blockchain Technology and smart contracts and their potential applications in today's modern world.
FRIDAY 16TH MARCH 2018 7.30PM - 10.00PM,
DOORS OPEN 7PM TICKET £10.00
1-5 HINTON ROAD, BRIXTON, SE24 0HJ
07832904969
Hosted by Abdul Hakeem Muhammad – Founder of The Entrepreneurs Club
Ali Azam - Is an experienced Blockchain developer with a demonstrated history of working in the research industry and in the Computer Science area.

Prem Johal - Is an economist and has been a wealth management executive in the City of London for 15 years. He now calls himself "the reformed exBanker" and advises privately on alternative wealth strategies. His business expertise is Precious Metals and Crypto currencies.
Miles Thomas - Wealth Strategist and author of Milestone Investing; As an educational institution Milestone gives students the necessary knowledge to understand how companies are established on the stock market & how to effectively trade with them.
Asari St-Hill – Is a Business Growth Expert who bought an ActionCOACH franchise in 2011. Now works with businesses from sole traders to multi-million pound businesses. He provides business plans for start-ups requiring start up capital and offers free business valuations.
For more information
Contact - 07832 904 969
WWW.THEENTREPRENEURS.CLUB