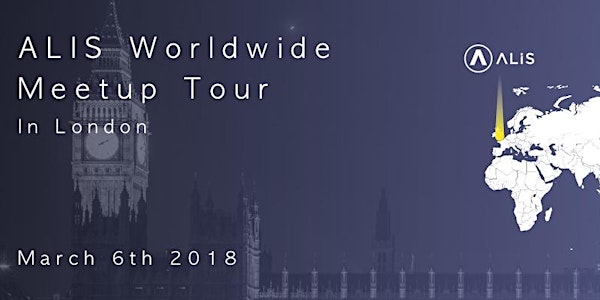 Cryptocurrency Meet-up! Founder/CEO of ALIS Is Coming to Meet You!
Location
Marlin Waterloo
111 Westminster Bridge Road
Meeting Room 8
London
SE1 7HR
United Kingdom
Description
Dear Crypto-lovers and crypto-investors,
One of the most successful Japanese ICO of 2017 and the first Etherium blockchain decentralized social media application of 2018 – ALIS – is coming to London. ALIS has been holding a number of meet-up events in Japan, and there are more than 500 participants to each ALIS meet-up on average in Japan.
On March 6th from18:30 to 20:30, all blockchain tech developers, investors and crypto space enthusiasts are welcome to join ALIS Meetup at Marlin Waterloo Meeting room 8.
The co-founder and CEO of ALIS Media, Masahiro Yasu, will share his vision of trusted content platform that empowers honest opinions and objective journalism. He will answer questions afterwards. Expect plenty of business networking before and after the presentation. Meet talented developers and startup teams. There will be refreshments.
We are planning to have drinks in a pub somewhere around Waterloo after the meet-up event.
It is a great opportunity for all the participants to enhance their knowledge about cryptocurrencies, Japanese social media market, and ALIS project itself!
Anyone is welcome for the event, and it's absolutely free to join!
We are looking forward seeing you at Marlin Waterloo.
About the ALIS platform
ALIS is the first social media in Japan that uses blockchain technology.
They will start their service in Japan first so as to grow the community and application strongly like the facebook once, and will expand their service abroad near future.
It aims to solve the problem of unreliable of false information.
As there are very few online communities in Japan that share objective information with each other, and Japanese blogs have lots of surreptitious advertising and many blogs disseminate outright incorrect information. If someone in Japan searches for information online, she or he will never know for sure if the article is reliable.
ALIS will solve this problem by means of a logic, similar to "likes" or "votes" that enable users to curate content on the platform.
The logic will reward both the content creators and the content curators with the ALIS token. ALIS may look alike with Steemit platform, where you can earn money by writing and voting on articles.
However, it will implement proprietary underlying logic to filter out unreliable and false information.
ALIS logic may have dozens of application possibilities in Japan for different consumer markets.
With reliability as the essence of the platform, the ALIS team is just as reliable and transparent about the developments of the project.
They share on Twitter on a daily basis and no question remains unanswered on Discord channel.
This is one of the reasons why ALIS is so popular in the Japanese blockchain space.
Since ALIS has been the first successful ICO in Japan, Masahiro Yasu can often be seen as a guest speaker at blockchain events all over Japan.
I would like to refer you to the links below for more information.
ALIS Discord: https://discord.gg/b6T44q3
ALIS Website: https://alismedia.jp/