Crystal Clear: A Kingdom Vision For the Nation Time For Vision. Time To Equip. Time For Hope
About this event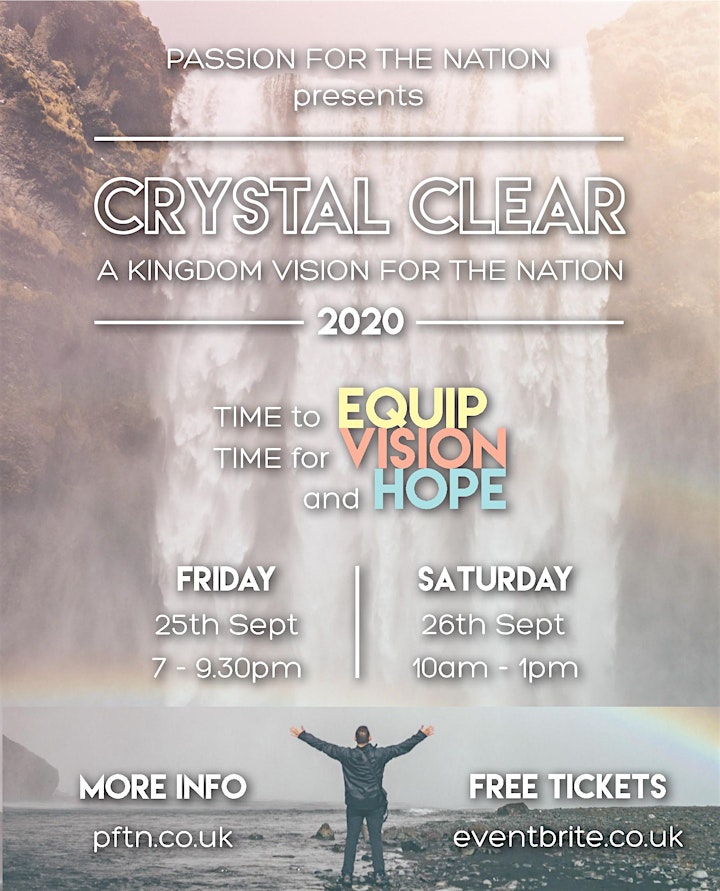 We invite you to join us at Passion for The Nation for our first ever Online conference! We believe God has a unique call on our land that is significant, but it is also a time of enormous change, which heralds a new era. Jesus, said pray 'Kingdom Come', 'Seek first the Kingdom of God' but what does that mean within today's world? Is there a plan?
We want to envision and equip you through this conference to be part of the Ekklesia which God is raising up.
We will explore the vision of what God wants to do in our nation as we seek to pioneer this Kingdom. We will seek to discover God's heart for our nation and do our part in revealing and equipping you for the battle ground. Our battle is great because His calling on us and on our nation is great. God is calling out new movements in our day, movements of prayer and movements of His people as He also calls us to embrace our places of influence across society. We want you to go out from this conference with a deeper understanding of what is God's Perspective, armed with the tools to help you play your part.
Programme Guide
Friday 25th September
Approx. timings:
7pm Welcome and Worship
7:30pm The Kingdom – Suzanne Ferrett
8:15pm Greetings and a message – Veronica West, Ignite Ireland Ministries
8:20pm The Identity of the Nation – Suzanne Ferrett
9pm Prayer and Declaration
Saturday 26th September
Approx. timings:
10am Welcome Back and Worship
10:30am Suzanne Ferrett – Ekklesia
11:00am Greetings and a message – Wanda Alger, Prophetic Perspectives for the Kingdom Age
11:15am Comfort break
11:30am Declaration and Decree – Suzanne Ferrett
12:30pm Prayer and Declaration
Focus on Suzanne Ferrett, Founder of Passion for the Nation
Suzanne Ferrett is the founder of Passion for the Nation and she and her husband Frank live in Windsor. They have 3 sons and 7 grandchildren.
Suzanne believes that God has a heart for nations, but the United Kingdom remains the focus of her call. She believes passionately that God is releasing an opportunity for an awakening within this land, and her desire is to partner with churches and prayer groups to see God's desire fulfilled. It is a time for individuals and the church as a whole, to move into the fullness of all God has created them to be, governing in prayer in the Spiritual realm and bringing influence upon the earth so that the Kingdom of God can be built within this land.
To find out more about Suzanne and the work of Passion for the Nation click here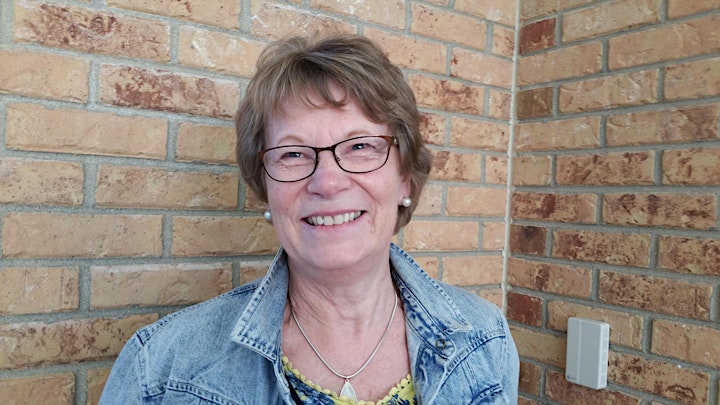 Check out our collection of books in our shop on the website.
If you want to hear more from Suzanne and Passion for the Nation you can sign up for the weekly Declarations over the Nation which is again on our website