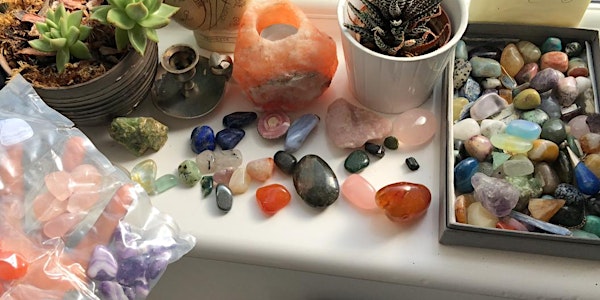 Refund policy
Contact the organiser to request a refund.
Eventbrite's fee is nonrefundable.
Crystal Connections is for those who are interested in learning about crystals and how to use them in your everyday life.
About this event
By the end of our time together you'll be able to pick and use crystals with confidence.
Over the course of four weeks I will deepen knowledge of crystals so that you can connect and begin to apply them for luck, love, joy, abundance, clear communication, confidence etc.
Prior to the start of this session, you'll have received a set of 3x crystals in the mail
I have chosen these 3 particular crystals because they are 'high vibe' crystals that work fast. That way you should be able to quickly notice the specific metaphysical properties of that crystal.
Week 1: We will meet via zoom and I will give you a brief history of crystal healing, how it works and how to use crystals for the best results. I will tell you how I began my crystal healing journey and how I personally use crystals.
I will introduce you to the first crystal that we will collectively explore before our second meeting . I'll share it's metaphysical properties and what to expect.
Week 2: We will share our findings with using the first of the three crystals & delve into any experiences or subtle shifts in energy that have been observed whilst using it.
At this session I will let you know what crystal we will use over the next week and again tell you about it and what to expect.
Week 3: We will come together and again discuss the second of the three crystals that we've all been tapping into over that week. We will note differences between the energies of the crystals and discuss preferences and uses.
I'll introduce the final crystal in this session, tell you about its metaphysical properties and what to expect as well as how to use it.
Week 4: In the final session we will discuss the third crystal as we have done previously with the others. We can share our thoughts and comments about connecting with crystals overall and what we've learnt.
During this session, I'll be happy to make recommendations on crystals you can work with based on your personal needs. I will recommend further sources for research and development of your knowledge whether that be books, videos or social media.
My intention is that you make a connection with crystals and start to feel very confident in your knowledge and use of them after our time together.
I will always be available to answer questions and queries about the topic thereafter via email/social media contact.
Thank you so much for joining me and I look forward to sharing what I have learnt! :)