Description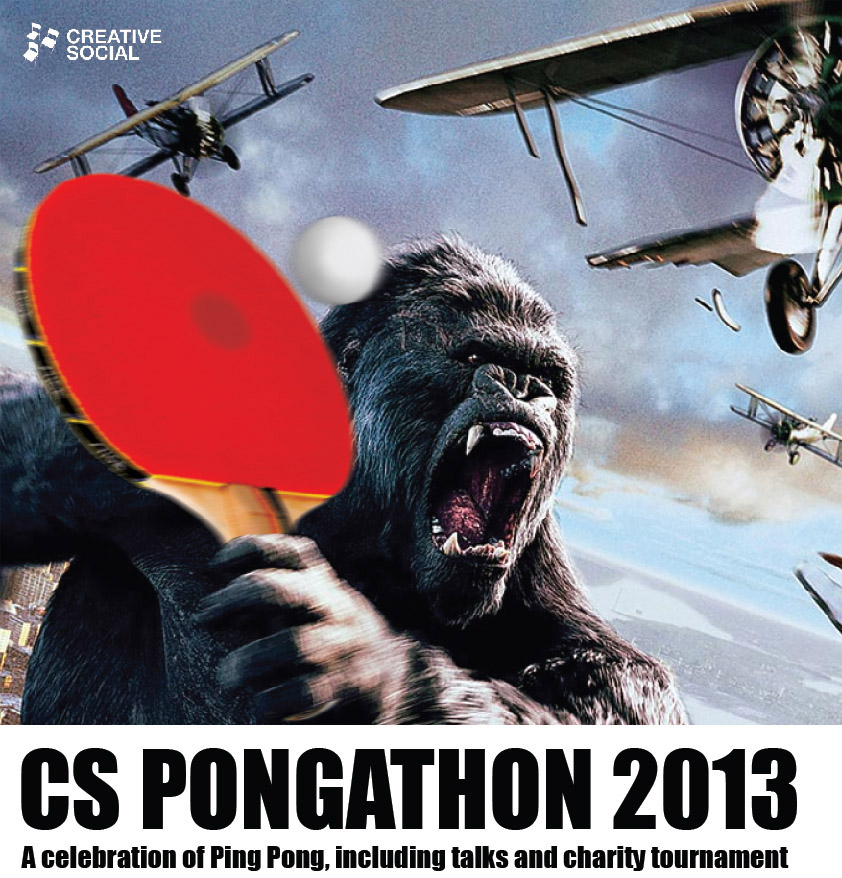 Do you love ping pong? Silly question of course you do!
That's why you should come and join our celebration of all things ping pong, 31st July at LBi in the heart of bustling Brick Lane. We guarantee an evening of crazy bat and ball innovation and more fun than you can shake a paddle at, but above all an opportunity to socialise, network and raise money for a good cause, NABS being our charity of choice.
Hold onto your sweatbands because this Creative Social charity Pongathon is going to serve you more than a few decent right-handers, gracing the stage we have two ace speakers from the world of table tennis to get you hooked:
Darius Knight

, Our very own Olympian and Team GB representative and all round ping pong master



Ade Leigh

, Founder of Pongathon and major ping pong evangelist
And that's not all - "WHAT?" I hear you cry, that's right folks this is going to be a super high energy event, we have a fantastic DJ, crazy visuals and lots of bar action, you even get a couple of free drinks to get you in the swing of things courtesy of the amazing and very refreshing Jeremiah Weed.
Our lovely, mad friends over at Pongathon will be organizing all the ping pong shenanigans throughout the evening. Helping to raise the pennies there will be some special off-the wall entertaining such at the Pongbot Challenge, Sofa-Pong, Blindfold-Pong, Round-The Table and even Under-The-Table Pong! Plus some exhibition games and useful insider tips to help get you to the top.
And of course to round it all off we have the Creative Social Pongathon tournament! Yes that's right we are putting together an inter-agency social ping pong tournament like no other!
So grab some team tickets to secure your companies bragging rights and be inducted into Hall of Fame!
Knowing how we roll, it will be highly competitive, full of backchat and banter, underhand and overhand tactics, mind games and side bets! Not forgetting all the sweat, blood and tears to achieve King Pong status there will be fantastic prizes, thanks to our super cool partner, Thompson Punke for the winners of the tournament!

Plus the very kind folks at Adidas have donated a super full size ping pong table and bats which we will be using to raise money for NABS.
So here's the deal….
Each agency can register up to four teams (2 players in each team e.g. doubles). Entry costs £25 per team Early Bird and £30 Full Price. All Profits to go to NABS charity. Teams will be randomly selected and drawn into groups which will be played in a round robin format (Champions League style) and adjudicated by a Pongathon host. Winners of each group will then graduate into a straight knockout competition to determine who will be crowned the Creative Social King Pong Champions 2013.


Pongathon will supply all the bats, balls and world-class tables to play on. As this is a social ping-pong tournament no pro or club players are allowed. If discovered they will be given the world's smallest mini-bats to compete with for the rest of the tournament!
We want you to bring all your work colleagues and friends down to support you! We want whooping, hollering, backchat and banter, responsible drinking and wild ping-pong action! Don't forget that non-tournament players can take part in all sorts of crazy challenges and get advice from our top notch speakers on the night.
Everyone is encouraged to wear their 'team colours' or retro sportswear with prizes for the most outrageously dressed teams on the night! And finally as this is a fundraiser we will be organizing sweepstakes, raffles, ping pong dares and various other madcap ways to raise money on the night. So, why not consider throwing down the gauntlet to a rival agency and play a match for charity? Losers will naturally cough up the cheque! Let's give it our best shot and have a party!
During build up to the tournament we'll have a tournament page and we'll be encouraging you to 'big up' your team across all your social-sphere(s), giving your brand name further exposure, and whilst at the tournament, tweets will be going up live for others to follow online.
We will need your company logo and official link (website, twitter, facebook), your team name (funnier the better!!) + Photograph (same!), as well as a short description about your team (same, same!).
Rules & Guidelines
You purchase team tickets / single tickets at cspongathon.eventbrite.co.uk

Once team(s) tickets have been purchased you will receive email confirmation and a request for your team name / company details. (This is not an automated response it may take a day or so to come though)

Maximum number of team registrations for one company is four, minimum is one

.

Deadline is 26th July 2013

Each team entry is £25 Early Bird, £30 Full Price


Single ticket £6 Early Bird,

£10 Full Price

and we have super agency tickets (5 for the price of 4), £24 Early Bird,

£40 Full Price

Group stages will be held from 6.30pm at LBi, Brick

146 Brick Lane

London E1 6RU UK
Teams from the same company will not meet in the group stages, only in the Finals!

There is a 30 minute late grace period before a team will be disqualified from the group

Each group game is played up till 11 points best out of 2 games only!

3 points for a win/1 for a draw

Each group is played in a round robin format with the winners being the team that wins the most points at the end of the group.

The two top teams will graduate to the finals

All bats will be supplied by Pongathon to establish a level playing field.

Company colours or retro sportswear is encouraged!

All games will be adjudicated by one of our Pongathon hosts and their word is final!

The Winners and Runners up will receive cool prizes courtesy of the ever so cool Thompson Punke, oh and of course the winners get the coveted King Pong trophy to adorn the agency boardroom – nice!

Lastly, This is a social ping pong tournament so no pro or club players please! If we find you in the above category you will be made to play with the world's smallest mini-bats for all your games!
In no particular order, a big thanks to our parters who have helped to make this happen
AN IMPORTANT NOTE FOR WHEELCHAIR USERS AND THOSE WITH REDUCED MOBILITY
Because of the age and design of the LBi building (a former brewery), we are unable to accommodate wheelchair users at our events. The escape routes from our basement are all vertical and require a level physical mobility when used in the event of a fire or other emergency.
In the event of an emergency, we are able to provide those people with ambulant mobility with assisted escape from one of the building's emergency response team. However, where a person is a wheelchair user with no mobility, an effective and safe evacuation is not possible.
We would ask those with reduced mobility to contact us ahead of any events to ensure that we have the correct assistance in place in case of an emergency.
We apologise for any inconvenience caused.
Organiser of CS Pongathon - A Celebration of Ping Pong Fundraiser