About this Event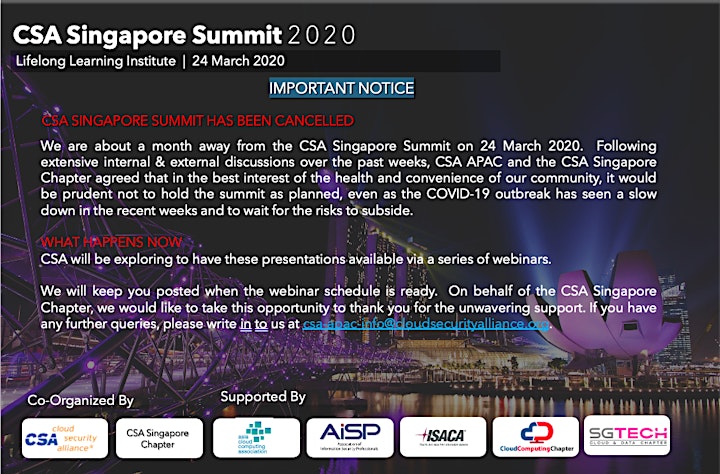 For the first time ever, cloud infrastructure spending exceeded on-premise, and is predicted to continue increasing. In January 2019, IDC reported that the total revenue on cloud infrastructure has exceeded the total revenue on on-premise infrastructure for the first time in history [1].
CSA has been producing a series of survey reports on Top Threats to Cloud Computing for several iterations. The effort is based on surveying numerous industry experts on security issues in the cloud industry. Our latest report shows an interesting trend. We noticed a drop in ranking in terms of prominence of traditional cloud security issues that are under the responsibility of cloud service providers (CSPs). Concerns such as denial of service, shared technology vulnerabilities, CSP data loss and system vulnerabilities – which were featured in the previous reports were rated so low in our most recent survey that they have been excluded from the updated list. Instead, we are seeing more of a need to address security issues that are situated higher up the technology stack that are the result of senior management decisions, with the top of the list being:
1. Data Breaches
2. Misconfiguration & Inadequate Change Control
3. Lack of Cloud Security Architecture and Strategy
To learn more about the emerging threats, join us to learn from the experts in cloud security. Reserve your seats early.
DISCLAIMER
1. This event is free to attend for qualified attendees. Qualified attendees are those who are employed by government agencies, public /private/people sector enterprises and user organizations that are not cloud service providers. Exceptions are employees associated with sponsors and invited speakers.
2. You agree that Cloud Security Alliance Asia Pacific Limited may collect, use and disclose your data, which you have provided, for the purpose of organizing this event.
For other enquiries, please email us at csa-apac-info@cloudsecurityalliance.org.