Description
A nőiesség soha nem fog kimenni a divatból!
Eleged van abból, hogy a boldogtalanságot evéssel kompenzálod?

Nem érzed jól magad a bőrödben?

Unod, hogy minden ismerősöd párkapcsolatban él, te pedig az estéket egyedül töltöd?
Ez a probléma magától nem oldódik meg!
Ebben a helyzetben fél megoldások nincsenek!
Sajnos ha nem foglalkozol magaddal, az bizony depresszióhoz vezethet!
Nekem már sikerült változtatni:
Megtanultam szeretni magam.

Megszabadultam az önkorlátozó hiedelmektől.

Megértettem, hogy eddig miért futottak zátonyra a kapcsolataim.

Egészséges életmódot folytatok.

Olyan életet élek, amire mindig is vágytam! Boldog vagyok!
Most rajtad a sor! Itt az ideje, hogy kezedbe vedd az irányítást!
Egy olyan módszert hozok most el neked, ami már a világon rengeteg nőnek segített, hogy boldog kiegyensúlyozott életet élhessen!
Ezen az egész napos tréningen elsajátíthatod mindazt, ami szükséges ahhoz, hogy őrületesen jól érezd magad a bőrödben. Szóval, ha készen állsz egy fantasztikus utazásra, akkor itt az ideje, hogy lépj!
"Az ezer-mérföldes utazás is egyetlen lépéssel kezdődik." - Lao-ce
Ebbe a testbe születtél. Nő vagy és csodálatos! Légy büszke rá és tégy meg mindent azért, hogy a ragyogásodat az egész világ észrevehesse! Annak érdekében azonban, hogy maximálisan boldogok legyünk, ki kell tárnunk a szívünket, és vissza kell találnunk a mélyben lakozó nőiességünkhöz!
Az esemény fő vonala a TEST-LÉLEK-GONDOLKODÁSMÓD tökéletes harmóniájának elsajátítása lesz.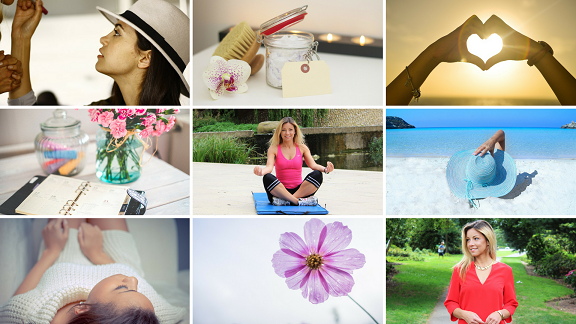 A Nőnek lenni jó workshopon lehetőséged lesz rá, hogy:
megtanuld az önszeretet művészetét

megszabadulj azoktól a fránya önkorlátozó hiedelmeidtől

egy egészséges életmódot alakíts ki saját és környezeted számára

elsajátíts egy-két olyan praktikát, eszközt, amelyet haza vihetsz magaddal és azonnal alkalmazni is tudsz

eltölts egy fantasztikus napot egy csodálatos csapattal.


PROGRAM
1. NAP
09.00-10.00 BEVEZETÉS ÉS BEMUTATKOZÁS (JÁTÉK)
10.00-11.30 LÉLEK (ÖNSZERETET, JUTALOM, TÁMOGATÓ KAPCSOLATOK)
11.45-13.00 TEST (DIÉTA ÉS MOZGÁS)
14.00-16.00 GONDOLKODÁSMÓD (NEGATÍV HIEDELMEK, MOST, MEDITÁCIÓ)
16.15-17.30 KÜLSŐ - BELSŐ SZÉPSÉG
10.10-11.00 CSOKIGOLYÓ – KREATÍV ÍRÁS
11.00-13.00 SZERELEM – PRAKTIKÁK (BEVONZANI, MEGTALÁLNI, MEGTARTANI)
14.00-15.00 SZAKÍTÁS ÉS A SZÍVÜNK
15.10-16.00 KÉSZEN ÁLLOK DOKUMENTUM KÖZÖS KITÖLTÉSE
16.00-17.00 VISION BOARD KÉSZÍTÉS
17.00-17.30 ÖSSZEFOGLALÁS, LEZÁRÁS
A workshop ára: €100
Páros jegy akció: €180
Időpontja: 2018. október 20-21. (Szombat - Vasárnap)
Helyszíne: Loffice Event & Coworking Space, 1070 Wien, Schottenfeldgasse 85/7.

További információ: http://jumpwithorsi.com/csodalatos-no-becs/
Organiser of Csodálatos Nő - 2 napos Workshop Bécs
---
Kovács Orsi vagyok,
Life és Business Coach, Motívációs Előadó,
A Csodálatos Nő és A Sikeresség Kulcsa program megalkotója.
---
Egész életemben az volt a vágyam, hogy rátaláljak a szenvedélyemre, arra a hivatásra, ami nem csak a számomra csodálatos, de amivel hozzájárulhatok ahhoz is, hogy a világunk minden nap egy picit szebb és jobb legyen.
2012-ben elvégeztem a Coach Akadémiát, felépítettem a Jump with Orsi vállalkozásom és emellett számos kisebb-nagyobb üzletet alakítottam ki.
2015-ben jelent meg a Jump – How to achieve absolutely anything in just 3 months című könyvem, amit az Amazonon meg is tudtok vásárolni. 
2 ténmakörben segítem az ügyfeleimet Magyarországon és világszerte: 
Nőiesség és annak minden csínja-bínja
Az álomhivatás megtalálása és a pénzügyi szabadság elérése