Event Information
Refund Policy
Refunds up to 7 days before event
Identify the social values of your organisation to improve business performance, increase staff satisfaction and drive profits.
About this Event
Creating a CSR Policy
By taking a strategic approach, organisations can determine what activities they have the resources to devote to being socially responsible. They can choose just the CSR activities that will strengthen their competitive advantage. By planning CSR as part of an organisation's overall plan, we can ensure that profits and increasing shareholder value don't overshadow the need to behave ethically to their stakeholders.
One of the united State's most powerful business groups has abandoned the shareholder-first idea that has driven capitalism for decades.
The Business Round-table said the pursuit of shareholder interests is no longer the central purpose of corporate America.
Companies should concentrate of social responsibilities as well as profits
This module covers :
identifying your key CSR stakeholders
building your strategy around your organisation's core competencies
recognising issues that matter to your customers
developing CST initiatives that make your employees proud
measuring the return on investment (ROI) of your CSR efforts for all stakeholders
expanding your organisations definition of CSR
CSR policy and strucutre
benchmarking and recording processes
The training course is for those who wish to develop their organisation's CSR policy including CEOs/MDs, executive teams, senior leadership, HR managers and CSR professionals. The course is also suitable for anyone who wants to gain a better understanding of the importance of CSR in the workplace.
The course is endorsed by the Institute of Administrative Management (IAM) and counts towards personal development CPD.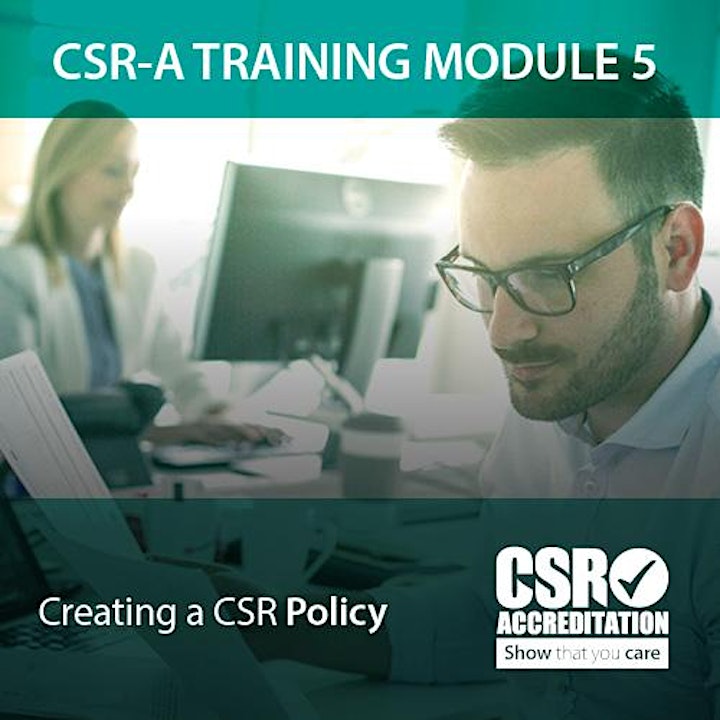 Date and Time
Location
Refund Policy
Refunds up to 7 days before event