About this Event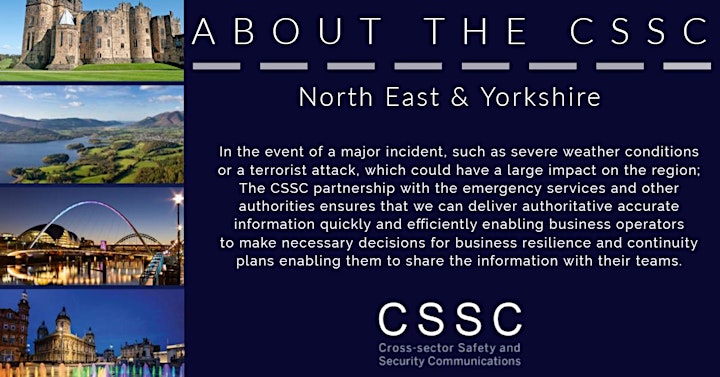 Humber Emergency Planning Service and CSSC North East & Yorkshire (Cross-sector Safety and Security Communications), would like to invite you to the:
CSSC North East & Yorkshire Regional Roadshow - East Riding
When: Wednesday 15th January 2020 9:30am -12pm
Where: Guildhall, 77 Lowgate, Hull HU1 2AA Lowgate, Hull HU1 2AA
As the North East & Yorkshire Regional Management Team, one of our objectives for 2020 is to spend more time across the region and meeting with members, colleagues and potentially be introduced to organisations who would like to register as Industry Sector Leader Contacts.
We found the best way to achieve this would be by introducing a series of 'Roadshows' where we are able to provide an update to members about developments within the organisation, to invite an external speaker to discuss a topical matter that impacts the region or sectors within it and finally to enable networking to take place.
For further information please visit: https://www.thecssc.com/about-north-east-yorkshire/
Provisional Agenda:
09:30- Registration & Refreshments
10:00 – Welcome and Purpose of the Event
10:15 – CSSC Updates & Discussions
10:50 – Guest Speaker - Alison Vickers. Senior Emergency Planning Officer, Humber Emergency Planning
11:30 – Look ahead, Q & A
11:40 – Networking & Refreshments
12:00 – Close
Who Should Attend?
This event would be of particular interest to CEO, COO, Chief Security Officer, Head of Security, Head of Risk & Compliance, Security Asset Manager, Facilities Managers and CSSC members